February 2009
Audience Au24 e Interconnects and Speaker Cables
by Vade Forrester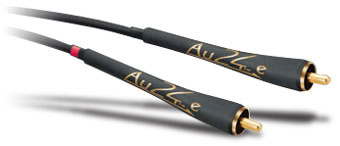 Review Summary
| | |
| --- | --- |
| Sound | "Right off the bat, I could tell the Au24 e cables possessed a special quality: focus.... Everything seemed more sharply defined." "The leading edge of transients were fast, clean, and well defined, but not exaggerated, thank goodness, and the notes trailed off as accurately as they began. The abundant instrumental detail was extremely well defined, and the deep bass emerged with unusual power." "Massed strings, an area where early digital reproduction often failed miserably, were tonally rich and downright gorgeous." " The Au24 e cables have...temporal coherence. All the sonic elements fuse together at the right time to create an eerily realistic picture of the musical performance." |
| | |
| --- | --- |
| Features | "With all of its cables, Audience aims for a specific electrical outcome: low eddy-current resistance. Audience believes that this is the key electrical characteristic for good time response, allowing 'the musical overtones [to] arrive in their proper time relationship with the fundamentals.'" "In November 2007, Audience announced an enhancement to the Au24 cables, adding the "e" to the model name. This consists of a 'proprietary technology to improve the conductivity,' resulting in 'a more refined product....' There's no real explanation of what the e upgrade consists of, but I'm betting on cryogenic and possibly magnetic treatment." |
| | |
| --- | --- |
| Use | "Audience says that the Au24 e cables will begin to sound good after two or three hours playing time and will continue to improve for approximately 50 to 100 hours.... Sure enough, the sound did change during the break-in period. At first the music seemed to lack bass, but with time the bass became quite robust, proving to be one of the strong points of the cables' performance." |
| | |
| --- | --- |
| Value | "The prices, although not cheap, were certainly not out of line with the other components in the system -- maybe even on the low side." |
I hate reviewing cables. I know, I know -- you can't build a hi-fi system without them. But reviewing cables is an exercise in frustration because they often sound different in different systems and with different components, so there's no real consistency, no "their sound." And to make things even harder, most cables undergo a noticeable change as they break in. Some will assert that cables have no sound of their own, so break-in is a myth. My experience -- based on listening to cables from quite a few different manufacturers -- has been that during a period of use, lasting sometimes as long as several hundred hours, their sound changes. Thus it's especially important that if you try a new interconnect or speaker cable, it should be broken in before you form an opinion about it.
Given all these problems, how can a poor audiophile possibly pick the right cables for his system? You can read umpteen reviews and identify cables with the sound characteristics you're looking for, but there's still no substitute for listening to cables in your system. A knowledgeable brick-and-mortar dealer can be invaluable by loaning you cables to try. But if, like many audiophiles, you aren't fortunate enough to have a local dealer, try The Cable Company, a dealer with over 60 brands to loan, including the Audience Au24 e interconnects and speaker cables under consideration in this review.
Vitamin e
Although Audience is an established company that's been making cables for some time, my first encounter with Audience products was an audition of the company's AdeptResponse aR12 power conditioner. It was one of the very few power conditioners I've tried that actually made an overall improvement in the sound of my system. So when offered a chance to review Audience's latest Au24-series interconnects and speaker cables, I put aside my dislike of the idea and accepted.
The cables I received consisted of two one-meter pairs of Au24 e balanced interconnects ($1250 USD per pair) and one eight-foot set of Au24 e speaker cables ($1554 per pair). Both are rather modest in thickness, especially the speaker cables. If you assess a speaker cable's worth by measuring its diameter, the 3/8"-diameter Au24 e speaker cables might surprise you. My reference speaker cables are from Crystal Cable and even thinner than these from Audience, so clearly I have no prejudice against the small diameter.
With all of its cables, Audience aims for a specific electrical outcome: low eddy-current resistance. Audience believes that this is the key electrical characteristic for good time response, allowing "the musical overtones [to] arrive in their proper time relationship with the fundamentals." Visually, the Audience cables don't stand out from the crowd. They are neatly constructed from quality parts, and covered with a black mesh outer cover that looks like hundreds of other cables. All Au24 cables have continuous-cast single-crystal copper conductors, polypropylene insulation, and a polyethylene jacket.
In November 2007, Audience announced an enhancement to the Au24 cables, adding the "e" to the model name. This consists of a "proprietary technology to improve the conductivity" resulting in "a more refined product." Interestingly, Audience offers e upgrades for standard Au24 cables. There's no real explanation of what the e upgrade consists of, but I'm betting on cryogenic and possibly magnetic treatment.
During the interconnects' and speaker cables' extended use in my system, nothing ever broke, frayed, or fell off. I had requested large spade lugs on the speaker cables, and they came with gigantic Cardas spades that made a solid connection to every speaker and amplifier I tried them with. The thin interconnects were fairly easy to install in my rack, although they were a bit stiff.
Setup
For essentially all of the time the Audience cables were in my system, I was using the Opera Audio Consonance M12 speakers. I had hoped to use the far more revealing MaxxHorn Lumination speakers for this review, but it turned out that the Luminations' Feastrex drivers were incompatible with the relatively high capacitance of the Au24 e speaker cables. Was the incompatibility a fault of the speaker cables or the speakers? Neither. It was just another example of how components interact.
Initially, Au24 e balanced interconnects went between my CD player and preamp, and between the preamp and the balanced Atma-Sphere S-30 Mk III amp. Later on, an Audio Research VS115 amplifier arrived for review, and it replaced the Atma-Sphere amplifier. It further substantiated how system-dependent cables are by absolutely loving the Au24 e cables. It proved a very synergistic match, the best of all the gear I used. My review comments are based on using the Audio Research amplifier, although the cables also allowed my Atma-Sphere amp to sound better than ever.
Audience says that the Au24 e cables will begin to sound good after two or three hours playing time and will continue to improve for approximately 50 to 100 hours. The cables were in my system for several months, so they had several hundred hours' use -- way more than the 50 to 100 hour break-in time recommended by Audience. Sure enough, the sound did change during the break-in period. At first the music seemed to lack bass, but with time the bass became quite robust, proving to be one of the strong points of the cables' performance.
Sound
Right off the bat, I could tell the Au24 e cables possessed a special quality: focus. Let me use a camera analogy to illustrate what I mean. When you take a picture through a digital SLR camera with its autofocus turned on, everything in the picture appears to be pretty sharp, but when you adjust the focus manually, the parts of the picture you're most interested in snap into even sharper focus. Inserting the Audience cables into my system was like using manual focus -- everything seemed more sharply defined. I suspect that's what the people at Audience are talking about when they claim "the musical overtones arrive in their proper time relationship with the fundamentals." Let's test this claim, thought I, cueing up an old favorite CD, Chris Jones's Roadhouses & Automobiles (Stockfisch SFR 357.6027.2). First, I played a simple solo-guitar piece, "The Last Fallen Leaf." The fundamentals and overtones of the guitar coalesced into a strikingly realistic portrayal of a guitar's sound, and the extraneous noises you hear when sitting close to a guitar were reproduced with amazing accuracy. The Audience cables passed the solo-instrument test with flying colors, beautifully rendering the song's luscious sonorities and portraying both the body and the strings of the guitar with equal poise.
powerChord e
The Audio Research VS115 I used for my review of the Audience interconnects and speaker cables has a 20-amp IEC connector for its power cord. Obviously, the 15-amp cords I had on hand wouldn't work. Audience's John McDonald offered to send a powerChord e ($674 per two-meter cord) with the requisite connector. It arrived well after the rest of the review was done, and I was able to contrast it separately with the high-quality stock power cord Audio Research includes with the VS115. In fact, this stock cord was chosen because of how it sounds, not because the VS115 really draws 20 amps of current.
After breaking in the powerChord e for about 150 hours, I started listening critically. The differences were not subtle. Most obvious was the bass, which seemed deeper and more powerful than with the stock cord. Initially, I thought perhaps the powerChord e provided too much bass, but I soon got over that. What I heard was the deepest and weightiest bass I've ever heard from my system.
The second obvious improvement was that the powerChord e sounded quieter than the stock cord. At first, I thought the cord rolled off the high frequencies, but after re-auditioning some CDs, I discovered that the highest musical tones were still present in full strength; it was just the high-frequency noise that was gone. It's one of those things you can't identify until it's gone, and then it's obvious.
To use a reviewing cliché, music emerged from a blacker background. Musical details (tonality, microdymnamics, and transients) were easier to follow. Although the stock power cord definitely sounded first-rate, the powerChord e was better across the board -- and easily worth its cost.
...Vade Forrester
vade@soundstage.com
Next, I challenged the cables with a more complex piece from the same CD, "God Moves on the Water." The leading edge of transients were fast, clean, and well defined, but not exaggerated, thank goodness, and the notes trailed off as accurately as they began. The abundant instrumental detail was extremely well defined, and the deep bass emerged with unusual power. It was perhaps the best reproduction of this piece I've heard. Another test passed.
Solo instrument, small rock band -- what's left? How about a symphony orchestra? Into the CD player went Jonathon Nott and the Bamberg Symphony's performance of Schubert's Symphony No. 6 on SACD (Tudor 7143). This symphony isn't power music, but a lighter, fleeter piece, full of many graceful, felicitous moments. The tone of the woodwind instruments was particularly well depicted, with the wooden bodies of the instruments realistically portrayed. Massed strings, an area where early digital reproduction often failed miserably, were tonally rich and downright gorgeous. The Au24 e interconnects made my solid-state Meridian CD player sound as if someone had sneaked some tubes into the circuit.
OK, so the Audience cables were adept at portraying instruments, but what about vocalists? To check this out, I cued up Gregorio Allegri's "Miserere," from a collection sung by A Sei Voci and titled Gregorio Allegri (Astrée E 8524). This piece was sung a capella by a group of nine singers in what sounds like a largish, rather reverberant room in France's Vivoin Priory, and the purity of the singers' voices was quite astounding. The Audience cables precisely located the singers in space, and when one of the sopranos wailed out some of the baroque ornamentation that was later written for the piece, the cables projected her powerful voice without compression. Everything seemed perfectly placed in time and space, although the reverberant acoustic did tend to make voices sound blended on occasion.
On both vocal and instrumental music, dynamics were precisely rendered and powerful at points. The transition from soft to loud, and vice versa, didn't stand out as something separate and distinct; it just fit naturally and realistically into the fabric of the music. It never commanded special attention, but neither was it ever lacking. Dynamic range was just there when the music called for it. Macrodynamic detail was finely rendered, enabling me to follow the musicians' phrasing easily.
When I reviewed the MaxxHorn Lumination speakers in September 2008, I praised their "temporal coherence," a term I used to mean that every part of the sonic picture -- fundamentals, overtones, dynamics, details -- coalesced at the right time to produce an unusually realistic reproduction of the musical picture. The Au24 e cables have this same temporal coherence. All the sonic elements fuse together at the right time to create an eerily realistic picture of the musical performance.
Side by side
I wanted to use the outstanding Purist Audio Design cables for comparison to the Audience cables; however, the interconnects are terminated with RCA connectors instead of XLRs, so they wouldn't provide a valid comparison. Therefore, I had to compare the Audience cables to my usual assortment of cables from different manufacturers: Clarity Cables Organic ($1900 per meter pair) and TG Audio High Purity Revised ($1000 per meter pair) interconnects, and Crystal Cable CrystalSpeak Micro speaker cables ($2320 per two-meter pair).
Associated Equipment
Loudspeakers – MaxxHorn Lumination, Opera Audio Consonance M12.
Power amplifiers – Atma-Sphere S-30 Mk III and Audio Research VS115 stereo amps.
Preamplifier – Audio Research LS26.
Digital – Meridian 508.24 CD player, Oppo DV-970HD universal player.
Analog – Linn LP12 turntable, Graham 2.2 tonearm, van den Hul Frog cartridge, Audio Research PH5 phono stage.
Interconnects – Purist Audio Design Venustas, DNM/Reson TSC, TG Audio High Purity Revised, Blue Marble Audio Blue IC, Clarity Cables Organic.
Speaker cables – Purist Audio Design Venustas, Blue Marble Audio speaker cables, Clarity Cables Passion.
Power cords – Audience powerChord e, Purist Audio Design Venustas, Blue Marble Audio Lightning, Clarity Cables Vortex.
Accessories – Walker Audio Talisman LP/CD treatment, VPI HW-16.5 record cleaner.
With my melange of cables, bass was extended and powerful, but not as well controlled as with the Audience cables. The treble was quite extended, possibly due in part to the fact that the TG Audio interconnects and Crystal Cable speaker cables have silver in their conductors . In fact, I heard a smidgen more high-frequency detail than with the Audience cables, although the sound was not overly bright. With both sets of cables, the soundstage was very expansive, instrumental timbres were spot on, and dynamics were awesome, but my cables lacked the last degree of focus that the Audience cables had in spades. There was an extra dollop of realism with the Audience cables in the system, and who wouldn't want that?
There's obviously an advantage to using cables from a single manufacturer throughout your system. The Audience cables projected more coherent, better controlled sound, which resulted in greater musical enjoyment, for lack of a better way to put it. This was particularly evident in the low frequencies, where the powerful but tight and well-defined bass firmly grounded the rest of the musical tapestry.
So?
The Audience Au24 e interconnects and speaker cables offered a rather extreme illustration that the sound of cables is system-dependent. With one speaker, the cables were unlistenable and with another superb. They also worked exceptionally well with two amplifiers used during the review, illustrating that there's no substitute for auditioning cables in the system where they'll be used.
In the most synergistic system, the Audience e cables were brilliant. Frequency response was extended on both ends of the spectrum, and midrange was detailed and sweet. The soundstage was both expansive and precise. And the cables were easy to install, thanks to their relative flexibility. The prices, although not cheap, were certainly not out of line with the other components in the system -- maybe even on the low side. It doesn't seem weird to use $1554 speaker cables to connect a $6495 amplifier to $6000 speakers, or $1250 interconnects to connect a $5995 preamp to a $6495 amplifier.
I've implied that the Audience cables were the sole basis for the first-rate sound I heard, but, of course, that's not the full story. I didn't listen to just the cables, but to the whole system, including the CD player, preamp, amp, and speakers. All these pieces had to play together extremely well for the sound to be as rich and detailed as it was -- easily the best I've achieved with the Opera Audio speakers. But the system sounded better than ever with the Audience cables installed. In a world of incredible hype, they lived up to Audience's claim that they "create a more convincing illusion of reality and improve soundstaging." My reference cables do that pretty darn well, but the Audience cables improve the system's performance in those areas.
Don't rush out and buy Audience Au24 e interconnects and speaker cables based on this review. But if my review makes them sound appealing, you really ought to audition them in your system. You may be surprised at how much improvement they make. I was.
...Vade Forrester
vade@soundstage.com
Audience Au24 e Interconnects and Speaker Cables
Prices: Interconnects, $1250 USD per meter pair with XLR connectors, $797 per meter pair with RCA connectors; speaker cables, $1554 per eight-foot pair.
Warranty: Lifetime.

Audience
120 N. Pacific St., K-9
San Marcos, CA 92069
Phone: (800)565-4390
Fax: (760) 743-2192

E-mail: info@audience-av.com
Website: www.audience-av.com