June 2009
Aperion Audio Intimus 6T Loudspeakers
by John Crossett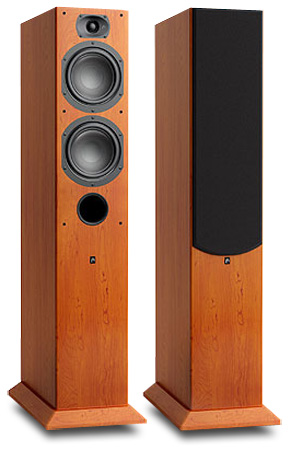 Review Summary
| | |
| --- | --- |
| Sound | "The 6Ts offered a clear view on the sound of each recording.... I gained a real understanding of the recording's venue whether it was live or an in-the-studio creation. " "What really set the 6Ts apart from the pack in their price range, and even above, was their midrange, which was, in a word, glorious." "Neither too bright nor too dark, the 6Ts are extremely well balanced, creating a sound that called attention only to the music being played through them and not any one aspect." "Right on through the entire review period, the most striking aspect of the Intimus 6Ts' performance was the way they made me forget about them." |
| | |
| --- | --- |
| Features | "The 6T is a two-way, three-driver design arrayed with the two Aperion-designed 6 1/2" woven-fiberglass woofers below a new custom-designed 1" silk-dome tweeter, with a crossover point of 2.2kHz. The 6T's stated frequency response is 36Hz-20,000kHz (+/- 1.5dB), with a sensitivity of 91dB/W/m. Recommended power is anywhere from 50 to 300Wpc. The cabinet is made of inch-thick high-density fiberboard (HDF) and features a front-mounted port." |
| | |
| --- | --- |
| Use | "The Intimus 6T has a single set of gold-plated five-way binding posts, so the biamping/biwiring option is out. While the grilles don't look to be overly sound degrading, I did all my listening with them off." |
| | |
| --- | --- |
| Value | "A solid choice for either audiophiles on a budget or music lovers who don't want to spend more than is absolutely necessary. This is one loudspeaker whose total musical value is far greater than the sum of its parts." |
After all my years as a card-carrying audiophile -- half of those spent reviewing audio gear -- I'm no longer a wide-eyed optimist when it comes to new products. Too many times I've found one box to look pretty much the same as any other, with nearly imperceptible sonic differences between them all. Many of the gross colorations that marred much of the gear I grew up with are now ancient history. Thus, it wasn't with preconceived notions of any kind that I agreed to write about Aperion Audio's Intimus 6T loudspeakers. Then FedEx showed up with two rather large boxes -- both far heavier than I expected. Upon opening them, I found that the 6Ts were extremely well packaged. Not only were they covered with full-sized plastic bags, they were also enclosed in full-sized purple velvet cloth bags to protect their genuine wood veneer, not the usual vinyl stuff in which speakers in this price range usually come clad. Their cost? A mere $1390 USD per pair, shipping and 30-day in-home audition included.
Now I was beginning to have some expectations -- audiophile expectations at that. Maybe there was more to these speakers than I would have thought.
Design
The Intimus 6T is a good-looking speaker whose build quality far outdistances its modest asking price. Yes, it is Chinese built, but all design work, voicing and prototyping are done at Aperion's headquarters in Portland, Oregon. The speakers sent to me were clad in real cherry-wood veneer (gloss black is also an option). I certainly wouldn't have expected that for the price.
The 6T is a two-way, three-driver design arrayed with the two Aperion-designed 6 1/2" woven-fiberglass woofers below a new custom-designed 1" silk-dome tweeter, with a crossover point of 2.2kHz. The 6T's stated frequency response is 36Hz-20,000kHz (+/- 1.5dB), with a sensitivity of 91dB/W/m. Recommended power is anywhere from 50 to 300Wpc. The cabinet is made of inch-thick high-density fiberboard (HDF) and features a front-mounted port to allow for more placement options, which I think is to the good.
The 6T stands a modest 41 1/2" high, 7 3/4" wide, and 15 1/2" deep but weighs a substantial 70 pounds. It comes with an integral plinth to widen the speaker's footprint. Into this you can screw either carpet-piercing spikes or wood-floor-saving rubber nubs. The Intimus 6T has a single set of gold-plated five-way binding posts, so the biamping/biwiring option is out. While the grilles don't look to be overly sound degrading, I did all my listening with them off.
System
I evaluated the Intimus 6Ts with my usual collection of components. A VPI HW-19 Mk IV turntable with SME 309 tonearm, Lyra Argo i cartridge and Furutech AG-12 phono cable provided LP playback, while either an Esoteric SA-10 CD/SACD player, a Stello CDA320 CD player/DAC, or an Oppo DV-981HD universal player spun digital discs, with my Toshiba laptop used as a music server and connected to the digital inputs on the Stello CD player via a Blue Circle USB Thingee. Electronics were an Audio Research LS17 line-stage preamp, an Audio Research PH5 phono stage, and a Bryston 4B-SST power amp. Speakers for comparison were my Paradigm Reference Studio 100 v.3s. Wires were Analysis Plus Solo Crystal Oval interconnects, a DH Labs D-75 coaxial digital cable, Analysis Plus Solo Crystal Oval 8 biwire speaker cables, and both Harmonic Technology and Analysis Plus Power Cords.
Miscellaneous items included two Salamander Archetype racks along with Symposium Roller Blocks Series 2 + and Roller Block Jr's, Fat Padz and Pod Points, an Ultra Platform, some Svelte Shelves, and an Isis Shelf. I also placed two GutWire Notepads atop the phono stage. All power was sent through a Blue Circle BC6000 power conditioner. All records were cleaned on a VPI 16.5 record-cleaning machine, and I then used a Furutech deStat, a Hunt EDA carbon-fiber record brush and a Zerodust stylus cleaner before each listen.
Sound
Looking again at the price of Intimus 6Ts, you might think this review should have been slotted in on the SoundStage Network's GoodSound! site, but after one listen you'd have no doubt that the Aperion Intimus 6Ts deserve to be compared to speakers of similar stature and a higher price. Right on through the entire review period, the most striking aspect of the Intimus 6Ts' performance was the way they made me forget about them. I was amazed at the number of times I overlooked analyzing these speakers and became lost in the music emanating from them. I felt like I was 16 again, when really good sound was something new and I still hadn't discovered all of the audiophile concerns. With the Intimus 6Ts, the only thing that mattered was the music itself -- a rare virtue for a budget-priced loudspeaker.
In terms of specifics, the 6Ts offered a clear view on the sound of each recording, whether LP, CD, or SACD. I gained a real understanding of the recording's venue, whether it was live or an in-the-studio creation. Along with this, imaging was strong, with instruments well defined within the unique space the speakers conveyed. If you've not heard the new Chick Corea/Hiromi album Duets (Concord Records CCD2-30735), then you're missing out on some superb jazz piano playing. With the Intimus 6Ts, I heard both pianos as individual instruments placed one in front of the other -- a neat trick. Plus, the tone and timbre of each piano was clearly and cleanly rendered. I don't know of too many other $1400 speakers that can offer this kind of spatial and instrumental resolution.
You also won't get the quality of the Intimus 6Ts' bass for so little money. Defined, fairly deep, and tight, the 6Ts were detailed and authoritative, adding to their appeal. When I played Ray Brown's Soular Energy SACD (Pure Audiophile/Concord GRV 1028-3) Brown's double bass was powerful and present in my room. I could hear each string he plucked and how he did so. I could also hear how each pluck excited the large wooden body of the bass. The only thing lacking was ultimate depth. If you want real, deep, room-shaking bass, you're going to need bigger speakers or add a subwoofer. But the bass from the 6Ts was everything I could have wanted, again belying their price.
But what really set the 6Ts apart from the pack in their price range, and even above, was their midrange, which was, in a word, glorious. There have been many groups that display unique vocal harmonies, but the best still is Crosby, Stills, Nash, & Young. Their individual voices are almost instantly identifiable and their harmonizing is memorable. David Crosby's solo If Only I Could Remember My Name on DVD-A (Atlantic/Rhino R2 73204) and the song "Laughing" were a real treat. The blending of Crosby and Graham Nash's voices was so acute that it sounded like one uniquely layered voice, yet the resolving power of the Intimus 6Ts through the midrange was high enough to allow me to hear each voice and how they blended together. Ella Fitzgerald through these speakers was a real treat -- she was in my room. My mint original copy of the Ella Fitzgerald Sings the George And Ira Gershwin Songbook box set (no catalog number) was a case in point. The LPs are mono, yet Ella was front and center with Nelson Riddle's orchestra spread out behind. Her voice was full, rich and three-dimensional. I've seldom heard better -- and certainly not from a speaker in the Intimus 6T's price range.
The top end of the 6T's is of the same quality as the bass. When pianist Gene Harris runs up the keyboard during his solos on Soular Energy, I could hear each note clearly, from initial attack to its full harmonic overtones and complete decay. No, the tweeter doesn't go to the stratosphere, nor do the twin woofers plumb the deepest depths, but every speaker -- especially ones built to a price -- has tradeoffs of some sort, and the ones for the 6T were chosen wisely. Neither too bright nor too dark, the 6Ts are extremely well balanced, creating a sound that called attention only to the music being played through them and not any one aspect. If you're going to have to make choices, this is the type of choice any listener can easily get behind.
Soundstaging was another of the strengths of the 6Ts. They portrayed a well-defined soundstage with each instrument easily located within a wide area, if not especially deep. There was a little blurring of the outermost edges. I found the sound to be more of a row-nine perspective, say, than that of row one. Perhaps this helps to explain why the Intimus 6Ts did such an excellent job of reproducing music, as opposed to merely producing sound.
Lastly, dynamics were well handled, with any orchestral music reproduced with a very good sense of swing from soft to loud. I've heard better, but seldom at this price. You'll spend far more money to gain better dynamic prowess, and you may lose all the other wonderful qualities of the 6T in the process.
The Intimus 6Ts are most definitely not standard mid-fi loudspeakers, as is much of their competition. No, they are a solid choice for either audiophiles on a budget or music lovers who don't want to spend more than is absolutely necessary. This is one loudspeaker whose total musical value is far greater than the sum of its parts.
Comparison
Stacked up against my nearly twice-as-expensive Paradigm Studio 100 v.3's ($2200 per pair when still available), the Intimus 6Ts were cast in an even brighter spotlight. Yes, the Paradigm speakers could play in the treble region with greater smoothness and clarity, and they could go lower with more authority, but they could only match the lovely midrange of the Aperion speakers, the 6Ts having the ability to play music that sounded as if it was from whole sonic cloth, not pieced together. I'm not saying that the Paradigm speakers sounded like a patchwork stitched together, because that would be patently untrue. The Studio 100 v.3s offer a coherent overall musical picture along with a superb midrange. But the Intimus 6Ts have an almost magical ability to get out of the way and cause you to forget all the audiophile concerns and luxuriate in the music itself. As I've noted, the Aperion speakers handle all the audiophile stuff very well, but their way of laying out the music is their greatest asset.
The Paradigm Studio 100 v.3's strongest points are its top-to-bottom evenness and wider frequency and dynamic ranges than the Intimus 6Ts can achieve. Both speakers are excellent at their respective prices, and both will please the right listeners depending on what they are listening for and how much they are willing to pay. But if you want to jump off the audiophile merry-go-round, then the Intimus 6Ts would be the perfect speaker for you -- and at a price that will allow you to sleep easier at night, especially in these tough economic times.
Conclusion
Throughout this review I've harped on two aspects of the Intimus 6Ts because they continued to amaze me: their price and their way of honoring the music. I had to keep reminding myself that these wonderful-sounding speakers are affordable by almost anyone's standard, not just an audiophile's. And these speakers always brought me closer to the music played through them. I really had to work to remind myself to listen for the different sonic aspects, so much so that I usually ended each listening session by putting away my pad and pen and just enjoying whatever music was emanating from the Intimus 6Ts at the time. What they do well, especially that remarkable midrange, is more than enough to make them a smart choice for anyone who wants a pair of loudspeakers that can fulfill both the desires of the music lover and the audiophile. Toss in the fact that you can try them in your own listening room for a month, and if you're not completely delighted, Aperion will pick up the shipping cost to send them back. No obligation, no fuss.
So go ahead, pick up your phone or go to the website and give the Intimus 6Ts a try. You have nothing to lose and everything to gain.
...John Crossett
johnc@soundstage.com
Aperion Audio Intimus 6T Loudspeakers
Price: $1390 USD per pair.
Warranty: Ten years parts and labor.

Aperion Audio
18151 SW Boones Ferry Rd.
Portland, OR 97224
Phone: (888) 880-8992
Fax: (503) 598-8831

E-mail: sales@aperionaudio.com
Website: www.aperionaudio.com