CES '98
Standout Room Report
Our writers pick their favorite rooms from CES '98
Doug Schneider
This year I did far more running around than listening. Still, I managed to squeak in a number of listening sessions. The most memorable and pleasurable of these were: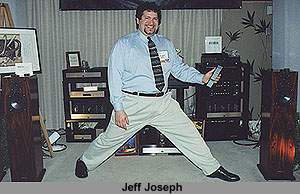 Jeff Joseph is certainly dedicated. Does he ever leave the room? Not that I have seen at any show. His commitment pays off, mind you. The Joseph Audio/Golden Tube Audio played some stellar tunes, and credit definitely goes to Jeff's impeccable taste in music and "DJ at a nightclub" impersonation as he whips through selection after selection. Louis Armstrong on CD-R was not quite as lifelike as he was on the LP that I heard at Hi-Fi '97, but it was still really good through the Joseph Audio RM22si loudspeakers. Great work!
My second choice will become second choices -- that's because two groups of companies stood out for showing good value by offering exceptional products at reasonable prices. Group one is the folks at Clayton Audio/Osiris Audionics/DH Labs who were showing off their fancy wares through two very nice systems using Meadowlark and Merlin speakers. The Meadowlark Shearwater speaker certainly seems a steal at $2000. Groups two consists of Speaker Art along with G&D Transforms, Symphonia and TG Audio. They provided an exceptional demo of the $1595 Super Clef loudspeaker using a G&D UCD-1 CD player wired directly into a Symphonia amplifier (yes, no preamp). Tthe sound was rich, three-dimensional, and beautifully musical. This was a very fine music system. Based on the sonic quality of the presentations, all of these components are knockout standouts.
And finally, Gershman Acoustics' GAP-520X loudspeakers sounded as fine as they looked. Sculpted as tall pyramids, they have a shape resembling the roof apparatus of Montreal's Olympic Stadium, not a bad thing at all. The GAP-520X is a gorgeous speaker to look at and a beautiful one to hear. The finish on Gershman's loudspeakers is impeccable; the piano black, in particular, is to die for. Paired with Plinius amplification, the GAP-520X was capable of lifelike, room-filling sound— finesse, elegance and power!
Todd Warnke
Working from bottom to top:

My third choice is the Accuphase/Axiss room, showing the Odeon #30 Ultimate loudspeakers. At the top of their ability, most every speaker I've heard seems to add a degree of edge, to show some strain. The Odeons did not. The system as a whole remained balanced, clean and detailed. But when push came to shove, this speaker did both, and with power and finesse combined—the best of ice hockey and figure skating. Fantastic.

My second choice goes to the Audio Analogue/Triangle room. At first look, the system impressed me as going for $15-20 grand. After ten minutes of listening, my ears agreed with my eyes. When I found out I was listening to $6000 worth of equipment my jaw hit the floor. I have owned systems that cost 50% more and didn't sound as good. And this was at a show yet! Impressive.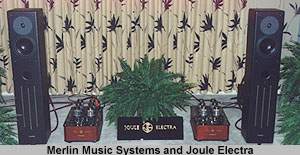 And my first choice goes to the Merlin/Joule Electra room. There are many contenders for the title of best speaker in the world, almost all of which are beyond the reach of anyone who wasn't in on the groundfloor at Microsoft. That's one reason why I like the Merlin VSM-SEs so much. At $5950 a pair, the VSM-SEs with BAM are the cheapest speakers by far that can lay claim to being the best. Driven by the jewel-like Joule Electra electronics, the sound in Bobby Palkovic and Jud Barber's room was ultra-detailed, superbly refined, sublimely musical—and best of all, natural. It was everything I listen for.
Greg Smith
The continued popularity of single-ended tube amplification and speaker designs that favor simplistic crossovers above low distortion made my picks for standout rooms much easier: All of those were easily eliminated from my consideration. While I don't take issue with the fact that many people love that sound, it drives me crazy to listen to it.

The room filled with products from Diablo Acoustics, Innovative Audio/Polycrystal, Ultra Systems Inc., and Cardas Audio combined good musical selections with very well-balanced sound. The Diablo Model 6 are one of the very few $2500 two-way designs I'd actually recommend. The advanced one-piece PolyCrystal cabinet is one of the most solid I've ever tapped on at any price, and the finish looks great if you pick the right color. Their sealed box tuned to a Q of 0.6 with bass down to 44Hz sounded very full and powerful, although the 85dB sensitivity and 4-ohm impedance means you'll need an amplifier on the hefty side of things. The racks and isolation products from Ultra Systems also stood out as high-performance goods that are actually priced reasonably.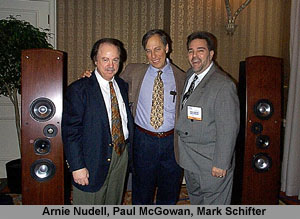 When I sat down at the Genesis room and listened to their new APM-1 speakers, I was very impressed. They possessed a sense of impact and solidity in the bass that might just be the best I've ever heard. Manufacturers who harp about the "slam" on their wimpy little mini-monitors should be forced to listen to this setup long enough to realize that they are sadly deluded. While I liked what I heard a lot, my brain was thinking that I should forget about it because these were probably tens of thousands of dollars and I could never afford them. Surprise! While the $7500 they cost is certainly not cheap, these are the first speakers I've heard in that price range that actually can justify that expenditure. With bass down to 20Hz from the 15" servo woofer driven by its own 500W amplifier, this is definitely a full-range system. The APM-1s weigh in at 240 pounds a piece, which means they cost about the same per pound as my current speakers. Why, if it weren't for the fact that I refuse to get any equipment that I can't haul up the stairs to my apartment by myself, I'd be mighty tempted to start begging for a review pair. I'm thinking maybe I should start stepping up my workout regimen.
The headphone demo from Imersa was positively incredible. They have technology to take a discrete surround soundtrack and make it play on headphones with more realism than I've ever heard before. You would swear there are speakers several feet away from you, perfectly localized in space, without the distortion I'm used to hearing from headphone decoders like this. Check out the demos on their website and order a demo CD-ROM; it's scary how well this works. Happily enough, the way they encode things avoids the whole mess of dealing with head transfer functions as well.
I'm going to cheat and slip in an extra product from the video side of things. Camelot's Crystal Vision comb filter ($600) is really an impressive way to clean up your cable, DSS, or laserdisc sources (it's not useful for DVD). If you get a chance, try to sit through a demo of this device at work. As someone who doesn't do much with high-resolution video from non-digital sources, I found it a useful tutorial on how to spot the artifacts and distortion an imperfect comb filter injects. If you keep reading about dot crawl and other NTSC nasties but have no idea how to test your own system for such things, Camelot's demo will help straighten you out. Be warned, though, that you may very well be convinced that you need to buy a Crystal Vision system afterward, so it could be a somewhat expensive education.
Marc Mickelson
With one exception, the rooms I picked as having the best sound were ones with some piece of equipment I had already heard and enjoyed at home. I'm nothing if not consistent....

The Merlin/Joule Electra room was one of the first I visited, and I thought at the time that the sound was great, but I was convinced then I'd hear other more-impressive demos—this was the CES, after all. And I did hear a lot of good sound, but the Merlin/Joule Electra room held its own—making beautiful music. Merlin VSM-SEs and BAM ($5950) were driven by the striking Joule Electra VZN-100 monoblocks ($8,895 per pair). Preamplification was supplied by a Joule Electra LA-100 Mk III linestage ($3295) and OPS-2 outboard phonostage with separate power supply ($3495). Digital and analog were used as sources—a newly upgraded Timbre TT-1 DAC and Goldmund 39 transport for the former, a VPI turntable with JWM Memorial tonearm and Cardas Heart cartridge for the latter. The cables were from Cardas. Bobby Palkovic played a Mercury Living Presence LP of The Firebird Suite, and I was glued for the entire first side. Tons of space, tremendous resolution, and impressive bass impact—this system had it all.

The Lamm/TreMa Sound room was constantly packed, and for good reason: Lamm ML1 amps ($19,980 per pair) drove a pair of Kharma Exquisite 1A speakers ($56,995 per pair) to produce copious amounts of low-end slam on appropriate recordings and transcendental soundstaging on others. Also in use were a Lamm L1 linestage ($6990), Theta Jade transport ($2495) and DS Pro Gen.V DAC ($3795, single-ended version), all connected with Purist Audio cables. This system could portray visceral bass, which Lamm's Vladimir Shushurin flaunted, but it was when he put on a less-showy orchestral piece that the system made it on my list. I asked Trevor DeMaat, the U.S. distributor of Kharma speakers, how he got the 550-pound Exquisites into the second-floor room. "With help," he answered.
Finally, the main Nova USA room, featuring the Nova Rendition speakers ($18,990 per pair), a gaggle of Krell electronics (FPB-600 amplifier, $12,500; KRC-3 preamp, $3200; and KAV 300cd CD player, $3500), Cardas Golden Cross cables, and Van Evers power-line products, displayed an awesome sense of scale and impact. When I first walked into the room, I saw the large Renditions parked precariously close to the side walls and thought to myself, bass problems. Whoa, not so! The sound was graceful and resolving, with deep, tight bass and a transparent midrange. By the slightest of margins, I would rate the sound in the Nova USA room as best among equals.
Mike Masztal
When Doug Schneider asked us to pick our three favorite rooms based on whatever criteria we wanted to choose, I had to think a bit before deciding how to approach this topic. While there were some upper-five and six-figure exhibits getting great sound, I thought, So what? They should get great sound at those prices. Clearly, only a small fraction of music-loving audiophiles have the bucks for a system of these proportions. The companies I chose exhibited products that impressed me for the reasons stated in each section.

Margules Audio, from Mexico City but also distributed in the U.S., offered a preamp, a triode/ultralinear-switchable power amp and full-range floorstanding speakers all at reasonable prices. Most notable was the $3000 U280sc amplifier. Running in triode mode, it produced an extremely wide and deep soundstage while handling harmonics wonderfully.
Electrocompaniet is back after several years, with gorgeous new products. Played over Hales Concept Three speakers, I heard three-dimensional bloom I've not experienced over even the best solid-state gear. This stuff is something a tube-a-holic like me could easily live with.
Visiting the Silverline Audio room proved to me that the performance of the SR17 speakers I recently reviewed was not a fluke. Their entire line, ranging from the $995 SR12 through the $49K Monte Christo, all made most-excellent sound. I found the 6-foot-tall, six-driver Monte Christo to have the ability to offer a full-range, balanced presentation even when played quite loud, and without loading the room. Hmmmm.... If I sell my car and learn the bus routes, maybe...
Tony Fafoglia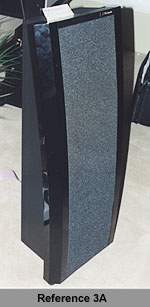 My favorites were:

The Neat Petite/Gravitas speaker system with Naim electronics and Mana stands, all distributed by Flat Earth Audio.

The Pro Audio room with the Pink Triangle Tarrantella/Rega RB250 turntable combo with Trilogy Tube electronics and ARS Acoustics speakers.

The Divergent Technologies suite featuring Copland electronics, Reference 3A loudspeakers and Chang Lightspeed power conditioning.

There were other fine sounding rooms, so honorable mentions go to: EAR USA, Exposure Electronics and Rogers Loudspeakers, Nightingale, QS&D, Grado Labs and ProAc USA.
John Stafford
I was asked to provide my three favorite rooms as part of my CES report, but I will only be submitting two. My problem was that there were a number of rooms that showed particularly well, but I just couldn't pick one over the others as they each had strengths and weaknesses. Call this a cop-out, but I feel that there were two rooms that I visited that really did something different.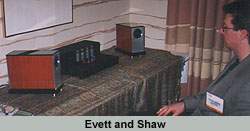 Evett and Shaw's new Elan nearfield speakers blew my mind. I hate headphones, but I would like to be able to listen to music while working without waking up the neighbors. Sonically, the Elan nearfield speakers are a knockout, with imaging that is spectacular. All I could think of was the Star Wars scene with the little holographic image of Darth Vader in the command module of one of those walking tanks. At $2000, the Elan nearfield speakers are not cheap, but I can imagine setting up a system like this in my office if funds allowed.
The Spectral room was very impressive with the new Avalon Eidolon speakers and all of the latest electronics from Spectral. In addition to the equipment, it was a special treat to have Keith Johnson of HDCD and Reference Recordings fame manning the CD transport to explain how the equipment was set up and add snippets about the recordings that he had produced. The detail, depth of soundstage and incredible imaging really pushed my audio buttons.
Steven R. Rochlin
ATC is known throughout the professional monitoring community for its excellent studio monitors. Although Bumpy doesn't use 'em, Abby Roads Studios, Sony's NYC 5.1 DVD monitoring studio, the BBC, Thames TV, Pink Floyd's studio (and Dave Gilmore's home studio), Lou Reed, Krell, NAD, and just too many others to mention (like Robert Plant, Peter Gabriel, Telarc.... OK, you get the picture) use 'em. During one of my private dick jobs, I went to NYC baby to scope out all the new mini-monitors for my own home-based hard-disc recording studio. After auditioning many speakers, I left NYC empty-handed. Imagine that baby. The last place I expected to find some righteous, self-powered, excellent-sounding (in my humble opinion) recording studio mini-monitors was at the CES. The AES convention, maybe, but not at the CES! Well, when I walked into the ATC room none other than brother man Bruce Leek, a Telarc engineer, was there manning the gear!

To get to the point, it wasn't the famous larger monitors that got my tail a-waggin'. In fact, it was the smallest speaker I saw in the room! the SCM 20 A Pro is a 350-watt self-powered (300 for the mid/woof and 50 for the tweeter) mini-monitor. The midrange/bass driver is hand-built by ATC and uses a massive magnet featuring ATC's proprietary Super Linear Magnet System technology. This hybrid driver uses a 150mm cone that operates up to 600Hz, while the centrally located 75mm soft dome handles the critical midrange. The tweeter is made to critically precise specs too, though I may have said enough already. For preamp duties, ATC was using the SEA 2 which accepts balanced and unbalanced inputs and has balanced and unbalanced outputs (the SCM 20 A Pro speakers come standard with XLR inputs).

The sound was very harmonically natural with a wide and deep soundscape. "Fast yet not overly damped" is what my notes say. The cool thing is that for the well-heeled music lover these may be the cat's meow when used as computer speakers! Pricing for the SEA 2 preamp is $5,425 (a phono stage adds $1,075) while the separate remote control adds $450. The speakers, while not inexpensive, are $7,150 and may be well worth the entry fee compared to all the other self-powered mini-monitor speakers I've heard at stores and recording studios.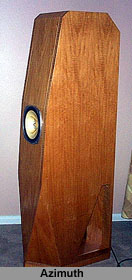 The Loth-X room was playing their top of the line Azimuth speaker, which uses just one tri-axial (three-way) driver which starts out its life as the elegant Lowther-Voigt speaker (Two of the radiating surfaces of this driver are attached to the large cone and have no voice coil of their own. These added-on radiating surfaces are sometimes called "whizzer cones."–ed.) The designers at Loth-X use only the original basket and magnet structure, hand make their own three-way paper cone with centrally mounted wooden phase plug and foam surround, which is designed by Mr. Stefan Stamm. Silver wire is used for the voice coil and internal wiring. We straight baby? The result is that this speaker uses absolutely no crossover to interfere in the signal's path! The cabinets are custom-made and are available in many wood finishes. This even extends to exotic woods such as Pommele Acolo and Pommele Moabi from South Africa, Semphurvenus Burl from Mexico, and sassy Sassafras Black Heart from Australia, just to name a few. Also used in the room was the Marantz CD63 MKII CD player, the Manley Jr. Purist preamplifier, Kimber Kable interconnects, Silver Sonic speaker cables, and a hand-made amplifier. Now this amplifier also caught my eye too! It used the 6AS7 double-triode tube, the 5AU4 for rectification, a 6SL7, and seven hand-made capacitors. Maybe Loth-X will one day be selling amplifiers too, I hope.
Now as for the sound, well.... It was yet wasn't what I've heard about the Lowther-Voigt. There was a beautiful midrange and glorious dynamics, like everyone has told me, ooooooh yes baby! Yet there were also delectable highs and deep yet tunefully tight bass to about 40Hz, as my ears told me. I must have visited this room three times during the Show to get away from the other noises. Soundscaping and hall acoustics were wonderfully natural too. I ain't jivin' you, man. At 104 db/w/m sensitivity, a simple 300B single-ended tube amplifier is more then you'll ever need—and a 2A3 2.5 watts single-ended amplifier should do very nicely. Let's just hope these speakers of my heart's desire find their way into my listening room soon.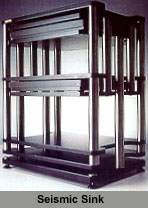 My "Can Ya Dig It" Innovation Award goes to... "Well shut my mouth," I said to myself when I first saw Townshend Audio's new Seismic Sink equipment rack in action. This is possibly the most ultimate rack ever conceived and built! You see, my sisters and brothers, the earth, let alone footfalls and speaker outputs, affect our music-reproduction equipment. This new rack can reduce lateral-plane vibrations from 3Hz to 80Hz, yet gently rolls off to 150Hz. Townshend Audio claims that the main reason why our systems sound better at night might not be because of less power-line-induced noise(s). Instead the better sound is due to less human activity and calmer winds which, affect the earth's surfaces. Each shelf has its own way to freely move in the lateral plane. Complicated as this may all seem, it is actually elegantly simple! By the way, they also offer dedicated amplifier stands too. These babies use MDF for the shelves, use Townshend's famous air bags, have adjustable glides, and you can even get spikes (though Townshend claims they offer no improvement). The price for the three-shelf unit is $1,840. You can get racks with more or fewer shelves and even order custom shelf heights. Amp stands that use the same principles cost $220 on up.
John Upton
Once again, Doug Schneider has asked us to submit a list of our three "standout" rooms at the CES. Once again, he has not chosen to define the term "standout," leaving me, a SoundStage! Show reporter, a dangerous amount of leeway to interpret this missive. If I were to interpret "standout" as meaning the finest overall sound, you'd be reading about the Merlin/Joule and Kharma/Lamm rooms at the Alexis Park and the Genesis display at Ceasar's. If I interpreted "standout" as meaning exceptionally bad sound, I'd be telling you about...no, I don't suppose that would be fair. Show conditions are tough, and a bad room can make the best of systems sound simply wretched. Instead, I've decided to try something a bit different and will define a "standout" room as one featuring products offering exceptional sound at real-world prices. With these parameters in mind, I offer the following as my CES '98 standouts...

Creek/Epos

It was a cold and clammy Friday afternoon as I trudged through the rain-engulfed Alexis Park Hotel. A winter storm had descended upon Las Vegas, and despite a concerted pre-Show plan and pack effort, it had never even occurred to me to pack an umbrella. After all, when was the last time anyone has been forced to bust out the wet weather gear to take in a high-end audio show?

Anyhow, as I hurried over to the next building complex on my coverage list, I caught the faint odor of whiskey in the air. Following my nose, I soon found myself in the warm and cheery Music Hall suite. Accepting a whiskey from Music Hall representative Leland Leard, I settled into a prime seat. As I listened, and listened, and continued to listen, certain thoughts began to occur to me. Am I really hearing what I think I'm hearing? Is this level of sonic refinement really possible at these prices? Are the megabuck supercomponents found elsewhere at the Show really worth the extra $$$? Did somebody slip something into my drink?

While the Music Hall room was packed with an impressive array of sensibly-priced high end components, the combination of the Creek CD 43 compact disc player ($995), the Creek 4330 remote volume integrated amplifier ($595), and the Epos ES12 loudspeakers ($1095) would be hard to touch in any back-for-the buck comparison. The performance of the Creek/Epos system was unquestionably high end caliber, offering a rich, vibrant presentation with very low coloration and none of the abrasive, brittle edge that seems to infect all too many lower-priced components. The price of these Creek and Epos pieces may be budget-oriented, but their sound qualities are definitely upscale.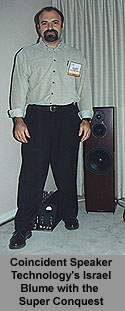 Coincident/Atma-Sphere
Tube amplifier lovers on a speaker budget should definitely consider checking out Coincident Speaker Technology's "Super Conquest" floorstanders. With a stated efficiency of 91 dB/W, bass performance reaching down into the mid 20Hz range, and an easy 8 ohm load, the Super Conquests would appear to be a ideal partner for all but the most anemic tube-based power amps. What makes the Super Conquests truly stand out in my mind, however, is their ability to deliver the full range, tube-friendly sonic goods at a price of just $2,499. Powered by Atma-Sphere's much heralded M-60 Mark II OTL mono block amplifiers ($3,795/pair), the Coincident/Atma-Sphere system projected a superbly listenable sound that was detailed, extended, and complete.
Mesa/Samadhi
Though the Mesa Engineering/Samadhi Acoustics suite featured two complete active systems, I actually found the exhibition of their lower-priced offerings to be the more intriguing combination. I must have heard Mesa's Tigris integrated amplifier ($2,495) in at least 4 different systems over the past year, and I have never heard it present anything other than outstanding sonic results. At CES 98, the Tigris powered Samadi's new Magic Cube loudspeakers ($1,395). The diminutive Cubes are just 7 1/2 inches square and feature a forward firing tweeter and a 4 1/2 inch midrange/woofer pointed directly at the ceiling. Samadhi has termed the phrase "Ceiling Boundary Ambience Enhancement tm" to describe this particular configuration, and it did seem to coax more sound out of these tiny speakers than I would have thought possible. While the little Samadhi is certainly not the last word in floor-shaking bass output, the Tigris/Magic Cube combination worked well, producing a natural, compelling sound reminiscent of components retailing for much, much more.
Doug Blackburn
OK, if you already read my Show report, you might remember that I was way busy shooting photos and schmoozing, so my three best rooms aren't going to be necessarily based on sound quality. Instead, they are the rooms where I had a relaxing listening experience, learned something new, or just generally had a good time.

Number 1: Vandersteen. Every time I talk to Richard Vandersteen I learn something. This time the "Q-Sound" demo unmasked a parameter of speaker performance (time/phase alignment) that is not easy to show the importance of with conventional stereo music in a brief demo. Listeners aren't usually very well tuned into the benefits of time-phase alignment, especially if they are used to listening to music with speakers that aren't time-phase aligned. "Q-Sound" makes tiny changes to portions of the audio signal in the time, phase and frequency domains to achieve surround effects through stereo speakers. If the playback chain contains time or phase shifts, the "Q-Sound" effects appear in different room locations than they do when played back over a system with near-perfect time-phase alignment. In a time-phase correct system, using a CD like Roger Waters' Amused to Death, you get "Q-Sound" effects in a 359 degree spread from behind your left ear all the way around to behind your right ear. The only place sounds don't seem to be able to be placed are directly behind your head. In systems that aren't time-phase aligned, the spread is typically 120 to 180 degrees, in the front half of the room only. Once you experience the difference you can attribute to time-phase alignment, it is easier to understand how it is desirable for a normal music signal.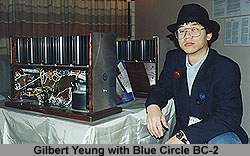 Number 2: Blue Circle Audio. As usual, the Blue Circle room could be counted on for great sound and conversation. Gilbert Yeung, Blue Circle's president, wins the first-annual "dB's Best/Worst Sense of Humor Award." dB awards will henceforth be known as the "Belle," as in short for "decibel." Gilbert is now infamous for getting the most laughs from the worst jokes. Besides that, he let me drop 35 pounds of "load" several times to make walking the Show easier. Thanks guys! Ring your Belle, Gilbert!
Number 3: Tie. The Flamingo Hilton Ballroom, site of the Stereophile party. Are you kidding? English beer on tap. Fine wines. Freshly prepared foods. Great people. Inspiring conversation. A desert oasis for Show-weary reporters and manufacturers. The Alexis Park Ballroom, site of the Fi magazine/CEMA party on the first night of the Show. Same deal...good food and drink, loads of people to talk to and Mighty Sam McClain live in concert. Marred only by the huge turnout.
Dave Duvall
It was nice that Doug Schneider gave us three best picks this year because it was quite possible to find a number of rooms that sounded equally great. Here are my choices, in no particular order.

The Canorus room sounded even better this time than it did at Hi-Fi '97 in San Francisco. I listened to Diana Krall sing several live cuts recorded and played back at 24-bit/96kHz on a Nagra D ($25,750) digital tape recorder. Also used in the room was a Meridian 500 CD transport ($2,395), dCs Elgar D/A converter ($12,000) connected directly to a Reference Line Silver Signature 100wpc stereo amp ($8,000), proprietary interconnects, Cardas Golden Cross speaker cables and power cords, and FocusAudio Model 78 speakers ($3,360 pr.). I asked if I could loiter for a few hours—the music was so real. Permission was granted.

I'm putting the Wilson-Benesch room on my list for the second year running. The ACT 1 speakers ($10,000 with new compacted-fiber cone technology) did it to me again, with their agile sense of space and time pushing all the right buttons with me. Other components included the FM Acoustics 611 Resolution amplifier ($38,000), 155 preamplifier ($4,980), and 122 phono stage ($5,500), Wilson Benesch Circle turntable/0.5 arm ($2,995) and Analog cartridge ($3,800), and the Pink Triangle Litaural HDCD CD player ($3,695).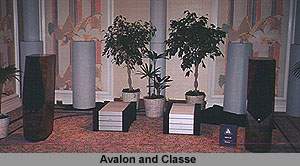 The Avalon / Classe Audio room at the Golden Nugget gets the nod from me as well. The Avalon Eidolon speakers ($19,950 per pair) are something to be reckoned with. More so than with the Avalon speaker line before them, I found myself emotionally attached to the musical experience the Eidolons created. Compliments to Classe as well for using their CDT-1 transport ($2,495), DAC-1 converter ($3,995), prototype Omega 400wpc bridged stereo amplifiers (approx. $15,000 each), and a prototype preamp to contribute to this wonderful sound. Cardas Golden Cross power cords, NBS speaker cables, and ASC Tube Traps (review forthcoming) played an important part in bringing out the best from this system.
|