SoundStage!
Full Report Coverage by Contributor
Tony Fafoglia
---
Vegas, the city that never sleeps. Where the high-rollers go to bet it all on a spin of the roulette wheel. What can you say about a town with a bigger-than-life monument to Sigfried and Roy? Just when you think you've seen it all you go to a 7-11 that has slot machines, folks playing them, and a gourmet coffee stand. Hey, any place where a person can get a full buffet meal 24 hours a day for $6.95 can't be all bad...or can it? It was with a mixture of excitement and trepidation that I volunteered to be part of the "Dirty Dozen" as the dealers, manufacturers and reps at CES referred to the SoundStage! crew. Echoing through my mind as I staggered from room to room were my orders from Publisher Doug.... "Listen, and listen good..." That's what he told me, and that's what I did.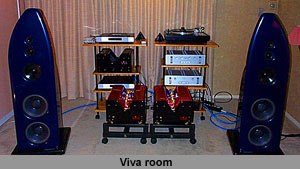 One thing the that was apparent from this year's CES is that tube gear is not only alive and well but seems to be proliferating. Several Italian companies that make single-ended tube amplifiers and high-sensitivity speakers were represented. The products were impressive not only to my ears but also to my eyes. Viva Audio Devices, distributed by Fanfare International, is such a company. In their room I heard good sounds from the Aurora 21Wpc single-ended amps ($18,000), Linea preamp and Quintetto speakers (90dB efficient at $12,500) with a VPI Mk.IV turntable/JMW tonearm analog front end. As they say in Italy, "primo."
Nightingale is a Rome-based company that makes the ADM-30 tube integrated class-A amp. Their source was the Sony XA50ES CD player feeding the company's Pearl-Celeste speakers. My notes on the room only say "excellent." Wish I could've stayed there longer, but I had to move on.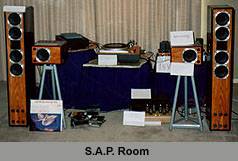 Another interesting Italian room was that of Strumenti Acustici di Precisione (S.A.P. for short), a company from Salerno that makes high-efficiency horn speakers as well as speakers with built-in class-A tube amps. They were playing the SAP 1 horn driven by a custom one-and-a-half watt tube amp (you read it right!). A Technics SP-15 direct-drive turntable with Dynavector arm and Denon 103 MC cartridge were also in use.
Next on hand was the Pro Audio/Pink Triangle room. They were demoing the new Tarantella turntable/Rega RB250 arm combo ($1,495) with a Technics U205 MM cartridge (out of production, I believe). Amplification was by UK company Trilogy's valve 958 triode monoblocks, 918 linestage and 904 phonostage (U.S. prices not set yet). Speakers were by ARS Acoustics. This was another room that was tough for me to leave.
Another room that was doing the whole-system thing was the Rega/Lauerman/May Audio suite. The Rega Planar 9 ($2,650), EMT TU25 MC cartridge ($2,000) and Rega Planet CD player ($795) sources were playing through a Rega Hal preamp and Exon monoblocks via the Rega ELA speakers. The gear was situated on Target stands and wired with Sonic Link cable. I enjoyed this one, as the Rega system was making good tunes, as they say in the UK.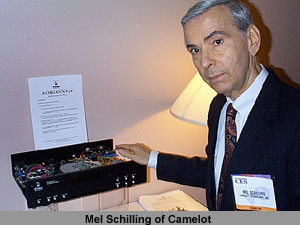 Next up was the Camelot room featuring their line of digital products. I listened to their Merlin Pro transport into the Uther V.2.0 DAC with the Dragon Pro2 anti-jitter box all feeding into a Audio Research VTA 100 tube amp and Genesis 500 speakers. Tara cable was used for connections. The sound was fast, detailed and impressive, although not really my cup o' tea overall.
The German speaker company Audioplan made its first U.S appearance at the CES. Although established in 1982, they're trying to market themselves now in North America. They were demoing the Koncert Speakers ($8,000) with a Helios CD player, KR Enterprises Vacuum Transistor amps, and Audioplan cables. I was impressed by the craftsmanship of their designs.
The Walker Audio room put me back in a land I love--turntable land. They were playing the Walker Proscenium Gold Signature table which retails at a cool $13,000. Heck give me one for each room. The sound was impressive, and I was trying to figure out how many part-time jobs I would need to afford one. The rest of the system included the Clearaudio Insider MC cartridge, American Hybrid Technologies linestage and phonostage, LAMM M1.1 amplifiers and the Von Schweikert VR-6 speakers. A good time was had there.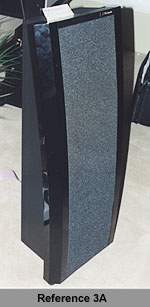 A room for me that was like an oasis for my ears was the Divergent Technologies room, with Copland, Primare, Reference 3A, and Chang Lightspeed gear. I heard Johnny Cash and then Shirley Horn through the Copland CTA301 tube preamp, CSA515 power amp and the new CDA266 CD player ($2,000). They were using Reference 3A speakers and the Chang Lightspeed 9600 ISO line conditioner. This is the kind of stuff that could make an audio rogue settle down for good. The Copland gear is visually stunning as well. Primare is Copeland's new lower-cost line of solid-state components.
Bleary-eyed but still determined, I wandered into a second Fanfare International room. They were demoing the Plinius line of solid-state amplifiers from New Zealand. I heard the Plinius M16 preamp ($4,250), SA250 power amp ($7500) and the Alon Circe speakers ($12,000). Source was the ubiquitous but fine VPI MK IV/JMW Memorial arm combination, with a Clearaudio Signature Gold MC cartridge into a Plinius M14 phonostage ($3,495). They were also demoing the Metrare T1 Metronome transport ($3,300) and C1 DAC ($3,300). The C1 DAC is interesting in that it features an option that allows switching between a tube or a solid-state output stage. All cabling was by Siltech, and the sound from both digital and analog was dynamic and refined.
The Helios/KR Enterprises suite featured some impressive sounds via the Helios Stargate transport and the StarDac1. The company is based in France and new to the U.S. market. I was impressed by the musicality of the line. Also used in the room were the KR Enterprises Vacuum Transistor amps from the Czech Republic and Wilson Cub speakers.
---