SoundStage!
Full Report Coverage by Contributor
Steven Rochlin on Analog
---
So it was me and my SoundStage! brother-men who went to bag us some of the sights and sounds in Las Vegas. You dig, baby? Well, Doug (from now on referred to as "Bumpy") said my job as a SoundStage! private dick was to scope all of the analog gear and also come up with three of the most solid sounds laid on me at the Show. Who is the man who would risk his neck for his brother-man? So after Bumpy handed us our assignments, I was off to the Alexis Park Hotel.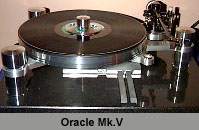 The righteous and well-known Oracle turntable is now in its Mk V version. Some of the newest improvements include greater isolation that combines over twelve different parts in seven different mechanical filters and keeps footfalls and extraneous noises from affecting the music reproduction. The eight-pound platter is also designed to be virtually impervious to outside vibration. The new bearing system incorporates six precision-surfaced nylon setscrews for long life and minimum maintenance. In granite black, the Mk V is priced at $3,400, although you can save $300 if you want the clear acrylic base (tonearm not included).
Thorens just announced that they upgraded one of their most popular tables, which now is called the TD 295 II. The upgraded unit includes three-speed capability for those who enjoy 33 1/3-, 45- and 78-rpm records. It not only comes in a lacquered black finish, but flat black, walnut, rosewood and even white. Most folks don't know this, but Thorens has been in the music-reproduction business since 1883 and now makes nine different turntables that span many different price ranges. Retail cost of the TD 295 II is $999 including the TP40 tonearm. Right on!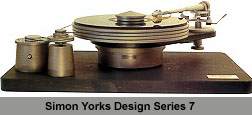 The Simon Yorks Designs turntable, out of England, is hand-made for the U.S. Feds, man. Looks like Big Brother wanted a piece of the analog action too. The Series 7 setup includes a very heavy platter and a beefy motor that can play at three different speeds, like the Thorens. Because this turntable is also used by the Library of Congress, the large platter accommodates not only normal 12" vinyl records, but 14" transcription records. A 9" tonearm is standard, and you can get an optional 12" tonearm. Simon Yorks makes another version of the Series 7 that holds both 9" and 12" tonearms at the same time and can play vinyl discs up to 20" in diameter. Pricing for the standard single-tonearm unit is $10,000.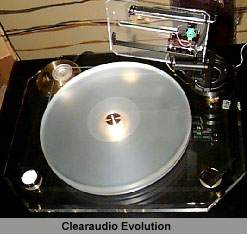 One of the best, if not the best, bang-for-the-buck turntable, my brothers, has to be the new Clearaudio Evolution with linear-tracking tonearm. When you move the tonearm to the down position, an hydraulic thing happens; in the bottom third of the travel, the hydraulics kick in and arm/cartridge very slowly approach the platter. The easy-to-use lever on the right side is used to move the stylus onto the record. You dig?
A macho synchronous motor, big brass cone feet, an inverted bearing, and anti-magnetic RCA plugs are just a few of the features of the Evolution. This is a suspensionless turntable that employs creative usage of geometric shapes, which in turn also make the package easy to set up and maintain. All of the above, including the MC cartridge, will only set you back $2,500. This is a great deal for what may be a new evolution of linear-tracking arm systems on the cheap. And it's sexy too! Hey, I ain't jivin' you, man.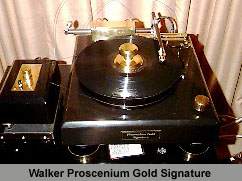 On the opposite end of the linear-tracking-tonearm-and-turntable scale is the Walker Proscenium Gold Signature. Lemme lay on you some quick and dirty specifications: a base made of crushed marble and lead that weighs approximately 245 pounds with motor; an air-bearing platter with three jets, the platter itself made of lead and weighing in at 70 pounds; a 45-psi air-bearing linear-tracking tonearm; pure-silver tonearm wire; easily adjustable VTA; and too much more to mention. Cost? $9,000--and up to $15,000 fully loaded. Just make sure you and two of your friends move it!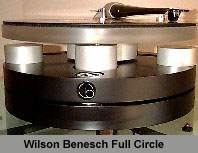 Wilson Benesch's Full Circle turntable-arm-cartridge setup is a modular design for ease of upgrading. You get the Wilson Benesch Circle turntable, the ACT 0.5 tonearm, and the PLY cartridge, which has a 1.90mV output. The PLY cartridge can only be purchased in the Full Circle setup and thus won't be sold separately. The price is $3,805 for this easy-to-set-up suspensionless rig.
---