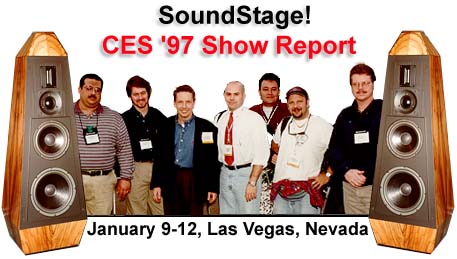 The SoundStage! Show Team
(Left-Right) Mike Fenech, Todd Warnke, Doug Schneider,
Marty Keane, John Upton, Craig Schilling, and Dave Duvall
Speakers shown are by Nestorovic, on display at the off-site High End Show at the Debbie Reynold's
Hotel (an eery and strange place indeed). Reportedly only three speakers pairs exist in the world!
Note: neither the speakers nor the people shown are actual size. If you think we all scrunched
and kneeled between the speakers then we fooled you with this fine illusion!
Show Report By:
Mike Fenech, Dave Duvall, Marty Keane, Todd Warnke,
Craig Schilling, and Doug Schneider
Photos by:
Doug Schneider (except where noted)
Compiled, Mixed, Edited and Produced by:
Todd Warnke
---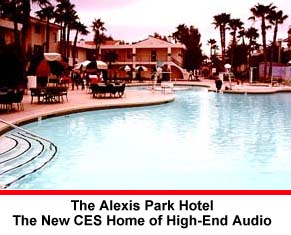 One advantage of a Web-zine is that people from all over the world can assemble it without regard for physical location (for example, Doug Schneider, our trusted leader, is in Canada, NY Marty is in … well, New York, Dave Duvall and John Upton are in California, Mike Fenech and Craig Schilling hail from Texas, and Jim Saxon is in Costa Rica). This is also a disadvantage as most of us have never had a face to face, at least until CES.
Oh yes, CES, an excuse to justifiably kiss the Significant Other good-bye and take off for an unsupervised week in Las Vegas! And that's just what 8 of us did the 2nd weekend of January. Doug Schneider, Dave Duvall, NY Marty Keane, Mike Fenech, Craig Schilling, Jim Saxon, John Upton, and me, Todd Warnke, met, most of us for the first time, in Lost Wages, for the sole purpose of bringing back the best CES show report in captivity (yea, right!).
What follows is our combined show report (John Upton and Jim Saxon have separate reports over special areas of the show, and so are not included here). The first section of this report will give each of the Fearless Five included in this report a little area to talk about their general impressions of the show. The next section is a room and gear report. And the last section gives us an opportunity to hand out awards. Following that is Craig Schilling's report on Music at the Show. That said, let's get to it!

NY Marty Keane (MK) leads off
Las Vegas is a bizarre and mystical place. Five hours after leaving New York City and seemingly flying across the country, my wife and I found ourselves looking at the New York skyline. This was weird, to say the least. What other city in the world would dare create a hotel/casino complex big enough to have its own New York city skyline. I immediately fell in love with the place.
This is the ideal place for CES. What better place to showcase the newest and latest "toys" than in this city of total excess and Western decadence. It was perfect. As to CES itself, it was totally overwhelming. There was so much to see and so little time to see it all. But in true SoundStage! fashion, I did my best.
Dave Duvall (DD) chimes in next
Hard to believe they let my kind roam around all the expensive gear laid out in the 130 or so rooms at the Alexis Park, but none the less I put on my press badge and did the dirty deed of listening to a lot of major toys. And it was a gas!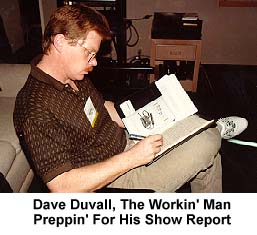 There was a lot of good sound and a lot of bad sound; that's to be expected. It never ceases to amaze me how the cost of a system does not necessarily relate to its performance. Nor, how some folks get great sound in small rooms, whether the gear eats up two square feet of floor space, or if opening the door puts you in intimate contact with a tweeter. Anyway, what follows is the cream of the crop as far as this Workin' Fool is concerned.
Mike Fenech (MF) follows
It's finally time for the show. After finishing up the yearly margin and forecast reports at work and watching the Cowboys go down in flames, I'm ready for a vacation. Reading off my pre-show advice list courtesy of TAS's Ann Turner, it says to dress up for the parties, dress comfortable for the show, carry around lots of water, trust nothing that sounds good, and be nice to everyone. Ann was right-on about everything. She also warned me about many people getting sick at the show, and I was no exception. I picked up something on the last day and still haven't gotten over it yet.
One thing that I wasn't expecting was how bad some of the demo music was. I still can't believe someone was playing "Famous Blue Raincoat" in at least three different rooms. I even heard James Newton Howard on one occasion. What's the deal? This stuff was around ten years ago!
But everyone had a good time anyway....
Doug Schneider (DAS), puts in his two cents worth next (actually, 1.5 cents worth since it's in Canadian currency)
I felt compelled to write something for the Show Report. There are just some things I wanted to proclaim. My intention at CES '97 was not to go and write a portion of the Show Report, I figured that would be better served by the other Contributors. However, the excitement of a few of the displays overtook me to where I feel I should pass on my picks for the Top Ten Rooms of CES '97 (at least of the ones I got to). So, what follows is my list of those rooms that deserve special mention.
And, lastly, Todd Warnke (TW), adds his impressions
Two days in Las Vegas is enough. Really. It just gets too artificial. You drive down the Strip and the big Luxor Pyramid kinda makes sense in the desert, but then New York, New York pops up. It's just bizarre to see the Statue of Liberty against the backdrop of the barren Vegas mountains. Still, it's warm, warmer than Denver (the night I got back home it was -10), the food's cheap, and CES is a kick. I had a chance to meet personal Audio Idols (I made a fool of myself in front of George Cardas), hear Musical Idols (Jimmy Rogers at the Fi Party, from the first row!), listen to some great gear (reports to follow), and best of all, meet the rest of the SoundStage! Crew. Details out of the way, off we go.
The Room Reports
Von Schweikert Research
(MK comments) Let me give you a mental image...kid in a candy store. Okay? Got it? Picture room upon room of high end gear just waiting to be heard. Wiping the drool from my mouth I went looking for audio nirvana.
I'm not going to bore you with an account of every room I went in, but I want to give you some of my personal highlights from the show.
Albert Von Schweikert showed off his latest speaker, the VR-8. This extremely large floor standing speaker (65"H and 500 lbs. each) has six drivers, looks massive, and has a 96dB sensitivity. Single-ended tube lovers will crave this speaker. The only problem is that you need a big room and lots of cash, $17,000 worth. As to their sound, I was impressed, although I think they were way too much speaker for the room they were in. Von Schweikert also had a smaller room where they had a surround sound music presentation using their new VR Theater speakers. The sound was excellent, even though the music they used was horrible. One thing I can't get used to is this whole concept of being placed "in" the music. It was disconcerting to hear a voice singing behind me on the left. I kept thinking that Mike Fenech was singing in my ear. Weird.
(DAS adds) They grow 'em BIG in upstate New York. I don't think we'll see a review sample of these babies in my one bedroom apartment soon. Physically, the VR-8's are overwhelming. But if you've got a large room and just under 20G's to drop these may be your ticket to sonic paradise. It is obvious that this is intended to be VSR's 'statement' loudspeaker. I don't have $17,000 to spend, nor the room, but a number of people do and these may be considered a bargain loudspeaker in those circles. BTW, I thought it was Mike singing too! Sh'eesh, maybe it was.....he has a nice voice.
Margules Audio
(TW leads off) Margules Audio - Based in Mexico City, this room impressed me immediately upon walking in. The equipment, from the remote controlled pre-amp (SF220r) to the pure class A 60 watt/side tube amp (U280sc) and the 2 way, three driver speakers (A1) were beautiful. Hand finished wood side panels on the pre and power amps with the exposed tubes standing proud and straight. The speakers were tall and slender as well, with a superb finish. The sound was excellent as well, smooth, detailed and nearly as beautiful as the components themselves. After listening for several minutes, I had made up my mind that these were excellent 5k and higher pieces when Julian Margules politely handed me his price sheet. HOLY COW! The pre-amp is $2300, the amp $2495 and the speakers $3,320 a pair! After that revelation I had to sit back down and listen again. I've got to admit that with the prices in mind, they sounded even better. This is a line to look out for.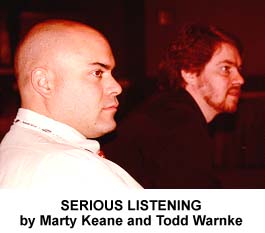 (MK offers this perspective) One room I absolutely loved was the Margules Audio room. This Mexican company is the creation of Julian Margules. They make their own tube amps, preamps, speakers, and active subwoofer, all of which were on display and making great music. This system sounded fantastic. Julian also demoed his Magenta Analog Digital Enhancer "black box" for me with an A-B comparison. This less than $200 tweak actually increased the soundstage and imparted more real presence to the instruments being played. It was unbelievable. I'm not a serious tweaker but this has to be tried. (Julian has lent one to SoundStage! and a review is forthcoming). Let's hope we see more of this company's products.
Balanced Audio Technology
(DD chips in) Balanced Audio Technology (BAT) had their VK200 balanced amps playing with a Wadia digital front end, Transparent cables, their VK5i preamp, an Aries turntable and ESP speakers. The music was exceptional when I listened to a solo piano piece; very harmonically rich and emotionally involving.
Swan/Caz-Tech
(MK is up first) Another of my favorite rooms was the Swans/Caz-Tech room. This room featured a pair of Swans Allure speakers ($6,000), which are a three-way front-ported speaker about the same size as Wilson Watt/Puppys. They sounded as good, too, if not better. They were powered by Caz-Tech's SE-845 monoblocks ($2,500 pair) and SPA-1 preamp ($450). This new Canadian tube gear is fantastic and priced to fly off the shelves. Very simple, very musical. The Swans speakers have a sensitivity of 93dB and are a perfect match.
(MF chimes in with) Caztech, a Canadian outfit, was showing their line of tube electronics, including a 40 watt per channel power amp which had more than a passing resemblance to my Golden Tube SE-40 amp. Called the SEP40, even its name could be considered a slap in the face to the folks at Solo Electronics. (The Golden Tube linestage is the SEP-1.) I decided not to confront either Caztech or Solo on this one, as I didn't want to bother with any well- rehearsed responses. Would Chris Lau at Solo consider the SEP40 the sincerest form of flattery? I kinda doubt it. Even though the general specifications of both amps are the same, I'll give Caztech the benefit of the doubt that the internal design is a little different.
(DD felt as follows) The Swans room featured their flagship Allure speakers ($6,000 pr.), combined with Caztech tube monoblock amps ($2,500 pr.), Caztec preamp, and an Accuphase CD player for some very detailed and transparent sound. The midrange was a tad bright, but all in all I was enamored to the music being made. The Allure is a speaker I'm putting on my "want to review" list, as I'd like to hear what qualities a larger room could bring out of this dual ported design.
Convergent Audio Technologies
(DD says) Over at the Debbie Reynolds hotel, Convergent Audio Technologies put up an approximately $50,000 system comprised of Wilson Watt/ Puppy speakers, CAT JL1 100 watt per channel (triode mode) tubed monoblock amps, CAT SL1 preamp, Melos CDD-2 transport, Audio Note DAC, Clear Audio turntable, Essential Sound Products Essence Power cord and their own high end power strip. The sound in this room was very accurate (the most subjective term that can possibly be used in reviewing), palpable, and dynamic when listening to Christian McBride playing "In A Hurry" off "Gettin' To It" (Verve 314 523 989-2). I could have listened to this system for hours. But no time to slack off, there's work to be done (attention IRS-this is all business!!!!!).
Whatmough
(MK starts us off) A find for me at the Debbie Reynolds was the Whatmough 502I speaker from Australia. This large floor standing speaker provided great tunes with Audion Apollo tube amps. Both are companies to keep listening for.
(DD remarks) I also enjoyed the Whatmough 502i Signature Series speakers I heard being used in conjunction with a Theta Data Basic II transport, Woodside Sound Engineering DAC, Whatmough passive preamp, and a pair of Apollo Mars 300B based monoblocks. This was a very lush sound, with excellent soundstaging. Lacking but a bit of transparency, I found this system to be romantic sounding, with excellent texture to violin and cello strings.
Audio Magic
(TW comments) In keeping with the "Magic" theme, Jerry and Dave covered the walls with Styrofoam bricks, creating a castle. Now, I don't want to start a new tweak, but the sound was superb! In fact, the Von Schweikert VR 4.5's (at several locations in the show) sounded best to me in this room. Since Jerry and Dave live just down the road from me, I may have to borrow the bricks to see if that was the reason, or perhaps it's all due to their magical wire.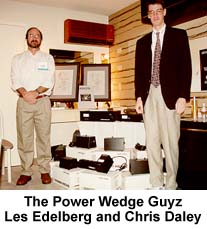 Audio Power Industries (Power Wedge)
(DAS tells us) Power Wedges were hard at work in a number of rooms and Mr. Power Wedge Guy - Les Edelberg could be seen scurrying here, there, and everywhere during the show. In Audio Power's own room the entire lineup of products were on silent display, however, what took me by surprise was the depth of their power products. Power Packs and Power Wedges were in every conceivable configuration, as well, there is the Power Enhancer and their very high quality Power Link power cords.
Joseph Audio
(DD starts us up) "Bang for the buck" kudos go to Jeff and Abbe Joseph of Joseph Audio, and their RM7Si Signature Speakers. The latest version of the much heralded RM7Si sports a 6.5" aluminum cone driver with phase plug, a 25mm silk fabric dome tweeter, and the patented 120db/octave "Infinite Slope" crossover implemented at 2,000 Hz. Also in the system was Golden Tube Audio's SE-100 amp and SEP1 tubed preamp, a Levinson 39 CD player, and Cardas cabling. When Jeff played a 1961 Audio Fidelity vinyl rendition of Louis Armstrong singing "St. James Infirmary Blues" on a VPI turntable, I thought I had died and gone to heaven. The recreation of this classic was stunningly played through the RM7Si Signatures. If your looking for monitors, the Joseph Audio line needs to be heard before you make your buying decision.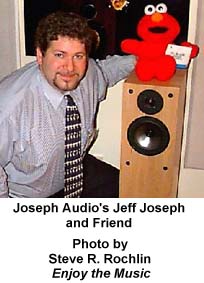 (TW sez) Jeff was showing his RM7si Signatures. The major difference 'tween the 7 and 7 Sig is metal cone driver in the Sig. The best part is the price only moves up by $400. I've always liked Joseph Audio speakers, and the new 7 only confirms my already strong opinion of the line. Good bass extension and very nice mid range as well. Still, what caught my eye in Jeff's room was the new RM22si Signature. It sports the same driver complement as the 7 Sig., but instead of the stand mounted 7, it's enclosed in an absolutely beautiful, slender mini tower. Good stuff Jeff.
(MK adds) Another standout, as is to be expected, was Jeff Joseph's room. Jeff was showing off his new RM7si Signature Edition mini monitors. They are physically the same size as the much acclaimed RM7si but have a new aluminum woofer. These speakers are phenomenal at imaging and sound much larger than they really are. Voices are palpable and soulful and altogether lifelike. Jeff played some Louis Armstrong on vinyl that made me think Satchmo was still alive. These speakers are in the $1700 to $1900 range and definitely warrant an audition. Jeff was joined in this room by Golden Tube Audio who used their SE-100 tube power amp and SEP-1 tube preamp. Great combo. Joseph Audio was also in another room with the RM7si, with amplification provided by Ayre with their M-1 power amplifier and K- 1 preamp. This room also sounded good, although not as good as with the Golden Tube equipment.
Krix
(TW feels this about that) This speaker company's name may be unfamiliar to you, but if justice prevails it won't be for long. This long established Australian company has a line of speakers with great looks and great sound, and which offer a great value as well. When I walked in they were playing the Equinox ($599/pair), driven with Threshold and PS Audio electronics. This little two way has a 5" woofer and a 1" fabric dome tweeter, all enclosed in a box with superb finish. I know it's just cosmetic, but the finish really was nice. Ashley Krix, who's brother started the company 23 years ago, says that they do all the cabinet work in house, as well as doing the cabinetry for other Aussie speaker companies. As for the sound, simply put, for overall coherence, and even ignoring the $599 price, it was darn near the best of show. Really. The staging was excellent, bass was surprisingly deep and well articulated, treble extended and airy, and the dynamics were very good to boot. In absolute terms other speakers bettered the little Krix, but in terms of overall value, in my opinion, nothing else came close. In many ways the Equinox reminded me of the ProAc Response 1, but at 1/3 the price.

Merlin Music Systems
(DAS offers his first pick for Best Sound at the Show) Bobby Palkovic at Merlin Music Systems showed his $4,500 VSM Loudspeaker to great effect. Merlin has been around been around for many years now and their experience shows. VSM stands for Very Scary Monitor and is a floor standing loudspeaker with a state of the art driver compliment. Their other speaker is the TSM (The Small Merlin) which is an exceptionally high-quality mini-monitor. Merlin took great care in proper placement of their speakers in the room and matched the VSM with fine components. The result was extraordinary detail and transparency coupled with great musicality. In my opinion, one of the three best sounding rooms at the show.
Unison Research
(MK has this to say) Strange, yet beautiful, equipment was proudly on display by Italy's Unison Research. The Dream preamp looks like the hood of a car in beautiful polished wood. It almost looks like it could star in an X Files episode. Wild stuff. Italy's Viva Audio Devices was also at the show with some really gorgeous tube equipment and speakers.
(DAS chips in with) I could not really 'hear' the Unison Research's electronics. Too much background talk amidst the low-level playing, but I certainly 'saw' the equipment. There were many other gorgeous audio 'sculptures' at the show -- almost all from Italian manufacturers. But Unison gets my nod for most wildly elegant.
Metaphor
(DAS comments, placing these in the Top 3 at the show) This is an unknown company to me. I'd only heard they name in passing and I don't even know the model name of the speaker they were playing ( I do know they retailed at about $20,000). The sound was simply fabulous, some of the best I heard that weekend. The system was beautifully detailed with lifelike dynamics and the ability to play any type of music with ease (see Craig Schilling's comments in the Music Report that follows).
Totem
(TW says) God, do these guys know how to get bass of a little driver! The Model 1 has been justly praised for its bass, and now the guys at Totem have decided to try their hands at a floor standing model to extend the bass response of their speakers. The STTAF is the result. Driven by Sphinx electronics, the sound of these slim (6.5" x 9.5" x 36") excellent (and elegant) looking speakers was paradigm shattering. Dynamic, clear, articulate, dimensional, and coherent. Oh, and as you'd guess, with a great bottom end as well. At $1495, these speakers make it difficult for anyone selling more expensive speakers to justify why.
(DAS adds) Totem's display of their new floor standing loudspeaker called The Staff (approximately $1,500 USD). It's elegant and nicely finished, sporting what looked like only a five inch woofer and a one inch tweeter. The display had people muttering, "ok, where did they hide the sub?" How Totem gets such lifelike and dynamic performance out of their small driver speakers seems a mystery to many (including myself). However, the proof is in the listening and I'll bet this speaker is a marketplace winner! It is a definite contender for Best Sound of the Show, and the decided winner in my own personal category of most Overachieving Heckuva-Great Little Loudspeaker.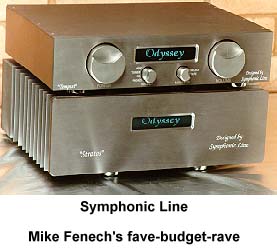 Symphonic Line
(MF steps up with …) Bargain of the Show - Symphonic Line's new Odyssey line. Amp, linestage, and speakers for $995 each, all of which had the look and feel of costing at least $10k for the set. All I was thinking was we just gotta get these in for review, although I was surely not the first with that impression. Distributor Klaus Bunge's 'in your face' enthusiasm during his presentation wasn't really necessary, as the sound of this setup substantiated its bargain status for me.
(MK adds) Symphonic Line was also showing off their beautiful equipment. And to add to their lineup is the Odyssey Project 2 Line which consists of the Tempest preamp, Stratos amp, and Mystique loudspeakers. Total retail value for all (3) pieces, less than $3,000. This is some intriguing gear and something SoundStage! needs to review.
Coincident Speaker Technology
(DAS) Coincident's Israel Blume was showing off his new $1595 Conquest loudspeaker to good effect. To compensate for some room problems he had them placed only a foot from each corner! He did it right because the sound was full bodied, with surprisingly good image focus considering the very wide placement. (a full SoundStage! review will appear on these speakers March 1).
pARTarticular Contemporary Designs
(DAS starts this time) Volkmar Drubbish at 'pARTicular' makes stands. Not just ANY stand, but incredibly elegant stands. They're not cheap, starting at over $2000 USD, but they are nothing short of works of art.
(MK replies) Coolest rack award goes to the Ypsilon, designed by Volkmar Drubbisch. All of the racks shown by this company, Particular Contemporary Designs, resembled modern sculpture, with an eye towards complete functionality. Expensive, but attractive, audio furniture.
EdgarHorns
(DAS begins) Like Metaphor, Edgar Horn loudspeakers were being shown off-site at the Debbie Reynolds Hotel (a very odd and eerie hotel to say the least). I've never heard a horn loudspeaker I liked. But with certain types of musical the Edgar Horn speaker, to my ears, sounded very good and is by far the best sounding horn loudspeaker I've heard.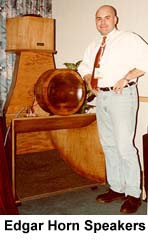 (DD adds this) Dr. Bruce Edgar was in full force with his massive plywood horn speaker, sporting a beautiful round laminated Tractrix midrange horn. It's simply astonishing what Dr. Bruce got out of the first watt or two from the MONS-300B 10w amps. Just to show off a little, he played some very dynamic solo drum work that literally took it to you physically. Horns don't get me all the way to where I want to go, but these horns are impressive and need to be heard to be believed. Spousal Acceptance Factor-forget about it, but Dr. Edgar and his horns are both a joy to be around.
(and MK says) Eye openers for me at this year's show...I don't hate horn loudspeakers. I used to hate them. Now I can tolerate them a little. I had a chance to listen to a pair of Edgarhorn System 70 speakers played with a Mons 300B Vacuum Tube Amp and was duly impressed by some mono jazz recordings. If you're into 1940's jazz then this may be the system for you. Very natural. However, newer jazz CDs did not sound that good through this system.
Bella Voce/Wavelength Audio/Nirvana Audio
(DD feels like this) Gordon Rankin was demonstrating his Wavelength Napoleon amps and Sine V.2 preamp in Stephen Creamer's Nirvana Audio room. Filling out the lineup was a Theta Basic II CD player, Apogee DA1000 20 bit D/A converter, and Bella Voce speakers. We listened to Margo Timmens (have you figured out yet that this ladies voice makes me weak) sing "Hold On To Me" from "Lay it Down", and I must say I was aghast at how neutral sounding this low powered system was. No tonal coloration was noticeable, leaving the ears and mind at total ease to enjoy a beautiful piece of music.
(DAS adds his last pick for Best Sound at the Show) The Bella Voce speakers were played with Wavelength electronics through Nirvana Audio cabling. The sound was so incredibly smooth, musical and seductive that I lost track of where I was for a moment. Thoroughly involving, to say the least. Along with the Metaphor and Merlin this room rounds out my picks for Best Sound at the Show. Which was the absolute best? Too tough to pick, I'd take any one of them home.
Genesis
(DD comments) Genesis, now with ex-Audio Alchemy marketing wiz Mark Schifter joining Paul McGowan and Arnie Nudell's team, was demonstrating their model 700 speaker ($3,000 pr.-black ash) with the model 900 servo controlled subwoofer ($1,900 ea.-black ash). I liked what I heard, considering there was a behemoth projection TV slightly behind, and between the 700's. These stand mounted speakers feature two 6.5" metal drivers and two 1" circular ribbon tweeters. The tweeters are mounted one front and one rear for dipole (out of phase) operation. I was impressed with the reach and clarity of the bass vocal on "Swing Low, Sweet Chariot", from the all too often played Fairfield Four disc.
Meret Audio
(TW states) The well received Ay speaker was on display and giving excellent sound. Kelly Cunningham, the brains behind Meret was using vinyl to show his design off. I've wanted to listen to the Ay, and I've got to admit that the experience was very good indeed. Relaxing, involving and neutral, the Ay showed why it has gotten good reviews. If I could have spared the time, this would have been the place to spend an hour or so. The Ay, while detailed is very inviting and relaxing. My type of sound. After listening Kelly indicated that we may get a chance to review one his smaller designs. I hope so!
ProAc
(MF says) The new Response 1Sc's were playing in the very slap-echo happy ProAc room. The questionable placement scheme by distributor Richard Gerberg resulted in a boomy midbass and some less than typical ProAc- like imaging. I played my 'Blue Moods of Spain' CD, which was the death of any setup there trying to overcome the Alexis Park bass curse, and Gerberg had to turn down the volume after 20 seconds. (For those keeping score, only the Edgarhorn room cut their volume down in less time.)
Audio Artistry
(DD claims) In the Audio Artistry room the Beethoven speakers were fronting a Rowland Concerta integrated amp and Cadence phono stage, Muse Model Five transport and Model Two DAC, Kuzma turntable, Cardas Heart cartridge, Audio Power Industries Power Wedge MKII, and Cardas cabled system. The Beethoven's did a great job at the old disappearing act, and demonstrated superb imaging. With this setup it was easy to hear deep into the soundstage.
Platinum Audio
(TW has this to say) The Platinum Audio room had two shows going, one a home theater demo, and the other built around their new, ultra-fi speaker, the name of which escapes me but the approximate price of $85,000 still rings in my ears. The home theater demo was built around a complement of 5 Studio 1 speakers, giving a final price of less than $2500. The bass was deep and powerful, and the mids and highs were their equal. The AC-3 demo placed effects in true surround and the string tone on the music demo was great as well. As for those 85k speakers, each one looked like a wet bar on Nemo's Nautilus. Art Deco styling, stunning all wood finish and 6+ feet tall. They are also several feet wide and 6-8 feet deep. If one looked at only the furniture/artistic value, 85 big ones seemed like a bargain. As for the sound, even though the room was cramped for them, I was impressed by what Phil Jones can do with cost restraints removed.
Blue Circle/Jena Labs
(MK feels) Let's face it. At a show this big, there's a lot of equipment that you don't get to hear. Some of it you just get to see or you hear just a taste of it. (There is a) …short list of what looks cool and what you should try to hear. Topping the list is the Blue Circle BC-3 preamp and the new Blue Circle amplifiers, specifically the BC-6. Very cool looking tube gear with the signature blue circle on/off switch. The insides of the BC-3 preamp are a wonder to behold, with point to-point wiring and an all dual-mono design down to the volume controls which are made by Blue Circle. Trust me, you've never seen this many resistors soldered in a circle before. It also has a stainless steel fascia and cabinet. Personally, I'm a big lover of stainless steel. The sound in the Blue Circle room was also very good.
(TW chimes in with) SoundStage!, along with Positive Feedback have been about the only places to talk about these two companies. Well, if what I heard in Vegas holds up, it won't be long till both these companies greatly increase their exposure. Blue Circle's amps and pre-amps are very original. Hand wired, wood and stainless steel finishes and original circuit topologies (purist, yes - but also unique). Wired with Jena Labs cables, the combo was excellent. After listening for a while (and yes, just hanging out too), Jennifer and Michael Crock (Jennifer is the Jena in Jena Labs) took me to a side room where they had wired the Blue Circle mono block amps up in an analog setup. By chance Michael dropped my all-time favorite album on the turntable, Miles' "Kind of Blue". I gotta tell you, this was the highlight of the show for me. Although the speakers were, in my estimation, not quite up to the rest of the setup, the drive from the amp and purity of the pre-amp and the cables let ALL the emotion through. This little demo almost removed my single greatest musical regret in life. My wife got sick the night we were to go see Miles in concert, and then 2 years later he died. The Jena/Blue Circle combo just about pulled a Lazarus right before my eyes. Lovely stuff.
Solo Electronics/Golden Tube
(MF sez) A room close to my heart was the Solo Electronics/Golden tube room, since I own their SE-40 amp and until recently their SEP-1 linestage. I finally got to see the beautifully styled SE-100 and SE-300B amps, but the star at this show was the new SI-40 integrated amplifier. For $980, you get 50 EL-34 watts per channel, micro- processor bias voltage control, front panel controlled active or passive modes for each line-level input, and a full function remote control. The Solo guys said there weren't any immediate plans to incorporate these features into the SEP-1 linestage or into a new preamp. Too bad.
Muse
(DD opines) I caught up with Muse's Kevin Halverson, and he showed me the military connector he will be using on the soon to be released I2S version of the Muse model two DAC. It resembles a computer port connector, and is much more robust than the miniDIN currently being used with the Audio Alchemy I2S products. Look for more I2S products to be on the market in the near future; I think the high-end is beginning to fully realize that S/PDIF transmission is flawed and sonically compromised. Camelot Technology and Audio Magic both showed I2S cables, as well as other products from their lines, at this years show. I hope the manufacturers remember all of us who own Audio Alchemy DDS PRO transports and DTI.PRO 32 interface units, when they're designing new DAC's and cables for I2S use. Repeat after me....."BACKWARDS COMPATIBLE"!
JPS Labs/Speaker Art
(DAS feels) "How much are those speakers?" In the JPS Labs room (the cable guy) was a bookshelf type design making wonderful music. From the sound quality I heard, I would have guessed the speakers cost $2000 to $2500. The price -- $1200!. The speakers -- The Clef. The company -- Speaker Art. SoundStage! has GOT to get some review samples.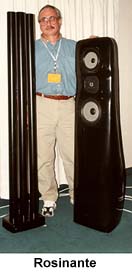 Rosinante
(MK states) There was another high end show going on at the Debbie Reynolds Hotel. A few dozen small and mid-sized manufacturers showed their wares in this bizarre hotel. The best of the bunch here was the room that featured the Transcendent Amplifier with the Rosinante Gabrielle loudspeakers. This is a gorgeous 2-way design that must be heard to be believed. I'm surprised that Rosinante hasn't become more of a high end household name in the last few years. I first heard them at Stereophile's Hi Fi Show in '95 and loved them back then. They're better now with this new model. The Transcendent Amplifier is a transformer-less tube design that sounds like no tube amp I've heard. Deep, clean fast bass plus everything you love about tubes. Incredible.
The Luxor Group
(MF says) In the Luxor Group room, they had some ProAc Response 2.5's in use that were heavily modified by one of the rooms exhibitors. Whatever was done to them (the outfit who modified them wasn't at the show), they became as dynamic and lively as any speaker I've ever heard. Unfortunately, they were one of the extremely rare cases at the show of speakers having a very bright presentation. I'd imagine the XLO cable they were using didn't help. The amp was another of the many huge tube power plants I saw there. Made no sense to me.
Tannoy/Manley Labs
(TW feels) Churchill. Remember him, the hat, the bulldog look and the "V" for victory. Well, Tannoy remembers, including the V. The Churchill was perhaps the most imposing looking speaker design at the show. Looking like it's based on the Canterbury or perhaps the Westminster, the Churchill stands 49" tall, and is 22.5" deep and wide. It tips in at 180 lb a side, and that's not including the 35 lb outboard crossover. Finished in Ebony trim, it takes your breath away. Still, the most striking design feature is the large V cut out of the middle of the box. Yep, that's right, in spite of their size, you can see right through 'em! I'm not sure what the V actually does, but I do know I want a pair. Displayed with Manley Labs pre and power amps, along with a Manley DAC, Genesis Digital Lens and CEC TL1 transport, the sound was deep, powerful and rich. I could have stayed all day.
Voce Divina
(DD tells us) …(very) impressive was the Voce Divana room, who also gets my vote for best "audiophile chair" at the show. Bryan Ganz told me it came from a Levitz Furniture Store, so I'm a searchin' for one in these parts! Bryan treated me to an extended listen to the Tenore speakers ($7,000 and up/pr.), Basso stereo subwoofers ($2,600 and up/pr.), and Passo crossover ($750 single-ended). The rest of the system included Sonogy 60 watt tubed monoblocks as well as a Sonogy class A prototype preamp, and Parasound 2000 series transport and digital to analog converter. A very transparent and neutral sound, with precise imaging, and a dimensional soundstage to die for. The Basso subs seemed to integrate seamlessly, and the only fault I could find was the mid bass seemed a smidge lean. This would be above the 40hz. crossover point of the Basso, so the Tenore's smallish 7" woofer could be the culprit. Needless to say, show and room conditions could have easily have been the contributing factor here, so I say a full audition of this wonderful sounding Voce Divana system is called for in my 18' x 28' listening room. A man's gotta dream, don't he?
Nordost Cable (TW begins with)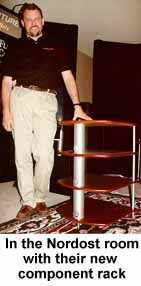 If not the finest sound, this was certainly the finest demonstration at CES. When Mike and I dropped by we had no idea what we were in for. Vincent Garino and friends took us for an hour long trip through their interconnect line beginning with the $40/.5 meter Magic 1 and continuing up the entire line to the $900 SPM Reference (the intermediate stops were the $70 Black Knight, the $100 Blue Angel, the $170 Blue Heaven, and the $330 Red Dawn). What was impressive was that at each step the sound improved. Significantly. I know a lot of manufacturers who would shy away from such a test, simply because the differences would be nowhere as obvious as they were with the Nordost interconnects. Actually, I should clear up a point here. Many times when a component is changed, all that happens is a difference, not an improvement. In the Nordost room, each wire change resulted in an improvement. On a musical point, Lars, who conducted the demo, allowed us to use our own music, and ended the show with a choice of his own, Jimi Hendrix. Way to go Lars!
(eerily, DAS has this to say) The Nordost room didn't necessarily have the best sound, but they did have the best cable demo I have ever heard. They used their Flatline cables. The setup was what looked like mid-priced gear and the only cable changed was the interconnect from the cd player to the integrated amp. They went from their $200 cable to the $400 cable to the $1100. And yes, each time there was more than an apparent improvement. Matter of the fact it was stupidly apparent! However, going from the $200 to the $400 yielded a much larger change than from $400 to $1100. Diminishing returns. In any case, Craig Schilling and I simply looked at each other and said, "Wow!"
Ultra Systems
(MF offers) Something of a rarity nowadays was introduced from the folks at UltraSystems. The new UniCone milled brass cones look just like UltraSystems' AudioPoint cones, but instead of using fixed threaded shafts, the UniCone is designed with threaded holes to accept a variety of threaded shafts. This design approach has also cut the price from $50 for a set of three 1" AudioPoints to $36 for a set of Unicones. Can't complain about that.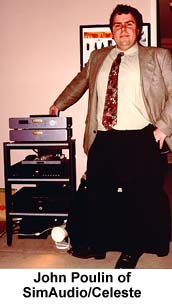 Gershman Acoustics/SimAudio-Celeste
(DAS concludes with) And finally, two Canadian companies made their mark in fine fashion. The elegant piano- lacquer Gershman Acoustics speakers were making wonderful music with the new line of SimAudio/Celeste electronics.
(to which MF simply adds) Best Sound of the Show - Gershman Acoustics/Celeste room.
Focus Audio/Threshold
(TW states) To these ears, the Focus room had the best - and most believable bass at CES. The FS88, an $8,000 speaker, specs +/- 3dB down to 22 cycles. After hearing them, I believe it. Driven by all Threshold electronics, excepting a Levinson transport, the heft of the 88's simply 86'ed anything else I heard. You know how live bass is felt as well as heard, well the Focus Audio speakers delivered that kind of bass. It was also taut, clean and musical. Yes, I fell in love. Oh, they looked gorgeous in piano black lacquer too.
Before we get to the awards, MK adds his little pitch for Home Theater
On a personal note and a bit of an eye opener, an old friend of mine who I haven't seen in 5 or 6 years is now the president of Snell. While surprising him at the show, I was able to hear and see a demo of their new home theater speakers and was quite impressed by what I heard. The Snells feature a new design with increased dampening of the actual cabinet using thicker curved HDF (instead of MDF) for the front baffle. The sound was quite good and not overly bright, as was the case with a lot of home theater demos.
Speaking of home theater...okay, I have to admit that I spent half a day checking out the video side of the show. Hey, why not? The most talked about technology at the show was DVD and I saw several working versions of this new and improved laserdisc/CD. It's exciting to see all of the major players come together to bring us real video. Finally, there's a video format that's worlds better than VHS and that may actually get mass marketed.
The most exciting DVD player was the Sony DVP-S7000. With dual lasers, one for CD replay and one for DVD, and digital outputs this seemed to be the player that may best suit video/audiophiles for now. Good CD transport and DVD player all in one. As to the best things about DVD, how about better than laserdisc picture quality, no side flipping, CD-sized, and multiple aspect ratios to be chosen by the viewer. Very cool. According to Sony, it will definitely be out in April and priced at or below $1,000.
Another exciting video mention is HDTV. I was able to view a Zenith presentation with HDTV playback on a front- projection screen using HDTV-recorded material. Simply breathtaking. Realistic imagery in spades. Almost 3-D. It'll be years before it gets here but will be worth the wait.

SoundStage! Special Awards Section
MF delivers the "Coolest"
Coolest Audiophile Celebrity I met - Harvey Rosenberg, the Tube God. All the time I saw him or was with him, he was wearing hiking boots, a kilt, and a fake fur headband lined with tubes (including a 300B). I followed this sixty-something eccentric gentleman through Frontierland on the way to the Stereophile party and it was interesting. He's a great guy with lots of guts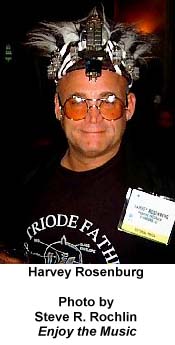 Other cool people at the show :
Steve Rochlin of the 'Enjoy the Music' website - Anyone whose business card doubles as a cartridge alignment tool is cool.
Chris Lau of Solo Electronics and Gilbert Yeung of Blue Circle - Both of these guys are top flight designers of outstanding tube electronics, but are only in their twenties.
Kevin Deal of Upscale Electronics - tube supplier to the Internet.
Kalman Rubinson, Richard Rosen, and Lonnie Brownell of Stereophile - Father to us all during our TAN days, Kal always had a few moments to spend with us during the show. Rick and Lonnie (the twins) had their musical hearts in the right place while still adhering to Stereophile's dress code.
Ann Turner of TAS - Ann was kind enough to give me a few pointers on surviving a CES (unfortunately I missed out on meeting Harry).
DD gives us his Best of Show
Best Sound at the Show. This one was easy for me. Granted there were a number of rooms I couldn't make it to, but I was absolutely blown away in the Wilson Benesch room. Every system I heard and liked had tubes in it somewhere. Preamp or amp or both. Not so here. The electronics were the solid state FM Acoustics Resolution series 611 amp, FM244 preamp, in total harmony with Wilson Benesch's turntable, carbon fibre arm, Stage One phono stage, and Act One speakers. The vinyl version of Patricia Barber's "Cafe Blue" was so amazingly spacious and palpable, I couldn't figure any better place to be. I was entranced by the music, and folks that's not easy to do when you're in a hotel room with people constantly coming and going. The Act One speakers are on my hot list, should an opportunity arise.
MF adds another important award Bargain Accessory of the Show
ECO spray by Nordost. Sam Tellig could regain his integrity in one shot bragging on this stuff. Even the flat-earth objectivist crowd in the newsgroups couldn't question it. See HP's rave in TAS 109. I got a free bottle - they must have liked my Lynyrd Skynyrd CD.
DD concludes by explaining further about CES (to which TW adds a hearty "Amen")
But there's another side to CES. Audio biz folks are not only hard working, but they tend to be the social type as well, and the Fi and Stereophile magazine parties brought them out in droves. Friday night's Fi party featured live music with blues legend Jimmy Rogers cranking it out for hours on end. Roger's backup band cooked with some fabulous keyboards, harmonica, bass, and drum work, with a spotlight on his son Jimmy D. Lane on lead guitar. Listen to me here...Acoustic Sounds is putting out Jimmy D. Lane's music on vinyl and CD, and you've got to hear this guy play. Shades of Hendrix and Stevie Ray interlace with Jimmy D. Lane's own swashbuckling style of picking
Saturday night's Stereophile party was a full house, with a lot of handshaking and catching up with old and the making of new friends going on. The centerpiece of the buffet table was a bigger than life size ice sculpture of the one and only J.Gordon Holt. As the SoundStage! crew imbibed upon beaucoup libations, we watched as Gordon's cigarette melted from his icy grip. Bravo to both magazines for the parties, and to all the people who worked hard to put on another great CES High-End Show!
Thank you from Todd, Mike, Dave, Marty, and Doug and see you at Hi-Fi '97 in San Francisco!
---
The Music Report
Craig Schilling on
The Best Music at CES '97
As a town for music, Vegas has certainly seen some better days. I remember talking to a cabbie when I was at WCES back in '94 who regaled me with stories of the golden days of Vegas, how he came to Vegas as a bass player playing seven nights a week in the lounges, how he played with some fabulous musicians, eventually playing in Sammy Davis Jr's band (he even played bass on the Samster's hit the Candyman!). The fact that he was now driving a cab was pretty telling. Still, I must admit that I've experienced some pretty amazing musical moments in this town, in spite of itself - like the "Morning Dew" in the second set, 5/20/95, Sam Boyd Silver Bowl, a transcendent moment for Jerry Garcia and the rest of "the boys" in a year with its share of pretty dismal moments as well.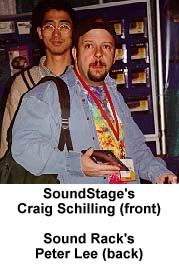 97 WCES was like that as well on the music front. Lots of pretty dismal music (played on pretty dismal sounding equipment) punctuated with a surprising number of serendipitous moments that convinced me once again that there is a small but significant minority of folks in this industry that are true music lovers that really "get it". No coincidence that the cool folks playing real music (i.e. non-audiophile!) in their rooms were responsible for designing, distributing, importing, or selling the best-sounding equipment. (Which left alot of other folks showing fairly emotionless stuff; hence, their insecurity in clinging to boring audiophile recordings, albeit impeccably recorded. Watch out if someone's afraid of you throwing some real music on their system. Not a good sign.) Sure this is a business, but no one said that had to preclude the right motivations. Thank God for the genuine music lovers in this business. It doesn't take alot of time at such a gathering to easily distinguish them from the rest of the crowd.
So I'd like to thank some of the following genuine music lovers I met at WCES, who, although industry types, have not forgotten why this whole crazy thing exits. There were certainly more, of course, but you can only cover so much ground...
It's a no-brainer for me to mention first and foremost a gentleman who easily had the best sound I heard at the show coming out of his Totem Staff speakers - Vince Bruzzese. Listen to the Staff (or any other Totem speaker, for that matter) and you will have no doubt that this man is a music lover who understands what he is doing. Vince was totally willing to let me play weird but powerful stuff like Phish's "Slave to the Traffic Light" from their 1995 live album "A Live One" (which would become one of my standard pieces for the show) or Vic Chesnutt's "Brute", a fabulous album by one the greatest and weirdest songwriters working today. (Special thanks to Brian DiFrank of Whetstone Audio in Austin for turning me on to Vic.) These speakers just channel the emotion and spirituality of music. (I must also mention that these were being driven by the good-sounding, but for my beer- budget tastes, over-priced, Sphinx solid-state electronics.)
Speaking of channeling emotion and spirituality, you have to check out those Metaphor speakers! Bill Peugh is another dude who clearly knows what's up, because he was showing some really big, really expensive speakers, and they still sounded great! (IMHO, the bigger and more expensive a speaker is, the WORSE it is going to sound!) These were the first "statement" type of speakers I've heard that perhaps really might be worth the money. John Upton and I were doing some serious jamming to Phish at concert level, and the room was flooded with that unmistakable Phish vibe. Bill told us he has several rules about demo music for his speakers - one, he gets to pick the first tune (fair enough), then we can pick the second tune and play it at any level we want, just so as long as it's NOT an audiophile disk! You just GOTTA like a guy like that. Too bad he didn't have his smaller Metaphor Two and Five hooked up.
And speaking of guys you just gotta like - Howard Schilling of Camelot Technologies is certainly one. (How can I not like him with a name like that? No relation, though, honest!) Howard was showing a new line of digital gear that sounded fabulous. Keep your eyes and ears peeled for Camelot, because I predict you will be hearing all sorts of raves about this gear in the near future. Coupled with some wonderfully exciting TMS home theater speakers that were actually quite musical, Howard rocked the room with this Buddy Rich tribute album that you just have to hear. (Stay tuned to "The Music Never Stopped" for review soon to follow.)
Two rooms in particular were my musical oasis, where I returned time and time again just to enjoy the tunes and company of fellow music lovers - Roy Hall's Music Hall room, featuring the worthy successor of the Epos 11, the Epos 12, and the Naim room, featuring the new Credo loudspeaker. (OK, so I'm biased since I'm a Naim and Epos owner.) "Get Back" from the Beatles Anthology 3 (the famous live rooftop performance) was a revelation over the Creek/Epos system in the Music Hall room, and the superb DCC remastering of the Doors' "L.A. Woman" played on an all Naim system featuring the CD2 on the front and Credo's on the back was as good as it gets.
And it wasn't just the classics that were featured in music lovers' rooms. Ralph Karsten of Atma- sphere Music Systems and Israel Blume of Coincident Speaker Technology had an all-vinyl room playing cutting-edge stuff like "The Future Sounds of London". This was a great room also because Root Cellar Records of St. Paul MN (612-644-2070) had a great selection of jazz, classical, avant-garde, and psychedelia LP's for sale. And it seemed they were doing a brisk business. Very encouraging. Give these guys a call if you want some recommendations for cool new vinyl to add to your collection.
I met lots of other music lovers who were a total encouragement to me, not least of which was the SoundStage! gang in attendance. I think there's more of us into this thing for the love of music than is generally realized, although our numbers will always be few. (cf. the Ken Kesey rap during "Dark Star" in the Dead's 10/31/91 show in memory of the late Bill Graham). Sure, there's growing problems in this industry, but I get the feeling there's more music lovers here than ever before. I'm psyched about the future.
...Craig Schilling
---