August 2010

ast month, at Hi-Fi Centre in Vancouver, Wilson Audio Specialties' Sophia Series 3 loudspeaker made its Canadian debut, with Wilson's Peter McGrath in attendance. This latest version of the Sophia ($16,700 USD/pair) features the same tweeter and midrange as do Wilson's more expensive Sasha W/P and MAXX 3 models, and the woofer's magnet strength has been doubled and its cone reinforced. The cabinet has also been improved with Wilson's proprietary S material, first used in the Sasha's midrange/tweeter baffle. The rest of the cabinet is made of Wilson's X material.
The electronics used in the demo comprised a Classe CT-series surround processor and amplifier and McGrath's laptop computer, outfitted with a Weiss INT202 FireWire digital converter. The demo came alive when McGrath played some 24-bit/88.2kHz recordings he'd made using prototype microphones developed by the legendary Joe Grado. One orchestral piece highlighted the Sophia's ability to re-create the large-scale dynamics of a full orchestra. The kettle and bass drums were easily distinguished from each other, and the speakers energized the entire room with an amazing amount of bass energy without overloading it. The orchestra filled a huge space between the speakers and individual instruments were imaged precisely within that space.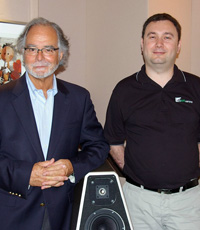 When I spoke with Igor Kivritsky (in photo on right with Peter McGrath), general manager of Hi-Fi Centre, he stated that he's pleased to be one of Wilson's newest dealers -- of which, according to McGrath, there are only 34 in the entire world. Kivritsky believes that offering seminars by representatives of the many well-established brands he carries -- including B&W, Classe, Magnepan, McIntosh, Linn, Naim, Totem, and Wilson -- is important in reconnecting with past customers, and he hopes it will bring in new customers as well.
Even as bricks-and-mortar stores continue to disappear or shift their focus to custom installation of A/V systems, Kivritsky says that he remains "committed to high-quality audio systems and always will be."Kivritsky's passion for audio was instilled at a young age. Hi-Fi Centre, which is still family owned, was founded by his father, Alex, in 1984; as a teen, Igor hung out there. If you're in the Vancouver area and interested in attending one of Hi-Fi Centre's upcoming seminars, you can sign up for e-mail notifications at their website, hificentre.com. I commend Hi-Fi Centre for its commitment to high-end audio and its customers, and urge our readers to support their local bricks-and-mortar audio dealers.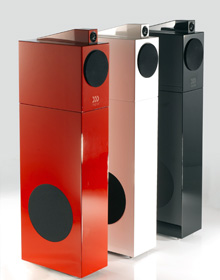 Morel has announced upgrades of their Octave Signature loudspeakers, which benefit from features first seen in their Fat Lady model ($32,000/pair). These include a cabinet devoid of any internal damping, which allows it to "sing" along with the drive-units. According to Morel's listening tests, this results in a sound that is "much more open and much cleaner." The system consists of the Octave Signature Bookshelf ($2299/pair), which can be combined with the Octave Signature Subwoofer ($2299/pair) to form a full-range floorstanding loudspeaker. The Bookshelf has a 5.25" bass/midrange driver with a 3" voice-coil, and an Acuflex soft-dome tweeter with powerful neodymium magnets. The Subwoofer's two 9" drivers are arranged in an isobaric configuration. With the Signature Centre speaker ($1699), a full 5.1-channel surround system of Octave Signatures can be assembled. The speakers are available in gloss red, black, and white piano finishes.
SoundStage! BackStage! No.135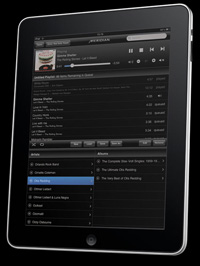 Since the launch of the iPad on April 2, Apple claims to have sold more than 3 million of the devices in as many months, and it seems that audio manufacturers have taken notice. In March, Meridian Sooloos introduced an iPhone/iPod Touch app for the wireless control of their music-server system, and have now introduced a new version that adds iPad support. It's available for free download at the Apple iTunes App Store.
Speaking of server-based music systems, Gary Leonard Koh, of Genesis Advanced Technologies, has published an interesting white paper, "Building an Absolute Fidelity Music Server." It includes many tips you can try, such as disabling certain services in Windows -- System Paging, Plug and Play, and many others -- that, he claims, can degrade the sound quality of a Windows-based server. Experiment with these at your own risk, however; some of them can make your system unstable.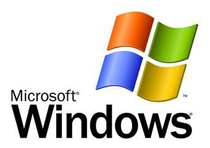 One thing that's generally agreed on is the need to avoid the use of the Kernel Audio Mixer driver (KMixer), which Windows uses to resample the digital audio bitstream. Koh suggests using Foobar2000 as a media player, and installing the Audio Stream Input Output (ASIO) plug-in and the USB DAC ASIO driver from asio4all.com. Doug Schneider has been using the ASIO driver with Ayre Acoustics' QB-9 USB DAC, with fantastic results. Gary Koh mentioned to me that, when using a system running Windows Vista or Windows 7 (he uses Windows XP), something called Windows Audio Session API (WASAPI) can be used to output an unaltered digital audio signal. With Foobar2000, it's as simple as installing the WASAPI plug-in and selecting it from the Preferences menu. To prevent audio dropouts, I did have to reduce the buffer length to 1000ms, the minimum length recommended, but I found that I slightly preferred the sound of the WASAPI to the Kernel Streaming plug-in I'd been using. The sound was just a little bit cleaner and better defined, especially in the bass.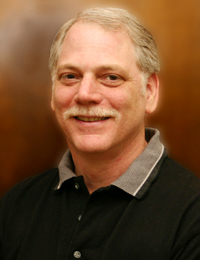 Last month we reported that Sandy Gross, one of the founders of both Definitive Technology and Polk Audio, was launching with Don Givogue, another DefTech founder, a new speaker company called GoldenEar Technology. Joining them will be longtime industry veteran Jack Shafton, who will serve as the new company's vice-president of sales and marketing. Shafton comes to GoldenEar after 15 years with Paradigm Electronics, where for the past five years he served as VP of sales and marketing, overseeing the Paradigm and Anthem brands. Before that, in the 1990s, he was an owner and the president and CEO of SOTA, and before that worked for Acoustat. According to Shafton, GoldenEar's "initial product offerings embody significant engineering breakthroughs and will adhere to the highest standards of superb sonic performance, elegant, sophisticated styling and exceptional value." Considering the track records of these three men, we can't wait to see and hear what GoldenEar has come up with at the upcoming CEDIA Expo in Atlanta, Georgia, September 23-26.
. . . Roger Kanno
rogerk@soundstagenetwork.com