November 2002

Analog Economics

I often find myself on the streets of Lawrence, Kansas, home of the Kansas Jayhawks and, for the last three and a half years, also home of my daughter, Katie. She is a student at the University of Kansas and is following in my underpaid path by pursuing a career in education. Go Jayhawks. My wife and I make fairly regular trips from Kansas City to Lawrence for a variety of reasons. Those of you with kids in college are all too aware of the range of "crises" that can afflict a student's life. Most of the trips seem to involve a check or two being written, but that story goes back to the original universities I'm sure. Katie has a 1986 Toyota Celica that seemed to like us making regular visits for a while. As Katie has gotten older, the visits are for more pleasant occasions. Her boyfriend, Brett, is quite a good cook and doesn't have to ask us twice about a dinner invitation. Both Katie and Brett work in a bar called the Jazz House. Nothing like free drinks to make the monthly checks less painful.

But there is one place in Lawrence that I never miss when the opportunity presents itself. So on many a day I find myself climbing the very steep staircase that leads to one of my favorite haunts. Tucked in among all of the typical college-town book stores, candle shops, and alternative clothing venues is a small doorway above which hangs a '60s style sign labeled Love Garden Sounds. Even the address, 936 1/2 Massachusetts, speaks of something magical, as if pulled from a village à la Harry Potter. The narrow stairwell, steep as a mountain goat pass, begs you to walk slowly and enjoy the collection of old record jackets adorning the hallway.

Walking through the door is akin to stepping back into the '70s. Giant posters of Bob Marley, Pink Floyd, and early punk idols grace the walls. Row after row of vinyl sits idle awaiting my fingers to flip through the contents for irresistible treasures. The store also carries thousands of new and vintage CDs, but that's not what keeps me coming back. The staff is friendly and knowledgeable, the type of people who remember your face and make you feel like part of the family. I visited recently, and a young female employee was standing next to me looking through the "recent arrival" bin. She asked if I wouldn't mind keeping an eye open for a copy of Lumpy Gravy or other early Zappa. It surprised me that a girl in her 20s would have heard of Frank Zappa, let alone be able to distinguish what was from his early career -- a behavior you would be hard-pressed to find in the rows of corporate music stores. If the staff doesn't make you feel welcome enough, perhaps one of the several feline hosts can get the job done. Jack, Cayenne, Kandy and Lulu lounge on counters and curl up in record bins when they're not schmoozing the customers.

I usually begin with the classical-LP section, where I find the biggest bargains. Being in a college town, the store caters a little more toward the indie rock, electronica, ska, punk, oi, and '60s garage-rock crowds than the Beethoven and Baroque bunch. It's not unusual for me to find a couple dozen records at three or four dollars each. Even the best labels, such as RCA Living Stereo, London, and Mercury Living Presence, can be found for less than $10. I then head over to the jazz section where I might find a near-mint copy of Ella Fitzgerald Sings the Cole Porter Songbook for six or seven dollars. Finally, I might peruse the rock section for the odd Elvis Costello, Neil Young, or Van Morrison record that my collection is missing. Anyone have a copy of Van Morrison's, Live At the Roxy that they're willing to part with? Oh, and I almost forgot to check for any Jimmy Buffet that I might be missing. I never leave without checking for Buffet. My tastes are far ranging for sure.

Without exception, I end up with a bigger pile of records in my hands than the amount of cash I think is in my wallet. I begin with the sad task of narrowing down, but after counting the price stickers, I find that it's not nearly as bad as it looks. It's not unusual to walk over to the counter with a hefty pile of 15 or 20 records for $75 or less. Such a deal. If the student bookstores only had such prices. How much would I have spent for the equivalent purchase on digital? Well at an average of $15 bucks a pop or more, I could have easily spent $300. "I just saved $225," says the master of rationalization. All audiophiles are masters of rationalization, by the way. Just try and explain to your wife the incredible value of a $300 power cord.

Another recent discovery I've made is a place called Half-Price Books-Records and Magazines. "Records and Magazines" is written on the sign in very small print. However, as a dedicated vinylfile, I was able to smell the records before I read the sign anyway. This new chain of stores carries a fairly small selection of records that are mostly priced under $5. Located in 11 states, they are definitely worth a stop. On my last visit I picked up a half-dozen RCA Living Stereo "shaded dogs" for $3 a piece. These same recordings have recently been reissued on an audiophile CD label and sell regularly for $30 or more. Another $162 saved. Call me Mr. Thrifty.

It seems that once you get hooked on the big black pancakes, records just start coming out of the walls. It almost never fails that stopping at a few garage sales on my way to work Saturday morning will result in a small (or large) stack of treasures. Friends and relatives suddenly may have entire collections for you to sort through. "Take what you want!" Just this summer, while I was vacationing in New Hampshire, a friend we were visiting went up into his attic and brought down an entire collection of discs from big-band master Harry James, all on the much-sought-after audiophile label Sheffield Labs. Never played. Goodwill, Salvation Army, auctions, antique stores, flea markets, the avenues are endless -- and cheap.

Most folks (you may be among them) think that the days of vertical tracking force and antiskate are gone forever, and thank the gods of bits and upsampling for your good fortune. That's really too bad. You're missing out on all the fun. And the bargains. And some really spankin' deals on music. And if you really think about it (turn up the rationalization knob) you would actually be saving money by getting into vinyl.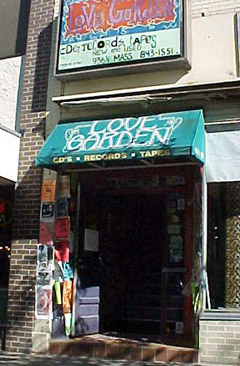 You can get into a decent entry-level turntable today for between $500 and $1000. The Music Hall MMF-5 is a fine machine with a glass platter, isolated motor, and a great cartridge for $499. This is not just a cheap piece of gear. This turntable will make you wonder why a person would spend $2000 on a CD player. Let's see -- if you can buy a great record for $3 and a CD for $15, how long would it take to pay for the turntable? Sorry it must be the teacher coming out in me, and I don't even teach math. But if you bought 42 records at the cost of $3 each you would spend $126. At a $12 savings per record compared to the price of a CD, that's a savings of $504. You've already paid for the turntable and can start saving for the upgrade. Ain't this hobby great?
Now that I've helped you with your rationalization, let's look at the real reason to get into vinyl. If we're just looking to save money, then start clipping coupons. However, if you really love music and are tired of waiting for the dust to settle from the high-rez-digital wars, give analog a try. The converts are definitely on the rise. New turntable models are on the increase. Record pressings also continue to escalate. Companies that sell new records are growing by leaps and bounds. Just visit the websites of places like Acoustic Sounds, Red Trumpet, or Elusive Disc. Their catalogs keep growing and they announce new releases daily.
Vinyl just does something that I've never been able to get from digital. It's hard to describe, but everyone who has given in and tried it understands. There is something organic, smooth, non-fatiguing, and musical that can't be found on any other format. CDs seem thin after spending time listening to records. Sure you may get the convenience, the quiet backgrounds, the dynamics, but the sound lacks body and soul.
When I listen to vinyl, I forget about the equipment. I become immersed in the music -- the best kind of parole from "Audio Hell."
...Bill Brooks
billb@soundstage.com