July 2008
HeadRoom Portable Micro Headphone Amplifier with DAC
by John Crossett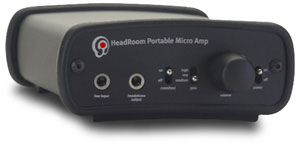 Review Summary
| | |
| --- | --- |
| Sound | "How did the Portable Micro amp with DAC sound? Like whatever headphones I was using at the time, with little editorializing of its own." "I heard deep, full, tightly controlled bass that lacked nothing in the detail department without becoming overblown and darkening the sound. The midrange was clear, clean and even-handed…. The treble was extended, detailed and had notable sparkle, though it didn't display quite the airiness that a good standalone home unit" has. "HeadRoom attempts to build its products to sound good with many different headphones, so no one gets left out in the cold." |
| | |
| --- | --- |
| Features | "Inside is an integrated Analog Devices AD8397 op-amp output stage biased into class A that boasts a frequency response of 10Hz-50kHz +/- 3dB. You can buy the Portable Micro amp with or without the DAC option, which adds $199 to the price of the unit. You would add the DAC option if you were planning on using the Portable Micro with a laptop or other computerized device with a digital or USB output, in which case the internal DAC would handle the conversion of the digital data to an analog signal." |
| | |
| --- | --- |
| Use | "HeadRoom strongly suggests not leaving the unit plugged in for more than the required time it takes to charge the battery and reminds you that the Portable Micro should be run off the battery only and not the charger if you want the longest life out of the battery and the best sound out of your headphones." |
| | |
| --- | --- |
| Value | "The Portable Micro amp with DAC handily beats its little brother in every way save three -- size, weight, and price. Regarding those first two, the Portable Micro amp with DAC isn't far behind, and with its much better sonics you'll now have a tougher choice to make when it comes to deciding if the third is all that important." |
In an age of specialization the term "versatile" has sadly become synonymous with "barely adequate." For an example, look no further than the now-ubiquitous cell phone. Want to call someone? Grab your cell phone. Want to surf the Internet, check your e-mail, manage your life, take a picture, or even listen to music? Yep, just grab your cell phone. It can do it all, but how well does it truly do any of those things? You guessed it -- it's "barely adequate." Cell-phone reception comes and goes with the terrain, and so does your ability to look at anything online. The camera in your cell phone would have been good about ten years ago, and don't even get me started on the notion of listening to compromised digital music with your phone!
Yet there will always be a place for such multi-function devices, especially for those who care for convenience over quality. But every so often a device comes along that is designed to please the quality-conscious and convenience-oriented person -- a device like HeadRoom's Portable Micro headphone amp with DAC ($598 USD), which offers everything it does in one neat, small package. It contains a plethora of options and comes from a company with a proven track record for designing and building high-quality headphone-related equipment.
But what is the HeadRoom Portable Micro amp with DAC's most appealing quality? Its portability, of course. The fact that you can easily carry this versatile little wonder around with you and listen on the go. Let's examine it in all its options and see if it follows the masses of versatile products into mediocrity or transcends its origins and gives more than your money's worth of performance.
Nuts and bolts -- and everything in between
All the versatility the Portable Micro amp offers is one thing, but finding it in a product that measures only 3 1/2"W x 1 1/2"H x 4 1/2"D, is built to withstand being driven over by an SUV (so says HeadRoom, though they don't recommend you try it), and weighs in at a mere 12 ounces is a lot harder to find. The Portable Micro amp with DAC does indeed look exactly like its siblings, the regular Micro and Ultra Micro amps, with the same slightly concave-shaped case with the rubber gaskets around the front and rear panels that act as feet. The controls are largely the same as well; the only things missing are the two inputs on the rear panel and the input selector up front.
Inside is an integrated Analog Devices AD8397 op-amp output stage biased into class A that boasts a frequency response of 10Hz-50kHz +/- 3dB. You can buy the Portable Micro amp with or without the DAC option, which adds $199 to the price of the unit. You would add the DAC option if you were planning to use the Portable Micro with a laptop or other computerized device with a digital or USB output, in which case the internal DAC would handle the conversion of the digital data to an analog signal. If you spring for the DAC, you get up to 24-bit resolution at 32, 44.1, 48, and 96Hz sampling rates from the Texas Instruments PCM1793 DAC chip. Like its siblings, the Portable Micro has a 70k-ohm input impedance at 1kHz, which should make it compatible with most sources.
Looking at the front you see the 1/8" mini-jack input, the 1/8" mini-jack headphone output, the crossfeed and gain (high, low, or medium) switches, a round volume-control knob, and the on/off switch. Around back you'll find the biggest change from the standard Micro or Ultra Micro amps: the power input, which is usable only for recharging the 2200mAH lithium-ion battery. The battery is said to last up to 15 hours on a charge, and it recharges in about two to three hours. When the battery finally gives up the ghost, just send the entire unit back to HeadRoom and they'll replace the battery for a nominal fee. HeadRoom strongly suggests not leaving the unit plugged in for more than the required time it takes to charge the battery and reminds you that the Portable Micro should be run off the battery only and not the charger if you want the longest life out of the battery and the best sound out of your headphones.
The Portable Micro with DAC adds a mini-optical digital input (HeadRoom can supply a TosLink-to-mini adapter for $1.95, or the whole cable for $7.94) and USB port (HeadRoom's USB cable can be had for $9.95) but no multiple line-level inputs -- the Portable has only one, up front. Finally there's a 1/8" line output, which allows you to use the Portable Micro amp with DAC as a minimalist preamp for a more powerful amp. I didn't find this necessary, as the Portable Micro with DAC had the juice to power all of my headphones to levels that could more than likely cause me permanent hearing damage.
Getting ready
I used the Portable Micro amp with DAC for a good month before I sat down to begin the review process. I wanted to make sure it had plenty of run-in time, whether it needed it or not. To be honest, I didn't notice any great differences in the Portable Micro's sonics whether it came straight from the box or after a month's use. Maybe the sound was a smidgen warmer and smoother after some use, but I had to listen very closely to notice it. I actually was pleased with this. It won't take you forever and a day to hear how good the Portable Micro amp with DAC sounds.
For sources -- and to test its versatility -- I used my new 160GB iPod filled with AIFF full-bit-rate files connected to the Portable Micro with an ALO Bling Bling silver line-out cable. Should you not wish to invest in a line-out cable for your iPod, HeadRoom can supply a Cardas-built mini-to-mini cable for $17 to run from the headphone-out jack on you iPod to the input jack on the Portable Micro. I also listened to my iTunes library on my desktop computer via the HeadRoom-supplied USB-to-mini cable, letting the Portable Micro's optional DAC do the decoding. Finally, I used the Portable Micro connected via the optical output of an Oppo DV-983H universal player -- again with the Portable Micro's DAC doing the decoding.
For headphones, I exhausted my collection: AKG K601s and K701s, Audio-Technica ATH-AD700s, AKG K81DJs, Sennheiser HD280s, and Shure SE530PTH in-ear monitors. I figured these would give the Micro a chance to show off its abilities into a wide range of loads and sensitivities.
Can small and versatile equal good sound?
How did the Portable Micro amp with DAC sound? Like whatever headphones I was using at the time, with little editorializing of its own. For example, the Audio-Technica ATH-A700 'phones sounded light, airy, and little thin, with bass that wasn't particularly deep or full, but switching to the Sennheiser HD280s brought a fuller, more bass-heavy sound that lacked the sparkle and air of the ATH-A700s. The Shure SE530PTH in-ear monitors offered plenty of detail along with full, rich bass and sweet, precise mids, as well as clean, clear highs.
The AKG K701s gave me what was probably the most accurate idea of what the Portable Micro amp with DAC sounds like, because they are by far the most neutral headphones I own. I heard deep, full, tightly controlled bass that lacked nothing in the detail department without becoming overblown and darkening the sound. The midrange was clear, clean and even-handed. While there was a good sense of fullness to the images, the music never veered to sounding overly rich. Perhaps the Portable Micro tilted ever so slightly to the lean side of neutral. The treble was extended, detailed and had notable sparkle, though it didn't display quite the airiness that a good standalone home unit -- like my Original Electronics Master -- offers. But I can't take the Master on the road with me (at least not without one very long extension cord). I would imagine that HeadRoom's Ultra Micro amp that my colleague Vade Forrester reviewed a few months ago will also offer better sound but at the cost of the versatility of the Portable Micro amp with DAC. Also, if you want the DAC option with the Ultra Micro you'll have to carry another piece of gear along -- at twice the weight and cost.
Imaging was another of the Portable Micro's strengths. While this was also dependent on which headphones I was using, with 'phones that can create the impression of imaging the Portable Micro allowed them to strut their stuff. It also gave enough of a sense of air around each instrument to help me envision each musician in space.
When I used the Portable Micro amp with DAC with my desktop computer via the USB connection, I finally got the chance to hear how really good the optional DAC is. I had been using my iPod as my source. Boy, what a difference a DAC makes! Suddenly that slight leanness was gone, replaced by a fuller, more richly painted canvas. Vocals and instruments came alive, though there was still a slight edge to some female voices. I heard this while listening to my computer version of the Wailin' Jennys' cover of Neil Young's "Old Man" (ripped from 40 Days [Red House Records RHR CD 177]). Interestingly enough, male vocals didn't seem to suffer from this same edge. Bass firmed up and deepened when using the internal DAC, and the treble sparkled even more. I listened to Marcus Miller's M2 (ripped from [Telarc CD-83534]) and the tune "Red Baron." It handily beat the sound I heard from my iPod through the Portable Micro's amp section.
Once again, that chameleon-like quality reared its pretty little head again, as the sonic signature was more a matter of the headphones I used than the Portable Micro itself. To hear such neutrality is rare enough, but to hear it from a small, portable, relatively inexpensive headphone amp is quite a discovery. Also, many makers seem to voice their amps with one particular headphone in mind, while HeadRoom attempts to build its products to sound good with many different headphones, so no one gets left out in the cold.
Finally, using the optional TosLink optical digital cable with my Oppo universal player brought the same qualities I heard via my computer. It was another sign that even though HeadRoom couldn't put a state-of-the-art DAC into the Portable Micro, they did their homework and picked one that offers more than acceptable performance. I can vouch for HeadRoom's claim that the DAC they used can decode 24/96 signals. I was blessed with a one-off 24/96 DVD-A of Sarah Pierce's latest album, Cowboy's Daughter [Little Bear Records 14282]. Sending the signal from the Oppo player to the Portable Micro amp with DAC produced a richer, more full-bodied sound, Ms. Pierce traveling right into my ear canals.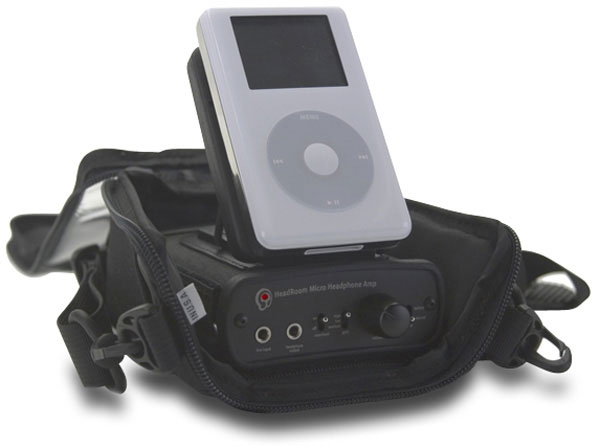 Speaking of traveling, using my Shure SE530PTH earphones and iPod along with the supplied-for-this-review HeadRoom Micro bag ($59) and Micro strap ($29) made my travel time more enjoyable, as I could easily take my music with me anywhere and enjoy it in total privacy and top audio quality. The package was small, easy to carry and easy to use -- hallmarks of a system that will get plenty of use.
There's portable, and then there's portable
The Portable Micro amp with DAC is the next step up in the HeadRoom lineup from the Total BitHead ($149), which I reviewed a while back. Both are designed to be portable, so I thought it would be interesting to see what the extra $449 over the cost of the Total BitHead buys. First, you get more clean power. A close second is the added versatility. Finally, and most important, you get better sonics, which is a byproduct of the increased power and the use of better parts.
The Portable Micro is about twice as big as the Total BitHead and weighs somewhat more, though I'd still consider it a lightweight. Its controls are also more easily identifiable and accessible. Both can play plenty loud, but the Portable Micro can deliver more clean power into more diverse loads than the Total BitHead. Sonically, the Portable Micro also gives more body and three-dimensionality to each individual instrument or vocalist than the Total BitHead.
The sense of space is also enhanced with the Portable Micro -- especially with headphones that excel at producing it, like the AKG K701s. The Total BitHead sounds a bit more constricted in this regard. Another way the Portable Micro betters the Total BitHead is via its add-on DAC. When listening to my iTunes library via the USB connection, the Portable Micro was far more convincing -- more extended up and down, more rich through the mids, more powerful in the bass -- than the Total BitHead.
Once again, spend more and you get better sound. That is the way it should be, but it isn't always, unfortunately. The Portable Micro amp with DAC handily beats its little brother in every way save three -- size, weight, and price. Regarding those first two, the Portable Micro amp with DAC isn't far behind, and with its much better sonics you'll now have a tougher choice to make when it comes to deciding if the third is all that important.
A little perspective
Yes siree. Versatility was never as well designed, well priced, and well implemented as with the HeadRoom's Portable Micro amp with DAC. I used it with every set of headphones and in-ear monitors I have -- a wide variety to be sure -- and it never let me down. Whether I used it with my iPod, with my computer through its USB input, or via HeadRoom's special optical cable and with my Oppo universal player, the Portable Micro amp with DAC preformed flawlessly. It never sugarcoated the music played through it, instead showing me what each pair of headphones and each source was capable of -- good or bad -- without imparting much of its own personality. While there may be better headphone amps on strictly sonic grounds -- HeadRoom surely makes a few of these -- I know of no other option that is both as portable and as versatile as the HeadRoom Portable Micro amp with DAC -- for anywhere near its price.
I can heartily recommend the Portable Micro amp with DAC to the convenience lover with a desire for top-quality sound and portability. It upholds HeadRoom's status and reputation for identifying a need and filling it with a quality product. Versatility never sounded so good.
...John Crossett
johnc@soundstage.com
HeadRoom Portable Micro Headphone Amplifier with DAC
Price: $598 USD.
Warranty: Two years parts and labor; 30-day initial-purchase guarantee.

HeadRoom Corporation
2020 Gilkerson Drive
Bozeman, MT 59715
Phone: (800) 828-8184

Website: www.headphone.com