April 2008
Audio-Technica ATH-AD700 Headphones
by John Crossett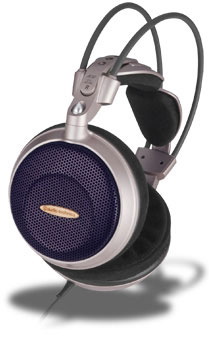 Review Summary
| | |
| --- | --- |
| Sound | "Plunk these cans on top of your head and the first thing you'll notice is the true-to-life tonality they offer" along with the ability to "separate each instrument instead of blurring them all together into a sonic blob." The ATH-AD700s "also did something that many headphones, even expensive ones, have a hard time pulling off -- creating a semblance of a soundstage." However, "the 'AD700s do sound darker than absolute neutral." "Cymbals, bells, and triangles in any music I played also lacked the harmonic 'life,' the ability to waft into the stratosphere, that I would have liked." |
| | |
| --- | --- |
| Features | "The ATH-AD700s are a circumaural -- that is, they go around the ears, not sit on them -- open-backed design, as are most top-quality headphones today. But they are big, even by normal standards, with the ear-cups measuring a good 4" across and 1 1/2" deep." "The 'AD700s use a 53mm driver with a neodymium magnet system and CCAW (copper-clad aluminum wire) voice coils. They have a high-quality three-meter hybrid cord that uses a special single-crystal-copper-and-titanium alloy." |
| | |
| --- | --- |
| Use | "One aspect that surprised me was that there is absolutely no means of adjusting the fit. Weird. Audio-Technica says the 'AD700s are self-adjusting. I say they will either fit well, or feel -- as they did on me and a friend who also tried them -- a bit looser than expected." |
| | |
| --- | --- |
| Value | "The ATH-AD700s are a very good set of headphones, especially when you factor in their street price. They offer a cohesive overall sound -- they do almost everything well sonically -- and they won't break the bank." |
What does it take to make an exceptional pair of headphones? Exceptional sound? Exceptional fit? An exceptional price?
All of the above -- that's what it takes, though often you get only one or two of these things, and you have to decide on their order of importance to you. To me, the two most important aspects of really good headphones are sound quality and fit. Sound is important for the obvious reason: I'm obsessed with excellent sonics, so any headphones that don't offer at least acceptable sound can be written off. Fit is important because if headphones don't feel comfortable, it doesn't matter one iota how good they sound, because I just plain won't use them. Price matters, of course, but there are good-quality headphones in all price categories. However, I wouldn't want to own them all because, again, sound and fit matter most of all.
That brings me to the subject under review here, the Audio-Technica ATH-AD700 headphones. How do they measure up in all of the important categories? Well, in terms of price, they rate very well. Their list price is $249 USD, but I've seen street prices at less than half that. For discussion of both sound quality and fit, you'll need to keep reading.
Details
The ATH-AD700s are a circumaural -- that is, they go around the ears, not sit on them -- open-backed design, as are most top-quality headphones today. But they are big, even by normal standards, with the ear-cups measuring a good 4" across and 1 1/2" deep. Built mostly of plastic, they do use a brown/gold metal wire mesh to cover the back of the drivers. They look very much like AKGs, but where they depart from AKG styling is instead of a leather strap that rides on top of your head, the 'AD700s have two self-adjusting "3D Wings" that are small and flexible enough to offer almost no pressure on your pate.
One aspect that surprised me was that there is absolutely no means of adjusting the fit. Weird. Audio-Technica says the 'AD700s are self-adjusting. I say they will either fit well, or feel -- as they did on me and a friend who also tried them -- a bit looser than expected. Either way, so light are the 'AD700s -- 280 grams -- that they feel as if you're hardly wearing anything. Velvet pads touch the skin around the ears for added comfort.
The 'AD700s use a 53mm driver with a neodymium magnet system and CCAW (copper clad aluminum wire) voice coils. They have a high-quality three-meter hybrid cord that uses a special single-crystal-copper-and-titanium alloy. The 'AD700s come standard with a 1/8" gold-plated mini-jack and a screw-on 1/4" gold-plated adapter. Frequency response is claimed to be 5Hz-30kHz, sensitivity is said to be 98dB/mW at 1kHz, and impedance is 32 ohms. All in all, this is a very nice set of measurements for headphones priced as the low as the 'AD700s.
Used with
I used the ATH-AD700s in two different systems. My main system comprises an Original Electronics Master headphone amp fed through the tape-out jacks of an Audio Research LS17 preamp. Sources used were an Esoteric SA-10 CD/SACD player, a Stello CDP320 CD player, and an Oppo DV-981HD universal player. The second system is my portable rig: a 60gb iPod, HeadRoom Total BitHead headphone amp, and an Audio Line Out Bling Bling silver cable from the iPod's line-out slot to the Total BitHead's line-in jack.
Sound
Plunk these cans on top of your head and the first thing you'll notice is the true-to-life tonality they offer. I pulled out the initial Stockfisch SACD sampler, Closer to the Music [SFR 357.4003.2], because it contains mostly acoustic instruments recorded in a pure manner, allowing me to get a handle on the quality of these headphones. The acoustic guitars of Chris Jones, Steve Strauss, and Paul Stephenson sounded different. This told me that the 'AD700s could convey the timbre of different yet similar instruments, like these three acoustic guitars, very well. All too often headphones in the ATH-AD700s' price range will fail to bring out these differences adequately, but these 'phones passed the test far better than I expected.
Another thing that the 'AD700s did well was separate each instrument instead of blurring them all together into a sonic blob. They also did something that many headphones, even expensive ones, have a hard time pulling off -- creating a semblance of a soundstage. I could not only pick out where the instruments were located, but I also got a sense of lateral space and layering. This is something special in top-flight cans, so hearing it from the 'AD700s was surprising.
Vocals were also handled well. Again with the Stockfisch sampler, the 'AD700s made Sara K, Alan Taylor, and David Munyon sound as different as they look -- gender notwithstanding. But more important than that, the 'AD700s gave insight as to how they sang, as well as a good sense of their body, throat and mouth combining to create the words. Not bad, not bad at all.
I also tried the 'AD700s straight from the iPod's headphone jack to test their claimed sensitivity. They provided an easy load for the small amplifier inside the iPod -- living up to Audio-Technica's claim of high sensitivity. Yet that tiny amp proved strong enough to drive the 'AD700s to higher levels -- cleanly -- than I'd want to listen. Plus, the 'AD700s' sound remained much as it had been with my big system -- tonally pure, timbrally right. Another chit in the plus column for these 'phones.
All was not perfection, however. The 'AD700s do sound darker than absolute neutral. That sliding to the dark side (sorry, I couldn't resist; with their "wings," the 'AD700s made me feel like I was copilot on the Millennium Falcon) was due to the fact that, while the bass is full and deep, the treble is shelved down just a tad. Piano is a good way to test this, so I pulled out the new PentaTone SACD of Mozart's Piano Concertos K415 & K491 [PTC 5186 305] and slipped it into my Esoteric player. While pianist Martin Helmchen's left-hand playing sounded full and rich, his right-hand lacked sparkle and the lightness of being, so to speak, that it should. Cymbals, bells, and triangles in any music I played also lacked the harmonic "life," the ability to waft into the stratosphere, that I would have liked. Also, despite the 'AD700s' ability to delineate musical lines better than I expected, they still couldn't manage to do so as well as I've heard from other, more expensive headphones.
But the bugaboos didn't stop there. I had a hard time adjusting to the way these headphones fit, probably because they didn't adjust to me. I found the 'AD700s to be a bit too loose on my (admittedly) big head. Now, they were not so loose as to be unwearable by any means, but they didn't quite fit as snuggly over my head as my reference headphones do. Their lack of adjustability may become something of a liability to many possible owners. To paraphrase Johnny Cochran, "If it doesn't fit, you won't commit."
Comparison
Stacked up against my reference AGK K601s ($299) the ATH-AD700s came off far better than I expected. No, they didn't outshine the mighty K601s overall, but they came close in a number of ways.
I used one of my favorite test CDs to compare the two sets of 'phones -- Carmen McRae's Carmen Sings Monk [Bluebird 09026-63841-2]. On this disc, there are two live tracks recorded in San Francisco, and the others are done in studio. The character of the two different kinds of recordings was easy to discern. Where the K601s offered up almost all of the hall acoustics of the live tracks, the ATH-AD700s blunted them somewhat. McRae's voice sounded more realistic through the K601s than the 'AD700s, but not by a huge margin. The studio cuts were much closer, with the AKGs again slipping by the Audio-Technica 'phones due to their more even, neutral presentation. The 'AD700s sounded a bit distant and gauzy in comparison.
Still, the ATH-AD700s are a very good set of headphones, especially when you factor in their street price. They offer a cohesive overall sound -- they do almost everything well sonically -- and they won't break the bank.
End game
So, in the final analysis, what did I think of the Audio-Technica ATH-AD700s? Well, as I'm writing this I'm using them to listen to the DVD-A of the Eric Clapton and B.B. King's Riding with the King [Reprise 9 47612-9]. The bass is deep, the vocals are clear and reasonably precise, the guitars sear, and the treble manages to convey the essence of the high frequencies. For their street price, which is as low as $112, I don't see how you can go wrong with them, provided they fit you comfortably.
As a matter of fact, in their actual price range, I seriously doubt you'll find too much in the way of competition sonically. That the Audio-Technica ATH-AD700 headphones can go toe-to-toe with cans that cost double their price means they open up the realm of high-quality headphone listening to those on a strict budget. No, they're not the be-all and end-all of headphones, but what they do right, they do very right, and what they do less than right, they manage to do well enough. About the best compliment I can pay the ATH-AD700s is that they play the music in a pure, even-handed, and coherent way, and with them you'll find yourself searching for opportunities to listen.
...John Crossett
johnc@soundstage.com
Audio-Technica ATH-AD700 Headphones
Price: $249 USD.
Warranty: One year parts and labor.

Audio-Technica US, Inc.
1221 Commerce Drive
Stow, Ohio 44224
Phone: (330) 686-2600
Fax: (330) 686-0719

E-mail: sales@atus.com
Website: www.audio-technica.com