September 2007
Blue Circle Audio SBH Headphone Amplifier
by Vade Forrester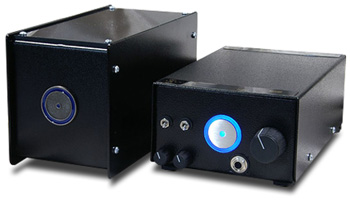 Review Summary
| | |
| --- | --- |
| Sound | "Pristinely clean, a hallmark of low-distortion sound " "Bass extension was deep and detailed, but not over-emphasized" and "massed strings sounded positively juicy." "Other instruments also sounded tonally accurate and very detailed." "As the Brits would say, the SBH had lots of PRaT (pace, rhythm, and timing), which it effortlessly portrayed." |
| | |
| --- | --- |
| Features | "The SBH is a two-piece design with a separate power supply that you can place away from the amplifier unit to reduce noise and the amount of shelf space required." "Like other Blue Circle products, the SBH relies heavily on op-amps in its circuit. Gilbert Yeung, head of Blue Circle, declined to name the type of op-amps used in the SBH, saying he'd rather people make their judgment by listening instead of reading the number off the part and jumping to a conclusion." "The amplifier section has two inputs and a line-level output, all via RCA jacks, so it could serve as a preamp in a modest system with only a couple of sources." |
| | |
| --- | --- |
| Use | "One of the SBH's unusual features is individually adjustable channel gain controls, along with a master volume control. These let you balance the channels." The SBH has no on/off switch. It is on whenever it's plugged in. |
| | |
| --- | --- |
| Value | "At its price point, [the SBH] has lots of worthy competition from many of the established headphone-amplifier manufacturers…," but "the SBH does not suffer in comparison to any of them." |
Headphone aficionados are a small but enthusiastic segment of the audio community. Their pursuit of sonic excellence is no less zealous than that of those who enjoy traditional speaker-based hi-fi systems. With a few exceptions -- Musical Fidelity, Creek, and Rega come to mind -- most mainstream audio manufacturers don't make dedicated headphone amplifiers, so you won't find any headphone amps by Audio Research or Krell, which could certainly make perfectly splendid models. Instead, companies like HeadRoom, RudiStor Sound Systems, Ray Samuels Audio, SinglePower Audio, and Meier Audio specialize, providing headphone listeners with dedicated amplifiers.
Earlier this year, another mainstream manufacturer, Blue Circle Audio, joined the ranks of headphone-amplifier makers. In business since 1988, Blue Circle got its start making tube amps and preamps. The company's current lineup includes tube, solid-state, and hybrid components. Like most of Blue Circle's SB or "shoebox" series of components, the SBH headphone amp is totally solid state. The SB series is Blue Circle's budget line, although it's debatable whether most people would consider the SBH's $1095 USD price budget territory. Still, considering that some headphone amps sell for as much as $15,000, I guess it's all relative.
The SBH is a two-piece design with a separate power supply that you can place away from the amplifier unit to reduce noise and the amount of shelf space required (floor placement is recommended). The five-pound, 4 1/4"W x 5"H x 7 5/8"D power supply turns on and stays on as soon as you plug in SBH, so there's no need to access the power supply to turn power on and off. Weighing in at five pounds and measuring 5 3/8"W x 3 3/8"H x 8 1/4"D, plus an additional 1 1/4" in front for knobs and a half inch in back for RCA jacks, the amp section should be an easy fit on most equipment racks, possibly even sharing a shelf with another component.
Like other Blue Circle products, the SBH relies heavily on op-amps in its circuit. Gilbert Yeung, head of Blue Circle, declined to name the type of op-amps used in the SBH, saying he'd rather people make their judgment by listening instead of reading the number off the part and jumping to a conclusion. Fair enough.
The amplifier section has two inputs and a line-level output, all via RCA jacks, so it could serve as a preamp in a modest system with only a couple of sources. A 1/4" headphone jack below and to the left of the volume control lets you plug in your 'phones. With an input impedance of 50k ohms, the SBH should handle just about any source, solid-state or tube. Power output at the headphone jack is specified at 350mW. One of the SBH's unusual features is individually adjustable channel gain controls, along with a master volume control. These let you balance the channels. There are no labels on the front or rear panels; instead, the labels for the controls and rear jacks are on brass strips applied to the top of the amplifier section.
Compared to similarly priced offerings from well-known headphone amplifier manufacturers Ray Samuels Audio, HeadRoom, RudiStor Sound Systems, or Meier Audio (which makes some exceptionally nice looking amps), the SBH looks somewhat crude. But that's in line with Blue Circle's philosophy: "Keep the cosmetics to a minimum and put the money where it belongs .... inside the chassis." And in the case of Blue Circle Audio's SB line, the chassis are the same ones used as power supplies for more expensive (and attractive) components. There's nothing wrong with that, but if you're fussy about how your gear looks, the SBH may not be your cup of tea.
Most Blue Circle components have wooden volume-control knobs. Not so the SBH; its volume control uses a black plastic knob. This doesn't bother me, but died-in-the-wool Blue Circle Audio fans may pine [ahem] for a wooden knob. Fortunately, they are available as accessories.
The SBH ships in a very nice, sturdy box with dense foam spacers to protect it from the loving care of UPS. A short manual provides the necessary instructions for installing and setting up the amplifier and its power supply. All connections should be made prior to plugging in the power cord, since there is no on/off switch. A big Blue Circle Audio logo illuminates in the center of the front of the amplifier section. There's another logo on the front of the power supply, but it doesn't illuminate. If you place the power supply on the floor, you really don't want a big blue circle shining up at you.
The power-supply chassis has no feet, so at first I couldn't tell which side was the top. I finally figured out that the side with the acrylic panel should go on top. Due to their size, both the amplifier section and the power supply easily fit on a single shelf in my rack, along with my Stello HP100 headphone amp.
Setting up
The manual says to use only the power cord that comes with the SBH. I always review components with their stock power cords, even though I might try some aftermarket cords too. Out of curiosity, I briefly tried a Blue Marble Audio power cord with the SBH and noted improvements in bass response, dynamics, and detail retrieval. Other power cords might bring equal or better results.
I followed the manual's directions against detaching any cable until the unit has been powered off (unplugged) for five minutes. Failure to follow this admonition is grounds for voiding the warranty. Audiophiles wanting to compare the sound of different interconnects should take heed. Headphone plugs can be inserted and removed at any time, regardless of whether the power is on or off.
I placed the power supply on the floor underneath my equipment rack. The included two-meter braided umbilical made it easy to find an out-of-the-way spot, so I wouldn't step on the power supply. The umbilical is permanently attached to the power supply, but it has a detachable plug that connects to the amplifier section.
Blue Circle's website makes a big deal about the fact that the company offers a remote volume control for the SBH and asks why no one else offers such a feature on a headphone amp. I think the answer is that with headphones you're tethered to the amp by the fairly short cord, usually about three meters long, so you are usually within arm's reach of the volume control. Perhaps you've recabled your 'phones with a longer cord, or use an extension cord (heaven forbid), so you can sit in your favorite chair and listen, hoping no one trips over your cord. Then, perhaps, the additional $320 for the remote control would be a good investment. Of course, if you used the SBH as your system preamp, a remote volume control would be quite useful.
Headphone preferences, like speaker preferences, are very personal; we each choose the colorations that appeal to us. For me, that means AKG K701 headphones. Although some may prefer other headphones, to me the K701s sound very musically accurate, though far from perfect. Their impedance of 62 ohms and rated power handling of 200mW made them a good match for the SBH amplifier.
I asked how well the SBH drives other headphones, and Gilbert clarified: "The SBH will drive anything from 16 ohms to 1k ohms. At 300 ohms, it will pull out 270mW. More than most headphones' maximum rating." The SBH delivered more than enough power to drive my K701s to far louder levels than I would ever listen, even when I'm in a head-banging mood. I must say that not all op-amp headphone amps have done that, but the SBH was extremely powerful. In addition to my reference AKG K701 headphones, I also tried my older AKG K501 'phones just for grins.
The sound
One of the first CDs I cued up proved to be a good demonstration of the SBH's strengths. Eiji Oue and the Minnesota Orchestra's recording of Kabalevsky's "Overture to Colas Breugnon" on the Bolero! CD [Reference Recordings RR-92CD] is an orchestral blockbuster that I routinely take to hi-fi shows to challenge speakers, and it brings most of them to their knees. It has a very wide frequency response, with deep bass usually requiring large, expensive speakers to do it justice. Driven by the SBH, the K701s produced most of the deep bass material, and did a particularly good job reproducing the sparkling high frequencies from the large battery of percussion instruments in the score. Large-scale swings in loudness abound in this music, and the SBH did them full justice. Yet massed strings sounded positively juicy. Other instruments also sounded tonally accurate and very detailed.
Because headphone drivers are right next to your ears, they don't have to drive your whole listening room. Thus you'd expect their frequency extension to be better than with most speakers. The SBH's treble was quite extended, so that I could hear the delicate chimes that open Argento's "For the Angel, Israfel" played by Eiji Oue and the Minnesota Orchestra on Reference Recordings' 30th Anniversary Sampler [Reference Recordings RR-908]. Not only were the chimes audible, but I could hear their individual resonant envelopes -- from the initial strike to the way the resonance died off. Bass extension was deep and detailed, but not over-emphasized. On another selection from this CD, Vigil Fox's performance of Bach's "Prelude in D, BWV 532," the organ-pedal notes shuddered impressively with considerable power. Headphone bass is not the same as speaker bass, of course, which vibrates your whole body. Still, the SBH did a credible job of reproducing that sort of low-frequency power.
Because the right and left channels of headphones are isolated, so the right ear can't hear the left channel and vice versa, headphones really can't produce a realistic soundstage. However, I still played the title cut of my soundstaging test CD, Allegri Miserere [Gimell 454 939-2]. Sure enough, the SBHs didn't paint a solid lateral picture of the choirs distributed across the soundstage, but I've never heard that from any headphone. What it did do was portray the very spacious recording site (a large church) and the sense of depth that told me the solo group was located considerably behind the main choir. The absence of room acoustics should enable headphones to deliver an exceptionally detailed sonic picture, and this cut was a good test. I could identify individual voices in the Tallis Scholars vocal group, which are usually somewhat smeared when listening to speakers. The SBH was pristinely clean, a hallmark of low-distortion sound.
OK, the SBH did instrumental and choral music splendidly, but how did it do with solo vocals? On Roadhouses and Automobiles [Stockfisch SFR 357.6027.2], Chris Jones's gravelly baritone was clean and powerful, and also unusually easy to understand. On the cut "No Sanctuary Here," I finally understood a phrase that made more sense out of the lyrics. About 35 seconds after the start of the song, Jones sings, "You know we're talking about a helluva walk." With both speakers and other headphone amps, the phrase had been smeared, and I thought Jones was singing something else. Moving to female vocals, Jennifer Warnes' SACD The Well [Cisco SCD 2034] begins with the title song, and the SBH's strong dynamics propelled it forward with considerable momentum.
As the Brits would say, the SBH had lots of PRaT (pace, rhythm, and timing), which it effortlessly portrayed. A big part of PRaT is dynamics, and the SBH's massive power supply provided dynamics that were quick and accurate, which gave the SBH a lively, nimble sound on all music. I believe that a component's dynamic agility is a major factor in its ability to convey the music's emotional content, and the SBH made quite a positive impression here.
Comparison
My Stello HP100 headphone amp ($595) uses all discrete transistors instead of op-amps in its signal path. Like the SBH, it has two inputs and a line output, so it can also be used as a preamp in a modest system. Unlike the SBH, however, the Stello is extremely well finished, with a thick faceplate labeled to show the function of each control. As I said in my review of the HP100, "It's attractive enough to share shelf space with any high-end audio jewelry."
But the proof is in the sound, and there the SBH bettered the HP100. The Stello amp was somewhat laid-back in the midrange. As a result, I heard considerably more detail with the SBH. The Stello, which I bought to use with my then-current AKG K501 headphones, has a frequency response that is skewed more toward the bass. Because the K501s are notoriously bass-shy, that was a good choice. As when buying amplifiers and speakers, you must remember that the sound you'll hear is the sound of both, not just one or the other. So the SBH's brighter sound was actually a good match for the K701s, but less so with the K501s. While the Stello amp's bass is a little deeper and fuller, both amps convey lots of bass detail.
To try an amplifier closer in price to the SBH, I borrowed a RudiStor NX-02 for a couple of days. This $875 hybrid amplifier (op-amp input with discrete bipolar transistor output) is a single-chassis model, with jacks for two sets of headphones. The NX-02 is a very handsome unit, with a thick front panel whose most prominent feature is a large gold volume knob in the center. I couldn't fault the NX-02's appearance at all -- another example of classy Italian design.
I couldn't fault the NX-02's sound, either. It was full-bodied, but slightly more laid-back than the SBH's. Although the NX-02 actually seemed to have a smidgen more high-frequency energy at the very uppermost end of the frequency band, the SBH had a more energetic lower treble, so it usually sounded a bit lighter and brighter. Both amps had excellent bass. I thought that on some music, the NX-02 displayed slightly more natural instrumental timbres. The choice between the two amps would be very much a personal thing, but both are sonically better than my Stello amp.
Conclusion
It's nice to see another mainstream hi-fi manufacturer venturing into the headphone world, especially with a product as fine as the SBH. At its price point, it has lots of worthy competition from many of the established headphone-amplifier manufacturers. Except for the RudiStor, I didn't have any of those competitors around for immediate comparison, but I've heard most of them at some time or another, and the SBH does not suffer in comparison to any of them.
With plenty of drive and a gleaming, spacious sound, the SBH would be a good match for most any headphones, but I suspect it would make a particularly good match for Sennheiser HD 650s, which, to me, have a somewhat recessed high end. On the other hand, the SBH probably wouldn't be an ideal match for headphones that have peaky treble, like the Beyerdynamic DT880s.
Although the SBH's sound has my hearty recommendation, its cosmetics will not appeal to some. While I concur that what's inside the chassis is more important than the exterior, a lot of headphone fans want their systems to look as good as they sound. If you go to a headphone meet, like those held periodically by members of the online Head-Fi forum, you'll see headphone systems that are truly examples of audio jewelry.
Thus, if your headphone amplifier's beauty is important to you, then you may want to look elsewhere. But there's no denying that the SBH's sound is beautiful, and that's what counts for me.
...Vade Forrester
vade@soundstage.com
Blue Circle Audio SBH Headphone Amplifier
Price: $1095 USD.
Warranty: Three years parts and labor.

Blue Circle Audio, Inc.
RR2
Innerkip, Ontario, Canada N0J 1M0
Phone: (519) 469-3215
Fax: (519) 469-3782

E-mail: bcircle@bluecirle.com
Website: www.bluecircle.com