November 2006
Beyerdynamic DT 880 Headphones
by Vade Forrester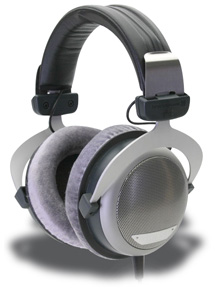 Review Summary
| | |
| --- | --- |
| Sound | "There definitely was an emphasis in the treble that most headphones don't exhibit…. If you like some extra sparkle in your sound, the DT 880s could be just the ticket. If you prefer a flatter response, the DT 880s may be hard to take." "Bass was taut and well defined, if not terribly powerful and weighty. It did provide a satisfying underpinning for just about any music I played." |
| | |
| --- | --- |
| Features | "Described as a semi-open design, the DT 880 has earcups that attenuate but don't completely block exterior sounds. A silver aluminum yoke holds the earcups and slides up and down to position them relative to the black, padded headband." |
| | |
| --- | --- |
| Use | "The DT 880s weigh 9 1/2 ounces and were very comfortable on my noggin. The headband's padding was particularly comfortable, making the headphones well suited for long listening sessions. The earcups were firmly clamped my head, but not painfully so." "We can anticipate that the DT 880s will benefit from a headphone amplifier for best performance. Sorry, iPodders." |
| | |
| --- | --- |
| Value | "While they were comfortable on my head, I found them tiring to listen to, a fatal flaw, especially at their price." |
Headphones are especially challenging to review. Because a headphone's frequency response depends on the ear canals of the listener, and each person's ear canals are different, a pair of headphones will sound somewhat -- or even substantially -- different to each person. Therefore, what a reviewer hears may not be exactly what you'll hear. A personal audition will tell you how you'll like a particular pair of headphones much better than any review can -- but that's true for any audio component.
All this said, I like headphones with a flat frequency response, so I gravitate towards those like the Reviewers' Choice AKG K701s, which I reviewed earlier in the year. If you prefer headphones with stronger bass, you may fancy Sennheiser's HD 650s. Like everything in life, our qualitative assessment of headphones depends on our personal aesthetic paradigms, which form the lenses through which we view (and hear) the world.
Beyerdynamic released the version of the DT 880 under qualitative assessment in this review in late 2005, but it didn't really reach the USA until 2006. Therefore, it's sometimes referred to as the 2006 DT 880, although Beyerdynamic's website calls it the DT 880 Edition 2005. No matter what you call them, they cost $489 USD. To add further value to the DT 880 package, Beyerdynamic includes an attractive black leather storage case. Finished in a silvery-gray metal shell, the DT 880s are quite attractive in my view. Their earpads are made from a soft gray velour material that looks strikingly like the material used on the K701s.
Described as a semi-open design, the DT 880 has earcups that attenuate but don't completely block exterior sounds. A silver aluminum yoke holds the earcups and slides up and down to position them relative to the black, padded headband. The three-meter cord fastens to the left earcup, and is terminated with a 1/2" gold-plated plug. A screw-on 1/4" adapter fastens directly over the plug. The cord is thin and limp, so it doesn't transmit any mechanical noise to the earcups. It is permanently attached, so it would be difficult to upgrade, although I'm sure some enterprising modifier will figure it out.
The DT 880s weigh 9 1/2 ounces and were very comfortable on my noggin. The headband's padding was particularly comfortable, making the headphones well suited for long listening sessions. The earcups were firmly clamped to my head, but not painfully so.
The DT 880 has a claimed impedance at 1kHz of 250 ohms, and a sensitivity of 96dB. Power handling is rated at 100mW, and frequency response is given as 5Hz-35kHz (no +/- variation specified). From these numbers we can anticipate that the DT 880s will benefit from a headphone amplifier for best performance. Sorry, iPodders.
Preparation
Most transducers benefit from a break-in period to loosen up their suspensions, so I went to the source of expertise I often consult for headphone matters, the Head-Fi online forum, to find out about breaking in the DT 880s. I asked owners on this remarkably civil and helpful forum how long the DT 880s need to break in to achieve their best performance. The responses I received varied from "Not at all." to "Over 300 hours." I decided to take the worst-case recommendation, and played a break-in CD for 360 hours through the DT 880s. Of course I had to sample the things midway through the process, strictly to be sure the 'phones were still working properly, you understand. What I heard was bright, glaring sound that I hoped would smooth out by the end of the break-in period. Of course, as a dispassionate reviewer with deadlines looming, I don't mind waiting for a set of 'phones to break in; a proud listener who has just purchased new DT 880s will probably not be able to resist listening to them immediately.
Associated Equipment
Loudspeakers – Second ReTHM.
Headphones – AKG K701.
Power amplifiers – Art Audio PX 25 stereo amp, Welborne Labs 300B DRD monoblocks.
Headphone amplifiers – HeadSave Classic, Stello HP100.
Preamplifier – deHavilland Mercury 2.
Digital – Meridian 508.24 CD player.
Analog – Linn LP-12 turntable, Graham 2.2 tonearm, van den Hul Platinum Frog cartridge, Audio Research PH5 phono stage.
Interconnects – Crystal Cable CrystalConnect Piccolo, Purist Audio Design Venustas.
Speaker cables – Crystal Cable CrystalSpeak Micro, Purist Audio Design Venustas.
Power cords – Silver Circle Audio, Blue Marble Audio Blue Lightning.
After break-in, I plugged the DT 880s into my Stello HP100 headphone amplifier and found that the 'phones worked well with the unit's gain switch set to the low position. I also briefly used the budget ($250 when produced) HeadSave Classic amp, which drove the DT 880s easily. The diminutive (about the sized of a deck of cards) HeadSave amp, while good for its price, doesn't match the HP100 for detail and dynamics, so my listening comments are based on the sound with the Stello.
Some headphones benefit from bright-sounding interconnect cables between the source and the amplifier, but I expected the DT 880s would enjoy a smoother-sounding cable, so I used a Purist Audio Design Venustas interconnect from my CD player to my amp. While not lacking in highs, it has a full midrange and deep bass. Using the Venustas with the HeadSave amp can be a minor challenge, because the interconnects weigh more than the amp!
Listening
Let's start with the most controversial part of the DT 880s' sound: the highs. There definitely was an emphasis in the treble that most headphones don't exhibit. Whether you find that emphasis attractive or annoying depends on how you like to hear music. If you like some extra sparkle in your sound, the DT 880s could be just the ticket. If you prefer a flatter response, the DT 880s may be hard to take.
During the "getting acquainted" part of the review cycle, I play lots of different music through a review component. This gives me a sense of how the component sounds and spotlights significant sonic characteristics. Sometimes this method reveals strengths, and sometimes it reveals flaws. During one of these sessions with the DT 880s, I was listening to a decidedly non-audiophile CD of Arthur Fiedler and the Boston Pops playing an assortment of overtures on a CD appropriately called Overtures [Time-Life Music TCD-766 R832-17]. On Wagner's "Prelude to Act III of Lohengrin," triangles and chimes were spitty and trumpets sounded piercing. On Jennifer Warnes' performance of "The Panther" on the SACD The Well [Cisco SCD 2034], high-frequency percussion parts were crystal clear, and I could hear all their overtones. Warnes' voice sounded breathier than usual, however.
Bass was taut and well defined, if not terribly powerful and weighty. It did provide a satisfying underpinning for just about any music I played. On another Jennifer Warnes CD, The Hunter [Private Music 01005-82089-2], the spectacular drum parts on "Way Down Deep" went way down deep indeed. Drum pitch was easily distinguished, and impacts were forceful. On Frederick Fennell and the Dallas Wind Symphony's CD Pomp and Pipes [Reference Recordings RR-58CD], the pipe-organ pedal notes went low, but were not thunderous. Bass lovers might prefer a different headphone.
As previously noted, instrumental timbres were skewed toward the high frequencies. On John Lehmann-Haupt's performance of "Ashokan Farewell," from his Songs of the Guitar CD [JLH Records JLH 003], the string sound was definitely more prominent than that of the guitar's body, and fingering noises were prominent. Detail sounded abundant, but I wondered how much of that was due to the high-frequency hump, which can create a false impression of detail.
Barbara Bonney's usually robust soprano on Diamonds in the Snow [Decca 466 762-2] became wispier and more ethereal than usual. I was almost afraid to cue up Eva Cassidy's somewhat raw-sounding American Tune [Blix Street Records G2-10079], but the song "Drowning in the Sea of Love" didn't sound any harsher than usual, although Cassidy's guitar sounded extra zingy, emphasizing the overtones.
Soundstaging is not a strength of headphones; it usually ranges from adequate to nonexistent. The DT 880s were average in this regard. They showed some center fill, but little in the way of solid images. On Magnificat's performance of Victoria's "Taedet animam meam" from Officium Defunctorum 1605 [Linn CKD 060], the sound of the choir singing in a large, reverberant space was fairly open and spacious-sounding -- decent but not noteworthy.
Because I was concerned that the high-frequency emphasis might accentuate surface noise, I made a point of auditioning the DT 880s with LPs. Does anyone besides me think it's rather ironic that after chucking its once-vaunted SACD medium Sony is once again making LPs? The first LP I played was one of these: Neil Diamond's 12 Songs [Columbia 8-2876-77507-1]. Surface noise seemed quite low. There were a few ticks, but that's normal for this LP, which has very quiet surfaces. Next, I cued up Eva Cassidy's Songbird [S&P Records S&P-501], which has rather noisy surfaces, at least on my copy. This LP has very quiet surfaces, so I cued up Eva Cassidy's Songbird [S&P Records S&P-501], which has rather noisy surfaces, at least on my copy. I heard the accustomed surface noise in all its glory, but, while noticeable, it was really not much worse than what I hear through my speakers. The DT 880s' peak seems lower in frequency than that of usual surface noise, so doesn't accentuate it much, if at all. That's good news for LP fans.
Comparison
AKG's $449 K701s have made a big impression on the headphone world -- and on me. With the exception of some very expensive electrostatic headphones, the K701s sound more like music than any other headphone I've heard. Their treble is smooth and their bass goes quite deep, but it's not ponderous. Detail retrieval is excellent, and the entire presentation is very musical. For headphones, the K701's soundstaging is above average too.
The K701s are very comfortable to wear for long listening sessions, but so are the DT 880s. I thought the latter's headband was slightly more comfortable on my head than the K701s'. However, my head seemed to sweat more with the DT 880s in place than the K701s. I preferred the K701s' cable, which is terminated with a 1/4" plug, so I don't need to use an adapter to connect it to my amplifier. The K701s are slightly more sensitive than the DT 880s; they need less power to produce the same level of sound, although neither pair of 'phones will work straight out of an iPod. With the Stello amp, the difference translated to two detent stops, or about 15 degrees of rotation. I suspect that most amps that will drive the K701s satisfactorily will also drive the DT 880s.
Every time I switched from listening to the DT 880s to the K701s, I was impressed with the latter's natural, musical presentation. Not only was the frequency response flatter, it seemed that instruments and voices sounded more realistic. On "Prelude to Act III of Lohengrin," the treble was flatter, so the triangles and trumpets sounded quite natural. On "Taedet animam meam," the K701s produced a much more solid and spacious soundstage. The DT 880s were by no means unlistenable, but it was always a relief to switch back to the K701s. During the review process, when I auditioned a selection first through the DT 880s and then switched to the K701s for comparison, the K701s tended to stay on my head much longer than the DT 880s.
I bought the K701s after my review, and I won't be doing that with the DT 880s. This fact should make clear which of these 'phones I prefer.
Conclusion
If you like lots of high-frequency sparkle from your headphones, the Beyerdynamic DT 880s may be just the ticket. Similarly, if your headphone amp has rolled-off highs, the DT 880s could compensate. However, matching strength with weakness is the wrong way to create a satisfying playback system. You want good-sounding components across the board, not good sound mixed with mediocre or bad.
There are plenty of satisfied Beyerdynamic DT 880 fans and only an audition will help you determine if you may be one of them. While they were comfortable on my head, I found them tiring to listen to, a fatal flaw, especially at their price.
...Vade Forrester
vade@soundstage.com
Beyerdynamic DT 880 Headphones
Price: $489 USD.
Warranty: Two years parts and labor.

Beyerdynamic GmbH & Co. KG
Theresienstrasse 8
74072 Heilbronn
Germany
Phone: 49(0) 71 31-617-430
Fax: 49(0) 71 31-617-199

E-mail: info@beyerdynamic.de
Website: www.beyerdynamic.de

Beyerdynamic, Inc. USA
56 Central Avenue
Farmingdale, NY 11735
Phone: (631) 293-3200
Fax: (631) 293-3288

E-mail: salesUSA@beyerdynamic.com
Website: www.beyerdynamic.com