September 2006
HeadRoom "Pimped-Out" Desktop Headphone Amplifier
by Doug Schneider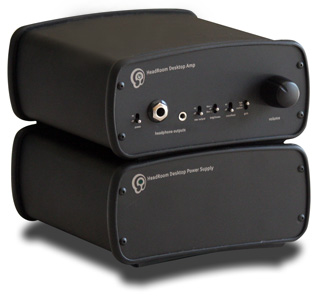 Review Summary
| | |
| --- | --- |
| Sound | With the pimped-out Desktop, "I could hear everything that was recorded, no matter how obscure." "The "pimped-out" Desktop proved adept at rocking out due to its tremendous clarity and high level of detail. It has whomp in the bass and great extension through the highs, plus it has great dynamics as well as the ability to reveal everything, including the recording's flaws." |
| | |
| --- | --- |
| Features | "In the most basic form (i.e., the $599 one), the Desktop comes equipped with dual analog inputs on the back to connect two sources. There is also a single set of analog outputs in case you want to use the Desktop as a very basic preamplifier. The entry-level Desktop also comes with a separate plastic-encased power supply. The price goes up as you spruce up the Desktop"; options include the Max module, Max DAC, 24-position stepped attenuator, and separate Desktop Power Supply. Brightness, Crossfeed and Gain switches are standard features. |
| | |
| --- | --- |
| Use | "The [crossfeed] circuitry also adds a little warmth, so it colors the sound a touch, but in a good way. For the most part everything sounds a little richer and, as a result, better, at least to my ears." "However, I always preferred the sound with the Brightness switch off. Neither setting was better than no setting -- ever." |
| | |
| --- | --- |
| Value | "It's important to note that although the product I reviewed has a fairly hefty price tag, a base unit starts at just $599. My advice, then, would be to consider the standard Desktop and add on what you think you need to flesh out your system." |
HeadRoom sent me one of their fully loaded -- "pimped-out," as they call it -- Desktop headphone amplifiers earlier this year, but, admittedly, I took a bit of time to get around to using it. After a month that it sat dormant, the need to use it arrived in a most unexpected way: I needed to edit a soundtrack for a video production. The Desktop headphone amplifier with Max module, Max DAC, 24-position stepped attenuator and separate Desktop Power Supply (DPS) swung into action and performed above and beyond the call of duty. Of course, I didn't only use it for that video project. After I realized how good it sounded and how versatile it was, it formed the centerpiece of a full-scale music-listening rig.
Description
The Desktop series of headphone amplifiers occupies the middle ground of HeadRoom's large lineup of headphone amps. The Mobile and Micro lines are below, and the Home and Max lines are above.
A basic Desktop amp costs $599 USD, measures 6 1/4"W x 3 1/3"H x 6 1/4"D, and weighs under two pounds. It's nicely styled with a "swooping" chassis made of aluminum that's finished in matte black. Rubber strips that surround the front and back panels finish those edges nicely, give it a soft-but-firm footing on a tabletop, and allow the units to stack neatly.
In the most basic form (i.e., the $599 one), the Desktop comes equipped with dual analog inputs on the back to connect two sources. There is also a single set of analog outputs in case you want to use the Desktop as a very basic preamplifier. The entry-level Desktop also comes with a separate plastic-encased power supply.
The price goes up as you spruce up the Desktop. HeadRoom supplied the Desktop with the Max module, which adds $399 to the price. It is a significant circuitry upgrade that features Burr-Brown OPA627 op-amps and a gold-coated, two-ounce, copper-traced, four-layer circuit board. In addition to the Max module, HeadRoom added the Max digital-to-analog converter, which increases the price another $399 (there are also Home and Desktop DAC options that increase the price $299 and $249, respectively, if you don't want to go to the full-blown Max DAC). The Max DAC features the same Cirrus CS4398 chip that's in the Desktop and Home DACs, the Burr-Brown OPA627 op-amps that are in Home unit, and then adds an Analog Devices AD1896 chip for de-jittering and upsampling that the Home and Desktop DAC units don't have. When you get a DAC option, the backside is also upgraded with the requisite digital inputs: coax, TosLink, and USB. Finally, the review Desktop also had the custom-made stepped attenuator, which HeadRoom claims improves sonic performance over the stock one. That adds another $99 to the price.
But that's not all -- you need something else once you have those options. The Max upgrades make this "pimped-out" Desktop more power hungry than the basic version; therefore, you also need the Desktop Power Supply (DPS), which is $399. The DPS provides the necessary juice to make the parts sing properly. Total price: $1895.
Whether you use a basic Desktop or the "pimped-out" model, the features are all the same. On the front are the volume control and power switch. To the right of the power switch are two headphone jacks: one 1/4" and the other 1/8". There are also four switches between the headphone jacks and the volume knob. One switch toggles the rear analog output on and off; another is labeled Brightness, and it can be set to Off, Filter 1, and Filter 2 (more on that below); yet another is called Crossfeed and can be used to turn on and off HeadRoom's well-known circuitry that mixes a little left and right channel information, and throws in a dash of frequency-response adjustment, to make the soundstage float in and around your head just a little more naturally; and, finally, there's the Gain switch that can be set to low, medium and high, and is very useful for matching the Desktop to the varying sensitivities of different headphones.
Set up, listen, set up, listen…
As I mentioned, my first use for this unit wasn't with music. Instead, I was editing a video project on a computer and was having trouble with the soundtrack. My problem revolved around matching levels from scene to scene and editing out noise, voices, and other sounds that weren't supposed to be there. I found that crappy computer speakers weren't nearly resolving enough. Even when the tracks were played over my big stereo speakers, they weren't giving me the kind of resolving power I needed.
That's when I spied the "pimped-out" Desktop waiting patiently on the floor. Within minutes I had the full system set up by connecting the Desktop to my computer's sound card via a Nirvana T2 coaxial digital cable and the DPS's power cord to my computer's power strip. For this project, I was monitoring with inexpensive Grado SR60 and moderately expensive Sennheiser HD 580 headphones. These are certainly not the best cans you can buy, but did resolution ever take a giant step forward with them. No longer was I straining to hear if background voices were still audible or if low-bass "whumps" were still present. I could hear everything that was recorded, no matter how obscure. The Desktop turned out to be a tremendous monitoring tool, and it took up hardly any space on my desk.
In no time at all I figured out which of the Desktop's features were truly worthwhile. When switching between headphones, the Gain switch is invaluable because of the large differences in headphone sensitivity. One pair plays blaringly loud at a certain point on the volume control while another just whispers at that same point. With a flick of the Gain switch, though, you are in the appropriate range for either pair of headphones.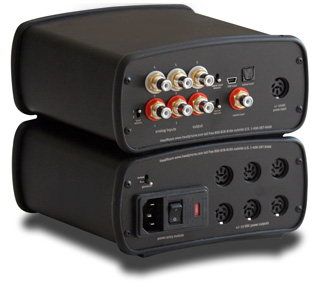 The digital-input options -- coax, TosLink, and USB -- give you the flexibility to connect to sources the way you need to, and the Crossfeed switch is a tremendous tool for on-the-spot soundstage comparisons. For instance, when HeadRoom's special circuitry is engaged, a little of the left- and right-channel information is mixed at specific frequencies -- basically, increasing crosstalk -- but the result is a stereo image that better approximates that of a two-channel speaker system. However, the circuitry also adds a little warmth, so it colors the sound a touch, but in a good way. For the most part everything sounds a little richer and, as a result, better, at least to my ears. When it's off, though, the stereo effect goes more to either side of your head, which is what we're all used to with headphones, and the frequency response is neutral. I alternated between Crossfeed on and off depending on what sounded more appropriate. It's very useful to have at the flick of a switch.
However, I didn't find the Brightness switch that useful at all. In fact, I found no use for it in editing; leaving it off always sounded better. In the Filter 1 setting, which reportedly gives a boost at about 3kHz, the sound consistently became too tinny, even with the Crossfeed on, which stunts the highs some. The Filter 2 setting boosts at an octave below that, and I found it preferable to Filter 1. However, these settings always made the sound too bright, at least with the headphones I had.
Following my video project, I moved the "pimped-out" Desktop into my main listening room, connecting it to my Theta Data Basic transport with an i2Digital X-60 digital interconnect via the coaxial digital input. I also simultaneously fed the Basic's digital signal to my Stello DA220 DAC, and then routed the single-ended analog outputs of that DAC into the Desktop. I wanted to find out what HeadRoom's Max DAC could do for $399 compared to the Stello DA220 that's priced at $1195. On this system I listened strictly to music, and I used Sennheiser HD 650 headphones, which are quite a bit better than the 'phones I was using for editing.
The same qualities I was hearing while monitoring voice and other sounds were translated to my music-listening experiences: high resolution, great clarity, and overall near-flawless sound. With music I was also quite a bit more critical and listened for bass- and high-frequency extension, and that "timing thing" that gives music a beat.
Lately, I've been going retro with a new Burton Cummings/Randy Bachmann greatest-hits package called Bachmann Cummings Songbook [Sony/BMG 82876 81247 2]. The recording quality isn't great, and the remastering job is hardly pristine, but both are decent enough and there's just something about listening to a new release of old classics like "American Woman" and "You Ain't Seen Nothing Yet," as well as 17 other tracks, through a high-quality headphone setup that brings back old memories of being a teenager.
These songs never sounded better, and the "pimped-out" Desktop proved adept at rocking out, due to its tremendous clarity and high level of detail. It has whomp in the bass and great extension through the highs, plus it has great dynamics as well as the ability to reveal everything, including the recording's flaws, which are numerous on this compilation. Furthermore, you can play the Desktop louder than you can stand, and the sound remains clean (obviously, this is not recommended for any length of time, given the prospect of irreversible hearing damage). The amazing thing is that the Desktop does everything, so I can understand why many create a high-quality headphone setup like this and call it their main listening system. You get tremendous sound quality in a compact, convenient setup.
Playing with both the Crossfeed and Brightness switches yielded the same results as when monitoring the video track. For the most part, though, turning Crossfeed on sounded better than when it was not engaged, due to the more natural soundstage as well as the colorations it imparts, even if not engaging the circuitry yields a more neutral sound. Occasionally, though, some songs sounded better without it. For example, Johnny Cash's new album, American V: A Hundred Highways [Lost Highway 2769], gets a little congested in the mids with the Crossfeed on; with it off the clarity comes right back.
However, I always preferred the sound with the Brightness switch off. Neither setting was better than no setting -- ever. In fairness, maybe someone with high-frequency hearing loss (from playing headphones too loud perhaps) or with headphones that have rolled-off highs could benefit from this feature. Not me and not with any of the headphones I had here.
Battling DACs
On less-raucous acoustic material, the "pimped-out" Desktop acquitted itself just as well, and it was with music like this that I was better able to compare the sonic performance of the Max DAC versus my Stello DA220 DAC. Playing the first track of Mariza's 2005 release Transparente [EMI 9047], "Há Uma Música Do Povo," proved that while both the Max DAC and Stello DA220 are in the same league, the DA220 performs at a notch above.
For example, the opening track is an acoustic number with a tremendous sense of warmth and space. It sounded absolutely stunning through the "pimped-out" Desktop and Sennheiser HD 650 headphones with both DACs. In terms of dynamics and clarity it was actually a draw. I honestly couldn't say that one or the other was better. However, the Max DAC couldn't match the sense of space or the resolution of the DA220. The DA220 widened and deepened the soundstage and conveyed more air in the corners, while the Max DAC sounded slightly stunted in comparison. As well, vocals had just a touch more purity through the DA220, and the highs were ever-so-subtly more refined. The bass? Well, that was about the same.
The DA220 is, by a small margin, better, albeit at about four times the price -- not something that should go unnoticed. You pay a lot more for something like that, and you do get a little more in terms of performance. For $399, though, the Max DAC more than justifies its price. Plus, the Max DAC is built into the Desktop amp, which is a tremendous convenience. I wouldn't want to set up the DA220 alongside the "pimped-out" Desktop at my video-editing station.
Conclusion
If this "pimped-out" Desktop is an indicator, it's apparent that HeadRoom has moved significantly forward with their new lineup of headphone amplifiers. While I liked the Maxed Out Home headphone amplifier that I reviewed four years ago (it was priced at $999 at the time), this new unit sounds cleaner and punchier, has improved crossfeed-circuitry, and has far more options, including the DACs, which weren't even available before. The Desktop is now more than just a headphone amplifier; it's closer to an all-in-one headphone system. HeadRoom just has to create a transport to stack on top of it all, and then it would truly be all-in-one.
The "pimped-out" Desktop also has a level of resolution and transparency that can impress to no end, and it's certainly better in that regard than the older Maxed Out Home. I could hear into every nook and cranny of my DVD project, and I could hear into musical recordings with ease. In fact, I could hear into my equipment as well, discerning their unique characteristics. For example, hearing the differences between the various upsampling options on my Stello DA220 DAC was nearly impossible, even with ungodly expensive amplifiers and speakers. However, with the "pimped-out" Desktop, I could hear those differences with ease. That's never happened before.
Once you've heard a good headphone amplifier, there's really no going back. I loved what this fully decked-out Desktop system did in terms of sound quality and resolving power, and appreciated the rich feature set. Furthermore, it's important to note that although the product I reviewed has a fairly hefty price tag, a base unit starts at just $599. My advice would be to consider the standard Desktop and add on what you think you need to flesh out your system. HeadRoom understands "headphiles," and they build product lines, as well as products within those lines, that suit almost every budget and need.
...Doug Schneider
das@soundstage.com
HeadRoom "Pimped-Out" Desktop Headphone Amplifier
Price: $1895 (equipped with Max Module, Max DAC, Stepped Attenuator and Desktop Power Supply).
Warranty: Five years parts and labor; 30-day initial-purchase guarantee.

HeadRoom Corporation
2020 Gilkerson Drive
Bozeman, MT 59715
Phone: 1-800-828-8184

Website: www.headphone.com