July 2006
AKG K701 Headphones
by Vade Forrester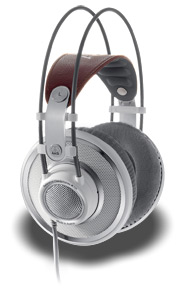 Review Summary
| | |
| --- | --- |
| Sound | "The AKG K701s had a smooth, even response and lots of inner detail, yet they weren't at all analytical or peaky." They had "low, powerful bass with good detail," an "exquisite" midrange, and highs "befitting other AKG headphones." |
| | |
| --- | --- |
| Features | "The K701 is not just a K501 with bass; it has quite a few interesting technological advances. These include a flat-wire voice coil that reportedly improves efficiency and enhances high-frequency accuracy, a two-layer diaphragm of AKG's patented Varimotion design that is said to eliminate distortion and deliver exceptional imaging, and a high-performance neodymium magnet structure for claimed frequency response from 10Hz to 39.8kHz." |
| | |
| --- | --- |
| Use | "A brown padded-leather headband supports the headphones on your head, while small spring-loaded cables apply tension to keep the K701s firmly, but not painfully, in contact with your head. Velour pads assure a good seal and a comfortable fit." The K701s "still need a healthy amplifier. Sorry, iPod users!" |
| | |
| --- | --- |
| Value | "I was astonished that sound this good is available for only $399." |

Music heard through headphones doesn't sound like music heard in a concert hall, and doesn't sound like music heard through speakers, either. That's because sound from one source (or channel) can't be heard in both ears at the same time. That's bad; with headphones, soundstaging ranges from fair to non-existent. Headphones also eliminate the effects of room acoustics, because the entire soundfield occurs within the small cavity between the headphone driver and your ears. That's good; the absence of room reflections means you'll hear a more accurate depiction of the source. This makes headphones a powerful analytical tool for listeners who want to hear what their electronics sound like, and want to evaluate the effects of a change in their system's configuration (except with the speakers and power amp, of course).
Headphone makers have different "house sounds," or collections of sonic characteristics typical of all their products. To my ears, the house sound of the highly regarded Sennheiser 'phones, for example, could be described as having deep, powerful bass, somewhat rolled-off highs, and a laid-back midrange. Sennheisers are great for pop and rock music, and are at least acceptable for acoustic music as well. AKG, on the other hand, has favored a sound that lacks deep bass but has a very vivid midrange and more extended highs. I've seen AKG products described as best suited to jazz and classical music. After trying the highly rated Sennheiser HD 650 headphones and finding them not to my tastes, I bought the much cheaper AKG K501s.
After enduring listeners' complaints about the lack of bass in their former top-of-the-line K501 headphones, late in 2005 AKG released two new models: the K601 ($299 USD) and the K701 ($399). The K701 is not just a K501 with bass; it has quite a few interesting technological advances. These include a flat-wire voice coil that reportedly improves efficiency and enhances high-frequency accuracy, a two-layer diaphragm of AKG's patented Varimotion design that is said to eliminate distortion and deliver exceptional imaging, and a high-performance neodymium magnet structure for claimed frequency response from 10Hz to 39.8kHz. Headphone frequency-response claims tend to be highly optimistic, and the open-backed K701s will certainly be affected by ambient noise. They let everyone in the room hear what you're listening to, as well as let you hear the telephone ring.
The first thing you'll observe when unpacking the K701s is that they are, well, iPod white. Aesthetic judgments about the white color vary; some people hate it, and some love it. I rather like the color, and I hope it starts a trend toward more colorful headphones. A much more important issue is the construction quality; the K701s are quite well built, with nary a rough edge in sight. A brown padded-leather headband supports the headphones on your head, while small spring-loaded cables apply tension to keep the K701s firmly, but not painfully, in contact with your head. Velour pads assure a good seal and a comfortable fit. On my fat, size-7 5/8 head, the K701s are even more comfortable than the K501s, which were pretty comfortable already.
A three-meter gray cord connects the K701s to the headphone jack. The cord is quite limp, so when it moves around (e.g., when you move your head), it won't generate noise that will reach the headphones. Unlike Sennheiser's removable cords, the K701's cord is hard-wired to its left-channel earcup, making cable upgrades difficult. Each K701 channel is wired with its own signal and ground wire, which AKG calls "biwiring." A gold-plated 1/4" plug is standard, with an adapter provided to plug into a mini-jack.
The K701s also differ electrically from the K501s. The K701s have a claimed efficiency of 105dB per volt, while the K501s are rated at 94dB per milliwatt. The K701s have a 62-ohm impedance, while the K501s have a 120-ohm impedance. While these specs aren't directly comparable, I found that the K701s played louder than the K501s, although they still need a healthy amplifier. Sorry, iPod users!
Associated Equipment
Loudspeakers – Second ReTHM.
Headphones – AKG K 501 and Beyerdynamic DT 990.
Power amplifiers – Art Audio PX 25 stereo amp, Welborne Labs 300B DRD monoblocks.
Headphone amplifier – HeadSave Classic, Stello HP100.
Preamplifier – deHavilland Mercury 2.
Digital – Meridian 508.24 CD player.
Analog – Linn LP-12 turntable, Graham 2.2 tonearm, van den Hul Platinum Frog cartridge, Audio Research PH5 phono stage.
Interconnects – Crystal Cable CrystalConnect Piccolo, Purist Audio Design Venustas.
Speaker cables – Crystal Cable CrystalSpeak Micro, Purist Audio Design Venustas.
Power cords – Silver Circle Audio, Blue Marble Audio Blue Lightning.
The K701s come with a "stylish storage cradle" to hold them when they're not in use. The cradle consists of a silver plastic base filled with gray foam. It has a bow-tie-shaped indentation cut out to hold the headphones. It's not the most elegant stand I've seen, but it gets the job done. Most headphones don't include any kind of stand.
Like the K501s', the K701s' earpads screw off with a slight twist. But unlike those of the K501s, the K701s' earpads are not symmetrical; they are thicker at the back. Thus, if you remove them, be sure you align them correctly when replacing them. Also be sure all four of the retaining clips on the earpads fasten to the earcups. The K701 earpads seal more tightly on the earcups, which makes them harder to replace.
Setup
The consensus among fellow members of the Head-Fi forum, a website for headphone enthusiasts, is that the K701s need a minimum of 300 hours burn-in to achieve their best sound, so I gave them 350 hours with TARA Labs' Cascade Noise Burn-In Disc. OK, I confess -- I cheated, listening after about 250 hours, just to be sure everything was progressing satisfactorily, you understand. What I heard told me that the K701s were pretty listenable then, for those of you who can't bear to wait 300 hours to hear your new 'phones. However, they did sound smoother and more open after the full burn-in period.
The amazing little Stello HP100 amplifier drove the K701s easily, even at its low-gain setting. A Blue Marble Audio power cord provided AC power to the Stello amp. For comparison, I used a HeadSave Classic amp, which also drove the K701s comfortably.
The sonically transparent K701s made it easy to distinguish between upstream components, like the interconnect cables I used to connect my CD player to the Stello amplifier. Purist Audio Design's Venustas interconnects had a subterranean low end, but seemed to soften the highs slightly. Crystal Cables Piccolo interconnects had better frequency balance, but the most open sound with the Stello amp came with the DNM Reson interconnects, with their Eichmann Bullet Plug terminations. I used these for my listening evaluations.
Sound
Because bass performance was unquestionably the weakest area of the K701's predecessor, the K501, let's focus attention there first. Compared to the K501's, the K701's bass went much deeper and still displayed lots of detail. However, the K701s are not bass-heavy, and I suspect folks who like music with extreme levels of bass may prefer 'phones with even more low-frequency output. On Eije Oue and the Minnesota Orchestra's performance of Kabalevsky's "Overture to Colas Breugnon," from the CD Bolero! [Reference Recordings RR-92CD], the orchestral bass drum rolls went deep, deep, deep, and had decent detail. I've heard better bass from a few speakers, but not many, and most of them are in the $40,000-and-above price range. To really challenge the K701s' bass performance, I brought out Frederick Fennell's Pomp & Pipes [Reference Recordings RR-58CD] and cued up Eugene Gigout's "Grand Chorus in Dialogue." Scored for organ, winds, and percussion, this piece has plenty of high-level deep bass. The K701s were up to the challenge, producing low, powerful bass with good detail.
The K701s' midrange performance was exquisite. On Barbara Bonney's delicate "Våren" from her Diamonds in the Snow CD of Nordic songs [Decca 289 466 762-2], the piano accompaniment seemed eerily realistic. I could hear the hammer hit the strings, and the response of both the strings and the piano's body. The piano's notes shimmered in midair until the pedal was released. David Chesky's "Concerto for Violin and Orchestra" on Area 31 [Chesky Records SACD288] has a lot of angular-sounding instrumental detail that the K701s revealed as well as any transducer I've heard. This piece wraps the classic violin-concerto structure around some modern sonorities, but it is still very approachable. The K701s accurately portrayed soloist Tom Chiu's somewhat strident violin tone with no tendency to romanticize it. Yet when a recording called for it, the K701s had no trouble depicting meltingly gorgeous string sound.
The K701s' neutral, detailed midrange made listening to voices a particular pleasure. In "Våren," Barbara Bonney's radiant light soprano spanned the range from soft and tender to powerful and forceful with little apparent effort. The K701s made her expressive inflections easy to follow. I confess a fondness for Neal Diamond's work over the years, so when he released his new recording titled 12 Songs [Columbia 8-2876-77508-2], I got both the CD and LP. On the song "I'm On To You," Diamond's worn, gravelly voice hasn't lost much of its charm. Through the K701s, the instrumental accompaniment entered rather forcefully and sounded timbrally accurate.
Many headphones have trouble with high frequencies, but through the K701s, triangles sparkled just as they do live. On my fave high-frequency test cut, Jennifer Warnes' "The Panther" from her SACD The Well [Cisco SCD 2034], the chimes tinkled merrily and the many percussion instruments were portrayed with considerable detail. This was treble performance befitting other AKG headphones, whose highs were always one of their strong suits.
Both large-scale and more minute dynamics were handled well. "Folia: Rodrigo Martinez" from Jordi Savall and associates' CD La Folia 1490-1701 [AliaVox AV9805] had plenty of internal energy, with its constantly varying loudness levels. On the loud end of the scale, "Overture to Colas Breugnon" thundered forth spectacularly over the K701s. Of course, the amplifier plays a big role in the dynamics of these pieces, and the Stello HP100 took big climaxes in stride.
The Tallis Scholars' performance of Allegri's "Miserere" from their CD Miserere [Gimmell 454 939-2] illustrated the K701s' ample soundstaging capability. Recorded in a church, the music sounded spacious, wrapping from one ear to the other with good center fill. Still, there's no question that speakers are better able to locate each section of the choir and distinguish the fact that a solo group is placed some distance behind the main choir.
The K701s had a smooth, even response and lots of inner detail, yet they weren't at all analytical or peaky. However, while the characteristics are individually excellent, the real strength of these 'phones was how uniformly they all extended across the whole frequency spectrum. The bass retained the character of the midrange, which sounded of a piece with the highs. Most headphones I've heard lack such continuity, sounding different as you move up the frequency spectrum. Not the K701s, whose sonic whole is much greater than the sum of its parts.
Comparison
I've already pointed out that my AKG K501 headphones ($260 MSRP, but usually sold for about half that price) lack bass, but they have a clear, open midrange and extended highs. For headphones, the K501s throw a pretty good soundstage. The K 501s absolutely need a powerful amp for best performance, and are sufficiently revealing to make it easy to distinguish between different amps.
The K701s, however, blew the K501s into the weeds. As noted, the K701s' bass goes much deeper. In addition, the midrange is flatter, and the highs sound more extended and realistic. More important, instrumental timbres were more accurate, and voices were warm and detailed. The K701s displayed more transparency and resolution, while sounding more complete and full range.
For a given volume, the K701s played louder than the K501s, but they still need a good amp. The Stello HP100, which uses only discrete transistors in the signal path, was a good match, and my little HeadSave Classic also drove the K701s easily. The op-amp-based HeadSave did not provide as much bass, and lacked the Stello amp's detail, but it nonetheless had a pleasing tonal balance with the K701s.
The bottom line
The AKG K701s are a breakthrough product and a dramatic improvement over previous AKG models -- and most other headphones as well. They are easily the most accurate headphones I have heard anywhere near their price, producing some of the best sound I've heard from any transducer. In my experience, only some very expensive electrostatic headphones surpass the K701s, whose bandwidth extended from the deep bass to the ultra highs without emphasizing any part of the frequency spectrum. If you value accuracy and a wide, flat frequency response, the K701s will be just the ticket. If your measure of a headphone's merit is the quantity of bass produced, you may prefer other models. The K701s' soundstaging was quite decent for a headphone, although it doesn't equal that of good speakers -- no surprise there. Detail and dynamics were exceptional. A good headphone amplifier is required to realize best performance, but that's true of any headphones.
If you like listening to music through headphones, you should audition the AKG K701s without delay. I was astonished that sound this good is available for only $399. If you hate listening to music through headphones, you should still listen to the K701s. They may convert you.
...Vade Forrester
vade@soundstage.com
AKG K701 Headphones
Price: $399 USD.
Warranty: Two years, parts and labor.

AKG Acoustics GmbH
Lemböckgasse 21-25
A-1230 Vienna, Austria
Phone: +43 1 86654-0
Fax: +43 1 86654-8800

E-mail: sales@akg.com
Website: www.akg.com

US distributor:
AKG USA
914 Airpark Center Drive
Nashville, TN 37217
Phone: (615) 620-3800
Fax: (615) 620-3875

E-mail: akgusasales@harman.com
Website: www.akg.com/usa