June 2006
Stello HP100 Headphone Amplifier
by Vade Forrester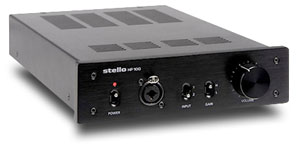 Review Summary
| | |
| --- | --- |
| Sound | "The HP100 had a very neutral sound. By 'neutral' I don't mean that it produced music in a bleached, colorless way…. However, I had to search for some sign of the amp's character and usually just wound up hearing how the headphones plugged into it sounded. That's 'neutral.'" "The HP100 contributed to the [creation of a] soundstage, at times creating a surprisingly three-dimensional effect." "Impressive bass"; "drums displayed lots of power and good pitch definition." |
| | |
| --- | --- |
| Features | A headphone amp that can also function as a two-input line-stage preamp. "On the thick front panel are a power switch, a Neutrik headphone jack, an input selector switch…, a level switch that lets you select the amount of gain to match your headphones or power amp, and the knob for a smooth ALPS Blue Velvet volume control." "Although ICs are used in the [HP100's] power supply, the signal path uses discrete transistors in a class-A, push-pull circuit." |
| | |
| --- | --- |
| Use | "The HP100 should be compatible with just about any imaginable headphones, source, or power amp," but it "proved unusually sensitive to the cables used with it, both interconnects and power cords." |
| | |
| --- | --- |
| Value | "Good design, good sound, and good looks at a very reasonable price -- what more can you ask for?" |
No matter how you feel about Apple's outrageously popular iPod portable music server, it has clearly affected how the world listens to music. From my audiophile point of view, one beneficial effect has been an increased interest in headphones and headphone amplifiers. Although a few audiophile-grade headphones have the low impedance and high sensitivity that would make it possible for an iPod to drive them directly, most need an external amplifier.
Headphone amps come in many sizes, shapes, and price ranges. From just over a hundred dollars to well into five figures, you can find a headphone amp that fits your financial and operational requirements. Some amps are not much bigger than the iPod itself and battery operated, providing a portable solution. Others are designed to be hi-fi components that sit on your rack alongside your preamp and CD player. Still others are designed to connect to a computer via a USB port, improving the computer's sound. Whatever your needs may be, there's a headphone amp to fill them.
South Korean manufacturer April Music makes two lines of components: Stello and Eximus. The Stello line consists of moderately priced, conventionally styled products, while the upscale Eximus line includes more ambitious components with advanced styling. The Stello line includes CD players, DACs, a combination DAC/preamp, an integrated amp, and power amps, all of which are very cleanly styled. While priced above the budget level, Stello components are still in the moderate price range and seem to provide great value for their cost. Let's see if the $595 USD Stello HP100 fits this mold.
Weighing in at a solid eight pounds and measuring 8 3/8"W x 2 1/4"H x 11 1/2"D, the HP100 is definitely not portable, although it's not unusually large either. On the rear panel you'll find an IEC receptacle for AC power; the power supply is internal, not another wall-wart (hooray!). Two sets of sturdy gold-plated RCA input jacks and a set of RCA output jacks are also located on the rear panel. The presence of output jacks means that the HP100 can be used as a simple line-stage preamp or inserted into a tape-monitor loop. A toggle switch on the rear is labeled Filter and has two positions. Position A really means off, while position B rolls off frequencies above 20kHz. An on/off label would be more informative. (In use, I couldn't tell any difference between the two settings.)
On the thick front panel are a power switch, a Neutrik headphone jack, an input selector switch (for the HP100's two inputs), a level switch that lets you select the amount of gain to match your headphones or power amp, and the knob for a smooth ALPS Blue Velvet volume control. A red LED tells you when the HP100 is powered up.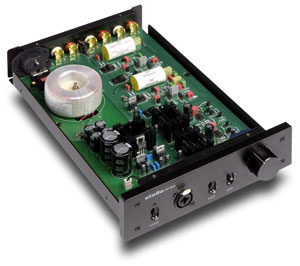 Inside the unit you'll see a neatly laid out circuit board with a hefty two-stage regulated power supply that's driven by a sizeable toroidal transformer. Although ICs are used in the power supply, the signal path uses discrete transistors in a class-A, push-pull circuit. Quality parts like Wima capacitors are used.
The HP100's input impedance is quoted as a whopping 1 million ohms, while the output impedance is a low 50 ohms. The gain through the output jacks is said to be 11.3dB with the gain switch in the Low position, and 16.3dB with the gain switch in the High position. All these specifications mean that the HP100 should be compatible with just about any imaginable headphones, source, or power amp. The all-black metalwork is impeccable. Overall construction is as good as for any headphone amp I've seen anywhere near the HP100's price.
Context
Although there is some difference of opinion as to whether it's necessary to break in components, my experience is that break-in is an essential, if unpleasant, part of any review. With headphones, the transducer elements are placed close to the ear, where they provide a very detailed sonic experience unaffected by room acoustics. You can clearly hear the contribution of all components upstream. A headphone amp that hasn't been broken in can sound quite nasty. If your experience with break-in differs from mine, at least you'll agree that break-in doesn't hurt anything!
This is a long-winded way of saying that I ran the HP100 for 400 hours. That's just over two weeks, not an unbearably long time, although I know a new owner would be anxious to get on with listening. I sampled the sound a few times during break-in, and what I heard sounded rather aggressive.
After break-in was complete, I moved the HP100 to my main system. Taking advantage of its two line inputs, I connected it directly to my CD player and tuner. I used AKG K701, AKG K501, and Beyerdynamic DT 990 (not the Pro model) headphones. These all have different electrical and acoustic characteristics. The Beyerdynamic 'phones are said to have a 250-ohm impedance and 96dB sensitivity, the AKG K501s a 120-ohm impedance and 94dB sensitivity, while the AKG K701s have 62-ohm impedance and 105dB sensitivity.
More important, they all sound quite different. The Beyerdynamic 'phones have powerful bass with a somewhat recessed midrange, and smooth but rolled-off highs. The AKG K501s have extended highs, a clear, detailed midrange, and taut, but severely rolled-off bass. Their big brother, the K701s, have a much flatter response from the deep bass through the highs. The one thing these headphones have in common is that they all need a fairly robust amplifier to produce their best sound; I figured they should give the HP100 a real workout. I also ran the HP100 directly into my amplifier to test its performance as a simple line stage.
The HP100 proved unusually sensitive to the cables used with it, both interconnects and power cords. While each headphone had its own favorite interconnect cable and power cord, a lengthy discussion of the various permutations would be distracting. However, you should keep in mind that it's possible to trim the tonal balance of the HP100's sound with different cables. I tried both $145 DNM and $399 Crystal Cable Piccolo interconnects between the preamp and HP100; both sounded good, but slightly different. I used both during the review.
The stock power cord was pretty average-looking, similar to what you'd get with a computer. Most of the listening tests were done with it, but it was fun to discover how the HP100 sounded with other power cords. Using a $200 Silver Circle Audio power cord and DNM interconnects, I was rewarded with a lush, burnished sound that was immensely attractive. This combination even improved the bass of the notoriously bass-shy AKG K501 headphones. No kidding -- the bass extended lower than I've ever heard it, with increased impact, but retained AKG's typical detail and tightness. It still fell short of the K701's low end, and way short of the DT 990's, but the improvement was noticeable. I suspect that the $485 Blue Marble Audio cord was more accurate, but the Silver Circle Audio cord was more fun to listen to with the K501s.
Listening
The HP100 had a very neutral sound. By "neutral" I don't mean that it produced music in a bleached, colorless way. Instrumental timbres were often strikingly realistic, and dynamics were very good. However, I had to search for some sign of the amp's character and usually just wound up hearing how the headphones plugged into it sounded. That's "neutral."
The AKG K501's bright tonal balance can be a little tiring with a bright-sounding amp, but that didn't happen with the HP100. As is typical for these headphones, bass was rather lacking, although what was produced was tight and detailed. Highs sounded extended, though perhaps a little peaky, but this is how I'd characterize the K501's sound. On Jennifer Warnes' "The Panther" from her SACD The Well [Cisco SCD 2034], the chimes sparkled merrily, and the percussion instruments revealed their complete tonal structure; both fundamentals and overtones. Warnes' smooth voice was easy to understand. Add "articulate" to the list of the HP100's sonic traits.
Associated Equipment
Loudspeakers – Second ReTHM.
Headphones – AKG K 501, AKG K701, Beyerdynamic DT 990.
Power amplifiers – Art Audio PX 25 stereo amp, Welborne Labs 300B DRD monoblocks.
Headphone amplifier – HeadSave Classic.
Preamplifier – deHavilland Mercury 2.
Digital – Meridian 508.24 CD player.
Analog – Linn LP-12 turntable, Graham 2.2 tonearm, van den Hul Platinum Frog cartridge, Audio Research PH5 phono stage.
Interconnects – Crystal Cable CrystalConnect Piccolo, Purist Audio Design Venustas.
Speaker cables – Crystal Cable CrystalSpeak Micro, Purist Audio Design Venustas.
Power cords – Silver Circle Audio, Blue Marble Audio Blue Lightning.
Soundstaging isn't something you'd normally associate with headphones. However, one of the AKG K501's strengths is that it can produce a modicum of a soundstage. This is not equal to what speakers can accomplish, but it is unusually well defined for headphones. The HP100 contributed to the soundstage, at times creating a surprisingly three-dimensional effect. On José Carerras, the Coral Salvé de Laredo and Sociedad Coral de Bilbal's "Gloria" from Misa Criolla [Philips 420 955-2], the recording's inherent spaciousness came through intact, though imaging was, predictably, not as precise as with good speakers.
Arriving halfway through the review process, the new top-of-the-line AKG K701 'phones proved to be an excellent partner for the HP100. The K701's higher sensitivity worked fine with the HP100's Low gain setting. Bass extended very low and had excellent detail, the midrange was flatter, very revealing of subtle musical details, and the highs sparkled but weren't at all peaky. The high percussion instruments from the Jennifer Warnes track "The Panther" were fully fleshed out from their highest overtones down through their fundamentals, adding an extra measure of realism. The sonic-spectacular drums on "Way Down Deep" from Warnes' The Hunter [Private Music 01005-82089-2] illustrated the HP100's impressive bass; the drums displayed lots of power and good pitch definition.
When listening to the K701s, I marveled at the accurate instrumental timbres and crystal-clear voices. Piano was particularly realistic; I could hear the full spectrum of a piano's notes, from their fundamentals through their overtone structure. The leading edge was always well defined, and notes hung suspended in air as they decayed into silence.
The vintage Beyerdynamic DT 990 headphones don't sound particularly good with any amplifier, unless all you care about is bass. Their highs are quite attenuated, and their midrange is laid-back and smooth, although not very detailed. If I had to define the DT 990's sound with a single word, it would be "murky." The HP100 did not alter the DT 990's tonal balance, which was still heavy on the bass. With Neal Diamond's "I'm On to You" from his 12 Songs [Columbia 8-2876-77508-2], instrumental overtones were missing. Diamond's voice lacked detail, and dynamic punch was missing. The HP100's brand of neutrality didn't alter the balance of the DT 990s, nor should it have.
Instead, my listening proved that the HP100 lets headphones reach their full potential. If used with excellent 'phones like the K701s, the HP100 will produce excellent sound; however, they won't make mediocre-sounding headphones sound good. I don't know of any headphone amplifier that can do that.
In the midst of all the headphone listening I was doing, I also used the HP100 as a preamp. While I won't tell you that it equaled my $4495 deHavilland Mercury 2, it didn't embarrass itself as a basic line stage either. Quiet, with good dynamics and detail, the HP100 had convincing instrumental timbres. Bass and treble frequencies were quite extended. Dynamics, both macro and micro, were decent, though lacking the deHavilland preamp's precision and impact. Although the HP100's soundstaging was far from shabby, it didn't match the deHavilland preamp's hallmark spaciousness. However, as simply a $600 line-stage preamp, there would be a lot to admire about the HP100. And while it would be rather goofy to build a headphone amp with a remote control, I missed that feature when using the HP100 as a preamp. Oh, well -- like so many audiophiles, I can use the exercise.
Comparison
My HeadSave Classic headphone amp ($250 when still in production) is an op-amp-based model with a wall-wart power supply. Its integrated circuits are socketed, so you can insert different op-amps to tune the sound to your liking; however, I've never replaced the stock Burr-Brown OPA 637 and OPA 627 op-amps, which were the best available with the unit. The small, well-built Classic has only a single input and no outputs, so it functions only as a headphone amp. Its sound is very clean and low in distortion, although it won't drive the DT 990s and K501s as loud as I sometimes like. That may be a good thing.
The HeadSave Classic is pleasant to listen to, but the HP100 had more drive, wider frequency extension, and better retrieval of detail. The HP100 produced more volume than the Classic and was capable of head-banging levels with a background of utter quiet. The HP100's bass was clearly better than the Classic's -- it was impressively deep and powerful -- and its highs were as extended as the headphones used with it would allow. The detail in David Chesky's Concerto for Violin and Orchestra from the Area 31 SACD [Chesky SACD288] was displayed as only headphones can.
The HP100 is simply in another sonic class compared to the HeadSave Classic. HeadRoom and Ray Samuels Audio make amps in roughly the same price range as the HP100 that also sound great, but I didn't have those available for comparison.
Bottom line
The Stello HP100 produced headphone sound close to the best I've heard. I haven't auditioned other top-notch headphone amps thoroughly enough to make a detailed comparison, but I think the HP100 is in the same ballpark as other amps that cost up to 50% more. It won't make bad headphones sound good, but it made all my headphones sound about as good as I've heard them. It's attractive enough to share shelf space with any high-end audio jewelry. Its input flexibility and output capability -- along with good sound -- mean it is entirely suitable as a line-stage preamp in a modest two-channel system, making it an excellent value at its $595 price.
Good design, good sound, and good looks at a very reasonable price -- what more can you ask for?
...Vade Forrester
vade@soundstage.com
Stello HP100 Headphone Amplifier
Price: $595 USD.
Warranty: Two years parts and labor.

April Music, Inc.
894-18 Alpha Bldg, Bangbae-Dong
Seocho-Gu, Seoul 137-829 South Korea
Phone: 82 2 3446 5561
Fax: 82 2 3446 5564

E-mail: info@hifi500.com
Website: www.hifi500.com