October 2004
SinglePower Audio PPX3-6SN7 and Supra Headphone Amplifiers

SinglePower Audio, Inc. was started by Mikhail Rotenberg, a man with a passion for great-sounding headphones and related equipment. The company's humble beginning came about when, at the prompting of a friend, Rotenberg built a tube-based headphone amp, which he put up for auction on eBay in hopes of someone buying it. Well, someone did buy it, for a paltry sum. Little did Rotenberg know that this buyer happened to be one of the most respected people at the leading headphone-related user group in existence, Head-Fi. Word about how great the amp sounded spread around the site very quickly, and Rotenberg soon began receiving orders for more and more units.
Rotenberg's hobby of building headphone amps soon began to absorb all of his spare time, and he found himself at a crossroads. Should he continue working at his day job or start his own company and take a stab at living his dream? Well, as is painfully obvious, he decided to take the plunge and build headphone amps full-time. He devoted all of his efforts to designing and creating his product line -- and improving on his earlier products. His enthusiasm is contagious, which is quite evident from the first moment you talk to him. He devotes a lot of his time talking to clients to make sure that they get the best headphone amp for their needs.
The SinglePower name reveals two design philosophies embodied in the company's products. "Single" stands for the use of a single-ended topology, and "Power" for the complex power-supply designs. Rotenberg's power supplies incorporate several stages of power filtration and rectification, and in the higher-priced models use regulators and large reservoir capacitors for even more stability.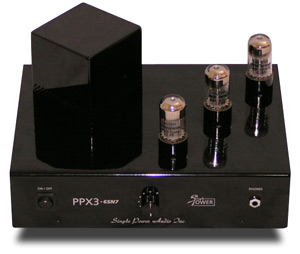 The first amp to arrive at my home was the $649 USD PPX3-6SN7. Its installation in my system brought on an attack of musical ADD. This is where one rapidly switches from CD to CD in rapid succession after only listening to a track or two of each disc. It is caused by the arrival of a piece of gear that reaches a new pinnacle of sound quality at its respective price point. The PPX3-6SN7 fits that description perfectly.
Listening to the Gaither Kennedy Center Homecoming [Spring House SHD 2213] provided a very engaging experience. The echo, reverb, and spatial cues captured at this performance were re-created with great realism. I was so engrossed that I just listened to the recording over and over again, losing myself in the beauty of the singing and music.
For testing the nuances of the bass I used the 100 Portraits and Waterdeep CD Enter the Worship Circle [Blue Renaissance Music]. The bass on the PPX3-6SN7 was tight, deep and controlled. The punch of the kickdrum on this recording was presented in a very impressive manner. It hit hard and fast, and stopped quickly.
Succinctly put, the PPX3-6SN7 produces a level of sound that is far beyond its asking price. I have yet to hear any amp near $650 that comes close to what the PPX3-6SN7 has to offer. It consistently produces music that is engaging, involving, and very dynamic -- no small feat for such an inexpensive headphone amp.
When the $1699 Supra arrived I was already convinced that SinglePower's amps couldn't get much better. How could Rotenberg improve upon what I was hearing from the PPX3-6SN7? Easy -- greatly improve upon the power-supply design by using an 800V transformer, a voltage regulator, and some massive reservoir capacitors. The results of these changes were nothing short of amazing. The Supra raised the performance of my system to a level I have never experienced before. Regardless of price, I have never heard a headphone amp as stunning, powerful, refined, and involving as the SinglePower Supra. The musical ADD was back once again, and life was good.
Listening to the Gaither Kennedy Center Homecoming CD on the Supra elicited a new, and quite amazing response: the hairs on my arms stood up several times. This happened because the Supra made the recording sound utterly real, tangible and believable. I was at the concert! Track after track transported me into the audience, listening to one of the most incredible collections of singers ever assembled.
Track 16, "One More Time," features the a cappella talents of a group called the Katinas. The group consists of five brothers, each with a distinct voice that, with lesser equipment, blends with the others. The Supra separated the voices and allowed the nuances of each to come through with unparalleled clarity.
Enumerating all of the differences between the sound of the PPX3-6SN7 and that of the Supra would take up a lot of space. However, while they share the same house sound, they differ in a few key areas worth mentioning. The highs of the Supra are more extended and airy. Also, the Supra's bass is tighter and more controlled. Overall, the Supra is more enjoyable, more engaging, more dynamic, and more detailed. For the first time in over a year the Supra tempted me to switch over to a dynamic headphone system and sell my electrostatic gear. I guess that's the biggest compliment I can pay this amazing headphone amp.
Associated Equipment
Digital source - eXemplar Audio-modified Denon DVD-2900 universal A/V player.
Interconnects - Ric Cummins Jaden Pursang, ZCable Live v5.
Power cords - Virtual Dynamics Master.
Headphones - Sennheiser HD 650 and HD 600.
If the Supra sounds so good, is there any way to improve upon it? The only way I could find to do this was to use some NOS tubes. Rotenberg recommends using a Ken-Rad as the input tube and two Sylvanias as output tubes. This combo is quite magical, and adds a nice touch of warmth to the midrange, more punch to the bass, and smoothness and naturalness to the highs. If you get a Supra, you owe it to yourself to experiment with some NOS tubes.
The only gripe I had about the SinglePower amps was a tendency to be microphonic. Both amps pass vibrations audibly to the headphones whenever the case, rack, or even floor under the rack is tapped. A quad of AudioPrism IsoBearing 3.3 feet under each amp took care of the microphonics coming from everywhere but the chassis, and they even reduced that by a fair amount. Adding tube dampers could also help reduce microphonics, I'm sure.
Rotenberg took the risk of building high-end headphone amps on a full-time basis. His amps sound extremely good, and they are the best-kept secrets in the headphone realm. I'm not sure who gets more enjoyment from what his company produces, Rotenberg or his customers.
...Doug Paratore
dougp@soundstage.com
SinglePower PPX3-6SN7 and Supra Headphone Amplifiers
Prices: PPX3-6SN7, $649 USD; Supra, $1699.
Warranties: PPX3-6SN7, three years parts and labor; Supra, seven years parts and labor.

SinglePower Audio, Inc.
1750 Chambers Road, Suite B
Denver, CO 80011
Phone: (303) 363-6065

E-mail: info@singlepower.com
Website: www.singlepower.com